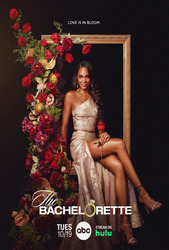 TV Info
---
Episode Premiere
July 18, 2011

Distributor
ABC

Genre
Reality, Romance

Show Period
2003 - now

Production Company
Next Entertainment, Telepictures Productions


Synopsis
---
It's time to meet the parents! Ashley is embarking on the hometown dates with her four remaining men. Who will give their blessing? More importantly, which bachelors will move on in the journey to win Ashley's heart?
A Day of Wine and Roses?

Ben gives Ashley a tour of his winery in Sonoma, California. A quick taste test is followed by a some sweet kisses. Ben admits that he's only brought one woman home to meet his mother prior to this. He's also super-close to his sis, who lives in San Francisco. The one person Ashley won't get to meet is Ben's dad, who passed away. But he's pretty sure his father would have really liked her.
Ben's sister, Julia, has always been protective of him, so she's a bit skeptical when she first meets Ashley. But after chatting with her bro, she sees that he's in touch with his emotions for the first time in a long time. Ben admits to his mom that he wants what she had with his dad. He gets a little emotional during their chat. But at the end of the day, both Ben and his mom know that Dad would be proud of him.
Ben's very happy that he's starting to fall in love. It's hard to say goodbye to Ashley, who admits that she could see herself spending the rest of her life with him. Guess that means this particular hometown date was a huge success.
Georgia on Her Mind

Ashley's off to Cumming, Georgia for a hometown date with Constantine. They head over to his restaurant where he teaches Ashley how to make a pizza. When asked to add her favorite ingredients, Ash tries to plop Constantine into the deep dish mix. It's quite the saucy move. Not cheesy at all. The restaurant workers are thrilled when they catch a glimpse of the couple kissing.
Ashley meets Constantine's mom, dad and sister, Maria. She's inspired by the love she sees in this family. Mom wants to know if Ashley is willing to relocate if she wants in on her son's life. Her fears are alleviated by Ashley's response. Constantine's dad says he'll support his son if Ashley is, indeed, the person for him. It was a great night that's not over yet.
DING DONG! Someone's at the door. Actually, it's more than just someone. Constantine's entire family flows into the home. There's dancing throughout the room. The kind of interaction Ashley sees with this group is exactly what she wants for her own family. Ashley feels very comfortable and very happy.
Taking Ames in PA

It's time to head out to Chadds Ford, Pennsylvania where Ashley meets Ames and his family. There's his mom along with his brother and sister and their kids. Ames tells the tale of the overseas boxing match that landed him in the hospital. Hey, he was fighting for true love!
Mom Jane says that Ames has always been her rock. Sister Serena tells Ashley that it's clear that her brother has feelings for her. She wants to know how she feels about him. They both agree that Ames is like an onion, you just have to keep peeling away the layers. Serena tells Ashley about how the death of Ames' father and stepfather shaped who he is today. And what he is today is a pretty great guy. But Serena isn't sure Ash has the passion for her bro.
Ames admits to his sis that he has that "falling in love" feeling. He and Ashley both know that they've taken things slowly. Mom thinks that's a good thing. Serena thinks Ames needs to open up to Ash, so he plans a romantic picnic. While on the date, Ashley admits that she and Ames think alike. She also admits that he's like no other guy. They share a sweet kiss under a magnolia tree. Now that's romantic.
Rolling Along on Long Island

It's off to Long Island to meet JP and his family. First stop on the date is a trip to the roller rink. They haven't even finished lacing up the skates before they're share a smooch. Then it's time to turn on the disco ball and roll onto the floor. JP is the first to take a spill, but Ashley's there to give him a kiss to make it all better.
Ashley meets JP's mom, Eileen, his dad, Peter, his brother, Roy, and his bro's girlfriend, Andrea. The family is very protective. His mom thinks Ashley is terrific, but doesn't want to see her son get his heart broken. She's seen it happen before. Eileen wants to know if her son is in love and if he'll propose. All signs indicate that could happen.
Mom tells Ashley that she only wants her son to be happy. She talks openly about JP's past heartbreak. Ashley promises they have something special. Mom believes Ashley is beautiful both inside and out. Later, Mom breaks out a picture of JP from his bar mitzvah. He's sporting a sweet mullet. It's a fun ending to a perfect day. But JP still can't find the strength to say that he's in love with Ashley.
The Rose Ceremony

Ashley and the four remaining bachelors are back at the mansion. One of the men standing before her is heading out the door. The three men who receive roses from Ashley are:
Ben

Constantine
JP
Ames is about as gracious as a guy can be as he says goodbye to Ashley. He's a good man who should have no trouble finding a great girl now that this particular adventure is over. As for Ashley, her journey continues with the three remaining men in the tropical islands of Fiji!