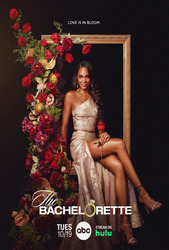 TV Info
---
Episode Premiere
July 11, 2011

Distributor
ABC

Genre
Reality, Romance

Show Period
2003 - now

Production Company
Next Entertainment, Telepictures Productions


Synopsis
---
The pressure is on in Taiwan as hometown dates loom. With six anxious bachelors left, who will see their journey end in China?
All Aboard the Love Train

Ashley chooses Constantine for the first date in Taiwan. Their adventure kicks off with a train ride outside the city to a small town where they explore local rituals. They paint "love wishes" on a lantern before heading off to a romantic dinner. The two talk about a potential future together and end the night by releasing their love lanterns into the night. Only time will tell if their dreams come true.
A Gorges Ride

Ben is next up for a date. With Ashley's arms wrapped tightly around his waist, they navigate the countryside via scooter together. Giggling and flirting with every twist in the curvy road, sparks are flying. Over a romantic dinner, Ben shares with Ashley the importance of true love. He doesn't take the "L-bomb" lightly. The two hold each other close while kissing the night away.
The Morning After

The bachelors can't ignore Ben's mysterious absence from the hotel the morning after his one-on-one. When Ben finally strolls in after a 36-hour date, the men have trouble concealing their jealousy. Although Ben insists nothing physical happened, J.P. is still particularly unnerved. After all, who wants to share a beautiful girl with five other single men?
A Wedding Picture is Worth a Thousand Words

Ames, J.P. and Lucas are picked for the group date. J.P. hopes it won't cause more jealousy, but he's in for an unfortunate surprise. The boys discover they'll be dressing up for wedding photographs with their potential bride-to-be. Lucas rocks a traditional Taiwanese costume, Ames looks spiffy in a sparkly costume, and lucky J.P. struts his stuff in a traditional tux. While Ames and Lucas make the most of their photo shoot, J.P.'s shoot flatlines. Is it too late in the date to recover?
An Ownerless Rose

Ashley and the guys try to enjoy dinner but tensions are high with a rose up for adoption. During quality time with Ashley, all of the men admit their hopes to continue on to hometown dates. Lucas assures her he's ready to get married. Ames shares photographs of his family and childhood, while J.P. admits he's been going crazy with jealousy. Ashley gives the last group date rose to J.P., as she knows all too well what it's like to be in his shoes. She reassures him that she's ready to see more.
The Temple of Doom

Energetic Ryan finally gets a one-on-one with Ashley. The two head off to a temple in Taipei where the couple decides to test their luck in front of the matchmaking god. They make wishes on bricks and toss them to the ground to see their fate. Their positioning predicts their wishes won't come true. It's all downhill from here. Ashley admits that she doesn't think their relationship has progressed enough and she isn't feeling the passion. Ryan is blindsided. It's a rough goodbye, especially for him.
The Rose Ceremony

Ashley decides to forego the cocktail party. She knows what she wants and she isn't messing around. Although it's never easy, Ashley knows she must say goodbye. Tonight that bachelor is Lucas. A tearful Ashley confesses that she's ready to move forward and go on hometown dates. Here is a complete list of all the men who receive a rose from Ashley:
Ames

Ben F

Constantine
J.P.
Bring on the hometown dates!