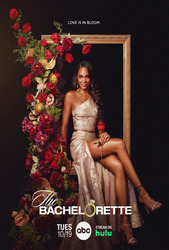 TV Info
---
Episode Premiere
June 27, 2011

Distributor
ABC

Genre
Reality, Romance

Show Period
2003 - now

Production Company
Next Entertainment, Telepictures Productions


Synopsis
---
Hong Kong opens up new doors and possibly closes others. Bentley returns and we're all anxious to see what happens when Ashley visits Room 4315.
Bentley's BackChris Harrison delivers the shocking news that Bentley is in the building. He pleads with Ashley to pull some answers from the guy and she agrees to do just that. The two are back to flirting in record time, but tensions rise when Ashley questions Bentley's intentions for coming. He erases the "dot dot dot" on their relationship and replaces it with a "period." Finally, Ashley comes to her senses and sees through Bentley's player act.
Letting LooseAshley takes advantage of her newfound perspective by exploring the streets of Hong Kong with Lucas. They climb aboard a ship for dinner where Lucas expels some demons from his past. He tells Ashley about his first marriage, why it fell apart and what he's learned. Intrigued and ready to see more, Ashley gives Lucas a rose and a first kiss.
Sink or SailAmes, Ryan, Ben, Blake, Mickey and Constantine kick off the group date with some dragon boat racing. The boys divide into teams of two and recruit locals to join their squads. While Ryan, Blake, Ames and Mickey round up teams easily, Ben and Constantine aren't feeling the local love. Comes race time, Ames and Mickey go full steam ahead and are first across the finish line.
High HopesLater that evening, Ames surprises Ashley with a make-out session in the elevator and Ben affirms his feelings for her. Although affection for Ashley is flowing, the affliction towards Ryan is mounting. The boys all agree that Ryan is great...in small doses. When Ryan gets the group date rose, the gang begins to question Ashley's judgment.
One-on-One x2JP gets another go at a one-on-one date and the timing is ideal. Things are going well, but Ashley has a guilty conscious about Bentley's visit. Fearing that her honesty may get her into trouble, Ashley struggles to tell JP the truth. When it finally comes out, JP thanks her for the honesty and understands her need for closure. The date ends with love in the air.
Good GriefAshley is hoping the Bentley news will go just as smoothly with the others as it did with JP. Yeah, that's not gonna happen. It's a bumpy ride as some of the men react negatively. Mickey takes matters into his own hands and bails before the Rose Ceremony. Ashley, clearly upset, tells the remaining men that she cares about each of them and hopes they understand where she's coming from. Only time will tell.
The Rose CeremonyIt's a somber ceremony. Ashley wants to make everyone happy, but tough decisions need to be made. She sends Blake home as she continues on her journey for true love. Here is a complete list of all the men who receive a rose from Ashley:
Ames

Ben F

Constantine
JP
Lucas
Ryan
While everyone is moving forward in their relationships, they're also moving on to a new location. Next week we'll see if any sparks are made in Taiwan!