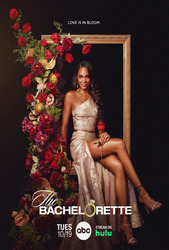 TV Info
---
Episode Premiere
June 20, 2011

Distributor
ABC

Genre
Reality, Romance

Show Period
2003 - now

Production Company
Next Entertainment, Telepictures Productions


Synopsis
---
Ashley and the boys are off to Chiang Mai. With so many monks roaming this city, at least the guys don't have to worry about a lot of outside competition!
No Kissing Allowed

Wine guy Ben F scores the one-on-one date. He and Ashley stroll through the town hand-in-hand as if they were boyfriend and girlfriend. They are in awe of an ancient temple. It's a sacred setting, so no smooching allowed. They settle for a mental kiss. They're hoping for the real thing at dinner.
Kissing Allowed

Thousands of flowers surround an outdoor setup for a romantic dinner. Ben tells the tale of how he got started in the winemaking biz. He also shares the loss he felt after his dad passed away. It was only about a year ago that he started taking down the emotional walls he'd built. He's ready to take some big steps, which is why Ashley gives him a rose and a kiss.
Feeling Punchy

Constantine, Ames, Nick, Blake, Lucas, Ryan, J.P. and Mickey are picked for the group date which involves some Muay Thai Fighting. The men train hard and gear up to step into the ring...with each other! Blake manages to take down Lucas in the first bout. Mickey is a punching machine at the start of his fight, but it's the underdog, J.P., who wins in the end. Yo, Adrian! Actually... Yo, Ashley!
Ready, Ames, Misfire

Ames has never been in a fight in his life. Several shots to the head from Ryan take a toll. Ashley can't focus on the next match as Constantine defeats Nick. She's too worried about Ames. He's not feeling himself. It's enough to warrant a trip to the hospital. He definitely had his bell rung before the final bell rung.
The Comeback Kid

The situation with Ames has everyone feeling somber, but spirits rise when he shows up that night. He's a little woozy from a mild concussion, but still charming enough to tell Ashley that the doctors diagnosed him as being totally in love. Now that's the mark of a true champ. But at the end of the day, it's Blake who wins the rose and a kiss.
Bad Will Sabotaging

Ben C and William are selected for the two-on-one date. After they raft down the river to enjoy a picnic, William tells Ashley that Ben can't wait to get out of town so he can clean up with online dating. We don't recall Ben saying such a thing. Could William be lying? Who knows? All we do know is that Ashley abruptly ends the two-on-one date to send Ben C home immediately.
Flaming Out

With Ben C rafting home alone, William is on his own. You'd think that would be a good thing based on how well their first one-on-one date went. Well, if you thought that, you'd be wrong. Ashley just doesn't feel any spark with William. She shows him the door and tosses the two-on-one rose into the fire.
Guy Talk

There's tension in the air as Ashley chats with the remaining men. Constantine admits that he doesn't have enough of a gut-feeling to know for sure that he's going to marry this girl. J.P. admits that it stung a bit when Ben got to go out on that first date. As for Ashley, she admits she's still longing for Bentley.
The Rose Ceremony

Ashley heads into the rose ceremony with bad bachelor Bentley still very much on her mind. Ben C and William are history while Ben F and Blake are safe. Here is a complete list of all the men who receive a rose from Ashley:
Ames

Ben F

Blake
Constantine
J.P.
Lucas
Mickey
Ryan
That means Nick is headed out the door as Ashley and the men move on to Hong Kong. But wait, there's more!
Remember how we were told there was a mystery guest in Ashley's hotel? Well, Bentley is popping up again in Hong Kong. Not only must Ashley deal with her feelings for him, but the backlash from the other bachelors looks to be brutal.