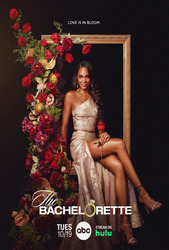 TV Info
---
Episode Premiere
June 06, 2011

Distributor
ABC

Genre
Reality, Romance

Show Period
2003 - now

Production Company
Next Entertainment, Telepictures Productions


Synopsis
---
There are 15 bachelor boys left. Some will dance, some will get laughs and one will be unmasked as Ashley narrows the playing field even more.
Flashdance

Our favorite New Orleans lawyer, Ben C, gets to make his case to Ashley with a one-on-one date. Their quiet afternoon in an outdoor mall gets a tad louder when a Flash Mob breaks into a dance around them. The good times roll on as Far East Movement gives them a live concert. Ben C can dance and, after a little coaxing from the crowd, Ashley learns he can kiss, too.
Bubble Boy

Ben C admits that he's always wanted to live in an unrealistic bubble where he and his wife believe they are more in love than anyone else in the world. Ashley pegs him as a hopeless romantic. We're thinking he's "hopeful." Either way, Ashley is impressed which means Ben C snags a rose.
The Unmasked Man

Before heading out on the group date, Jeff believes it's time to remove his mask. Ashley is grateful to see his face even though the reveal feels underwhelming from the start. Jeff realizes the other guys may target him during a performance at a comedy club. He won't be the prime focus of their barbs though, as the bachelors must do a full-on comedy roast of the Bachelorette. Who will get the last laugh?
Laugh Till You Cry

During the roast of Ashley, Lucas plays it safe by only taking jabs at the guys. Ryan P doesn't get any laughs, but Blake does well with his assessment of the other bachelors. Jeff and Nick make fun of Ashley's chest size. A few others call her Brad Womack's leftovers. William, however, crosses a line when he says he thought the Bachelorette was going to be Emily or Shawntel. Ashley had been a good sport, but after that attack she leaves the stage in tears.
Hey, 24 out of 25 Ain't Bad

Bentley sees Ashley crying in the corner. He believes this is a prime time to mess with her head. As insincere as he is, Bentley does make Ashley feel better. The mind games continue when Bentley assures her that 24 of the 25 guys are glad that she's the Bachelorette. Too bad Ashley has no idea that the 25th mystery man of which he speaks is sitting right beside her.
Good Will Leaving?

There's nothing William can do to take back what he said at the comedy club. He offers to pack his bags and then heads out to walk the streets alone. Only Ryan P is able to comfort Ashley. Guess that's why he gets the group date rose.
Getting Bent out of Shape

Ashley fesses up about the nasty stories she's heard about Bentley. He alleviates her fears by telling her that she should not trust her source, which he believes is Michelle Money from Ashley's Bachelor season. Bentley has everyone fooled; as the other bachelor boys think they just lost a really good guy as Bentley heads off with the intent to make Ashley cry. He just hopes his hair looks okay.
Bentley tells Ashley that he's leaving for good. He claims his decision is all about his daughter. Ashley buys every insincere word. Bentley achieves his goal by getting her to cry. He has her feeling lost and confused. Ashley is heartbroken as curls up under the covers alone. She's in tremendous pain, but hopefully she'll come to realize that she's so much better off without this fraud of a bachelor.
J.P.

J.P. finally scores a one-on-one date. The timing isn't the greatest, but he's excited to get some alone time with Ashley. They plop on some sweatpants to get comfy and cozy. J.P. understands that Ashley is exhausted, but assures her that she should not feel defeated. These words seem to sink in. Ashley promises J.P. that they'll have a really fun next date if he accepts her rose. He does and Ashley can take solace in the fact that J.P. is a much better kisser than Bentley.
The Rose Ceremony

It's a rainy night and Ashley is still stinging from the loss of Bentley. She opts to skip the cocktail party. They'll be going right into the rose ceremony which means William won't have a chance to speak his peace. With Bentley boy gone, there are nine roses left to hand out. Ben C, J.P. and Ryan are safe. Below is the complete list of everyone who gets a rose this week:
Ames

Ben C.

Ben F.

Blake
Constantine
J.P.
Lucas
Mickey
Nick
Ryan
West
William
Surprise, surprise! William gets a rose. That means Chris D and unmasked man Jeff are following Bentley out the door. Next week, we expect the man claws to come out as Ashley and the guys are off to Thailand!