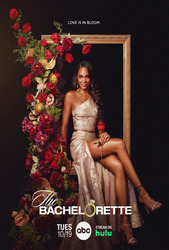 TV Info
---
Episode Premiere
May 30, 2011

Distributor
ABC

Genre
Reality, Romance

Show Period
2003 - now

Production Company
Next Entertainment, Telepictures Productions


Synopsis
---
Will the masked man finally reveal his true identity? Actually, we already know his name is Jeff. We're just wondering when he's going to give Ashley (and us) his full frontal face view.
Vegas, Baby!

It's sure to be "slots of fun" for William as he gets the season's first one-on-one date in Las Vegas. Ashley is like a celebrity in Sin City, as cameras flash and crowds gather. The first stop on the Vegas date is a cake shop. Make that a "wedding cake" shop. Hey, Ash is serious about finding a guy to marry.
Going to the Chapel and They're Gonna Get...

William goes along with the wedding plans as they do a little ring shopping. After that, they're off to the wedding chapel. William thinks it's all a joke until the minister walks in, followed by Ashley in her lovely white dress. William actually says "I do" during the ceremony. Ashley is stunned. This could be a legally-binding deal! Ash puts the kibosh on the near-miss wedding, but William still gets to kiss his almost-bride. After just half of date, Ashley thinks she's falling for William.
Row, Row, Row Your Boat

Ashley and William row out to the area were the famous Bellagio Fountains display their daily water dance. They have a romantic dinner smack-dab in the middle of the lake. The chat gets serious when William tells the tale of his alcoholic father. Ashley can relate, as she shares a similar story. She sees there's a lot more to William than she was aware of when they started this date. It's enough to score him a rose and a kiss moments before the fountain show kicks in. Talk about making a splash!
The Rhythm is Gonna Getcha

Constantine, Ryan M, Chris, Ben F, Nick, Bentley, West, Lucas, Stephen, Blake, Matt and Ames are stunned when Ashley says they'll be rehearing with a Vegas dance group. One of the two crews of bachelors will get to rock out on stage during the show. The other six men must head back to L.A.
The team names are "The Best Men" and "No Rhythm Nation." The latter group ends up winning the day and performing at night. During some one-on-one time, West tells Ashley that he lost his wife after just nine months of marriage. Bentley, on the other hand, admits that this Bachelorette is not his type (though he doesn't say it to her). Believe it or not, Ashley gives him a rose.
To Coin a Date

Love is a gamble, so a coin toss determines that Mickey gets a one-on-one date over J.P. in Vegas. In fact, coin flips determine just about everything they do on their date. Mickey opens up about his deceased mom saying he learned how to treat people after that sad situation. Ashley is still unsure as to how she feels about Mickey, so she flips a coin to see if he gets a rose. He's relieved that he gets to stay. Truth is, Ashley was giving him the rose either way. They end the night with a beach concert with Colbie Caillat.
Better Watch Your Back

William, Mickey and Bentley are safe with their roses. J.P. steals Ashley away to flip a coin to get a kiss. His luck has changed as he scores a smooch. Nick's time is interrupted by William (who already has a rose). That makes him a target for all those guys who haven't chatted with Ashley yet.
Masked man Jeff chats with Ash on the staircase. He tells her that he had a brain hemorrhage six years ago. He's divorced after a 10-year relationship went south. Jeff feels like he can finally be himself and remove the mask. Unfortunately, Matt steps in before he can show his face. Later, Bentley carries Ashley over to the fireplace. Again, he doesn't think she's his type but still moves in to kiss her. Unbelievably, Ashley kisses him back. If only she knew the things he's been saying behind her back. Ashley says she has an eye for genuine people. Well, Ash, your radar is jammed when it comes to this guy.
The Rose Ceremony

Three guys were safe from the get go. Here's the full list of all the rose recipients this time around:
Ames

Ben C

Ben F

Bentley
Chris
Constantine
J.P.
Jeff
Lucas
Mickey
Nick
Ryan P

West
William
That means Stephen, Matt and Ryan M are headed home alone. See you next time!