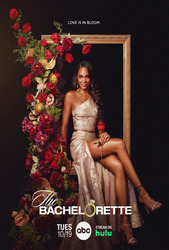 TV Info
---
Episode Premiere
May 23, 2011

Distributor
ABC

Genre
Reality, Romance

Show Period
2003 - now

Production Company
Next Entertainment, Telepictures Productions


Synopsis
---
After missing out on love with Bachelor Brad, Ashley Hebert is back for another shot at love. Once again, she's hoping to meet the man of her dreams. The only difference is that she's one handing out the roses this time around. She's sooooo ready to fall in love as the new Bachelorette.
Let's Meet the Bachelors!

Ashley will have to ditch quite a few of the eligible bachelors on opening night. There's a wide variety of good-looking guys from all walks of life.
There's Ryan P. the solar energy exec who's looking for the perfect girl. J.P. is a New York construction guy who hopes to build a future with someone. Yale-educated Ames is a world traveler who is attracted to women who love what they do. Ben C., the New Orleans lawyer, thinks of himself as a passionate romantic.
Benjamin the wine-maker is a total brunette guy who hopes to have a happy marriage just like his folks. Bentley from Utah is a divorced dad is hoping the Bachelorette will be Emily. Uh oh.
Anthony from Jersey is a fourth generation butcher who hopes to make the cut. West is a prosecutor who lost the love of life, so it's been hard for him to put himself out there again. William from Ohio has a bad dating history. He hopes his luck is about to change.
Return to the Mansion

Ashley is back in the mansion hoping she's learned from the mistakes she made with Brad. She's been tipped off by a friend that one of the men she's about to meet is not there for the right reasons. Ashley has been told that Bentley is a Bachelor Boy just to promote his job, but she's willing to give him the benefit of the doubt. Her motto is: No Regrets. Bring on the limos!
The First 15 Roll in

Jon from Vancouver sweeps Ashley off her feet. Actually, he drapes her over his shoulder. Mickey the chef tries to give Ashley a kiss, which catches her off guard. Tim from New York is speechless when he meets Ashley. Ben C. wows her by speaking French while Chris D. does a little rap. West gives her a broken compass that's stuck on his namesake, just in case she ever feels lost. Aww.
Rob from Michigan tells Ashley he's different from Brad because he doesn't have any crowns in his teeth. Ames gives her ballet tickets, as he knows she loves dance. Matt engages her in a handshake he does with his uncle.
Who was that masked man? Well, it's Jeff from Missouri. He's planning on wearing a mask all night to take his face out of the equation. It creeps out a few of the other guys. Hey, at least he's not wearing a cape, too!
10 More Guys Swing By

Winemaker Ben F. brings a bottle with him to toast this new adventure. Franks from Tennessee does a little dance with Ashley. Mike from San Diego says it's the first time he's been excited to meet a dentist. Canadian Chris M. is happy to be there and Ryan M. takes a few snapshots with our girl.
J.P. has no props other than his smile. Nick the personal trainer recites a poem. Blake is a fellow dentist who says this is the best blind date ever. Then there's the guy she heard about. Bentley claims he's nervous, but Ashley is going to second-guess anything he says. Finally, Constantine the restaurant owner from Georgia ties some pink dental floss on her finger to serve as a reminder of their first meeting.
Let's Get This Party Started!

Ryan P. steals Ashley away almost immediately. They have a comfortable chat. Ashley thinks this guy just set the bar pretty high. Ashley compliments Ben F. on the sweet wine he gave her. And Matt actually calls his mom, who gives her baby boy and Ashley some savvy motherly advice about the fantasy suite.
Ben C. uses cue cards to let Ashley know he wants to chat with her. William does his best Sean Connery impression for our girl. He also does a little Woody Allen. Think he can do Chris Harrison?
Speechless Tim from earlier is actually drunk Tim now. He almost gets into a fight with the masked man, but opts instead to zonk out by the pool. Not even our beautiful bachelorette can awaken this sleeping, snoring bachelor boy. Ashley has a few of the other guys escort Tim out the front door.
The First Impression Rose & More

Masked man Jeff wants Ashley to learn about the person inside first. J.P. says he's been teased by being called "cupcake" in the past. That's a nickname Ashley's always wanted for herself. How sweet! In other news, Ashley has been watching Bentley out of the corner of her eye. When she finally chats with him, he speaks about his daughter, Cozy. The guy seems very genuine, which confuses Ashley.
Remember how we said Ryan P. set the bar pretty high? Well, now Ashley steals him away to give him the coveted First Impression rose. Think that means he has a target on his back now?
The Rose Ceremony

Ashley has 17 more roses to hand out. That means six guys are heading home. The men who receive roses are:
Ames, the world traveler

Ben C., the cue card king

Ben F., the wine guy

Bentley, the man with the questionable motives

Blake, the fellow dentist

Chris D., the rapper

Constantine, with the cool name

J.P., the man who's no cupcake

Jeff, the masked man

Lucas, the Texas oilman

Matt, the mama's boy

Mickey, the instant kisser

Nick, the personal trainer poet

Ryan M., the photo guy

Ryan P., the first impression winner

Stephen, with the cool hair

West, the man with good direction

William, the man of many bad dates


That means Anthony, Rob, Jon, Chris M., Frank, Michael and Tim, the early-departure guy, are outta here. Cheers to the men who made the first cut. Here's hoping one of them wins the heart of The Bachelorette.