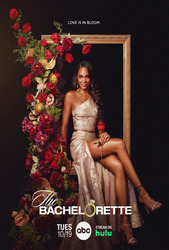 TV Info
---
Episode Premiere
August 02, 2010

Distributor
ABC

Genre
Reality, Romance

Show Period
2003 - now

Production Company
Next Entertainment, Telepictures Productions


Synopsis
---
We're down to our final two bachelor boys. This is the moment we've been waiting for! Chris and Roberto have been among our favorites since day one. Ali and the guys travel to Bora Bora where one will go home and the other will propose. But first, it's time meet Ali's family. So, let's kick back and see how all this crazy, romantic adventure plays out.
Roberto's Family Visit
We all know that Roberto got off to a great start with Ali. After all, he got that first impression rose way back when they began this wild ride. So, when this nervous bachelor meets Ali's father, mother, sister, Raya, and brother, Michael, our beautiful bachelorette kind of puts him on the spot by asking him to repeat the same Spanish phrase he told her the first night. Roughly translated, the phrase means "If you want to have a dance later, I'll be waiting inside for you."
Ali's mom is excited for her daughter and the journey she's taken. She speaks Spanish to Roberto and tells him that she believes his heart is pure. Ali's dad pulls no punches. His first question is if he loves Ali. Roberto doesn't hesitate with his answer. He's totally in love. Dad can see how much this guy cares about his daughter and gives him his blessing.
Roberto feels like he's part of the family. Ali's mom says he has to teach her how to salsa. Ali used to be the only one who danced at gatherings, but Roberto is able to get her whole family to boogie down. At the end of the day, Roberto puts things in prospective by realizing that his particular journey will end with either love or heartbreak.
Chris' Family Visit
We can tell Chris has some nerves, too. Ali's mom is impressed by how much love and heart this man showed by moving back home for his mom. Chris tells Ali's siblings about how jealous he is of his brothers and how they've found love. Alex, Ali's father, likes how important family is to Chris and gives him his blessing to marry his daughter. The family date ends with a splash as everyone jumps off of their pier into the ocean.
Later, Ali sits down with her family to discuss the two guys. Alex tells Ali that Roberto's love for her really stands out. On the other hand, Raya, Ali's sister, liked Chris' confidence in knowing he'd be proposing in three days. Ali's mom feels that although Ali's relationship is progressing slower with Chris, the love is there. The whole family is deeply analyzing Chris though they support both men. If we were in a similar situation, we'd be torn between these two great guys as well.
Roberto and Ali's date
Ali and Roberto take to the water on their date. They are riding on a jet ski when they come upon a school of stingrays. Ali is freaking out, but always feels safe in Roberto's arms. They head to a private island to have a picnic on the beach. Storm clouds roll in and Roberto and Ali head into the water to share a smooch under the rain. Ali believes it was a magical experience. We agree.
The date ends in a private suite in Bora Bora. Ali says this day was the best of the entire show. Roberto has a surprise for her. It's a picture of them in the heart-shaped lagoon with a note on the back. Roberto tells Ali about his "love"conversation with her father. Ali tells us later that she's in love with Roberto and has never felt this good about a relationship. Chris will have to pull out all the cards to win her over.
Chris and Ali's Date
We begin the date with Chris telling us how excited he is to be proposing to Ali. We can kind of tell immediately with Ali's body language that things seem to be different. She tells Chris that she's in love with someone else and has to let him go now and not tomorrow. She wants to make a clean cut immediately rather than making it worse the next day.
Though he is going to miss her, Chris takes things in stride and is grateful for the experience. Ali and Chris share one last embrace. He's heartbroken and she's in tears. Chris wishes her the best of luck tomorrow and hopes the one she loves will love her back. Chris, you are an outstanding guy.
Ali knows she sent an amazing man home today. Chris was falling for Ali and it hurts to know that he's not the one. A perfect rainbow can be seen in the distance and Chris knows that it's a message from his mom. He's ready to move on.
The Final Day
Ali can't wait to tell Roberto how she feels about him. She is also nervous that Roberto may not love her back. Roberto meets with Neil, the jeweler, to choose a ring for Ali. He only wants to propose once in his life and he will only do what feels right. This is a BIG decision.
Chris Harrison greets Roberto when he arrives. He sends him up the staircase to meet Ali, who informs him he's the only man on the island. At this point Roberto asks Ali to be his wife. Her answer is yes! Now Ali has one last question for Roberto. In Spanish, she asks if he'll accept this rose. Let's just say the answer is "Si!"