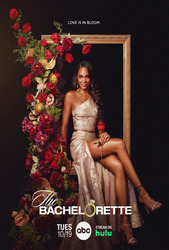 TV Info
---
Episode Premiere
July 19, 2010

Distributor
ABC

Genre
Reality, Romance

Show Period
2003 - now

Production Company
Next Entertainment, Telepictures Productions


Synopsis
---
We open the show with Chris in LA. Not Chris Harrison, the other Chris--the one who says he's falling for Ali and is ready for love. As for Roberto, he talks about how his relationship with Ali has grown over time and he's ready to put everything on the line. Frank, however, says he needs to deal with some feelings he's been having for his ex-girlfriend, Nicole. Uh oh.
Back in Chicago, Frank tells Nicole about his time on the show. Nicole is hurt that he's been having feelings for another woman. She wants him to come home to the Windy City. Frank realizes that he's in love with Nicole and wants to spend the rest of his life with her. Unfortunately, he's off to Tahiti first with Ali. Anyone else get the feeling there's going to be trouble in paradise?
Roberto has the first one-on-one date with Ali this week. They take a helicopter tour of Tahiti and travel to Tupai where there's a bay in the shape of a heart. Ali feels she would be lucky to have a husband like Roberto. And Roberto can't believe how fortunate he is to be spending time in such a beautiful place with such a beautiful lady.
Ali and Roberto head back to the resort for dinner. We can see the great chemistry they have with one another, but both have concerns as well. We see fear in Ali's face as Roberto scrambles to find the right words to properly express his feelings. He finally says he's falling in love. POOF! Ali's fears are gone in an instant. Guess those were the right words!
Ali has a card from Chris Harrison that she wants Roberto to read. It's an invitation to spend the night in the fantasy suite as a couple. Roberto feels it'd be terrible to let a perfectly good suite go to waste. We couldn't agree more!
It's now Chris L's turn in Tahiti. Ali and Chris take a boat ride around the islands where she reflects about how much she appreciates the bracelet he gave her in Portugal. Later, they come across some oysters along the beach. Ali compares her relationship with Chris to the waiting process to create a pearl. The process takes time but, in the end, it turns into something beautiful. Love it!
Ali and Chris have dinner on a secluded island. Chris opens up a little more and reaffirms his feelings for Ali. Once Ali sees how he feels, Chris L. gets an invitation to the fantasy suite. By their private pool, Ali expresses how she's willing to move back to Massachusetts for him. The blinds of the room close as we leave them for the night.
Frank arrives in Tahiti with plans to come clean with Ali, who is head over heels for him. This could get ugly. As excited as Ali is to see Frank, things take a U-turn when he says they need to talk. Frank gives Ali the 411 on Nicole. Ali says she tried to make him feel special during those times Frank was worried about the other guys. She's crushed as they share one last hug. Yeah, this one stung.
Chris Harrison meets Ali on the beach. She's still trying to recover from all that's happened. Her confidence is shattered and her biggest fear about the competition has materialized. She just couldn't control someone loving her back. Frank hopes that one day Ali will forgive for what he did, but we highly doubt that it'll be someday soon.
Frank's departure has made Ali question the decisions she's made in the competition. This most recent curveball is hard to take, especially this late in the game. Nevertheless, Ali's a total trooper. She and Chris Harrison agree that the rose ceremony should still happen. You go, girl!
The Rose Ceremony

Roberto and Chris L. arrive to the island via boat for the Rose Ceremony. The guys are puzzled at first but soon learn that Frank is completely out of Ali's heart. Both men accept a rose and will meet Ali's family in Bora Bora. Stay tuned next week for The Men Tell All with Ali and the eliminated Bachelors.