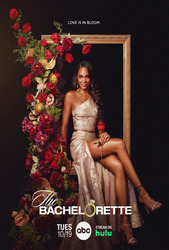 TV Info
---
Episode Premiere
July 05, 2010

Distributor
ABC

Genre
Reality, Romance

Show Period
2003 - now

Production Company
Next Entertainment, Telepictures Productions


Synopsis
---
Ali and the guys are off to Lisbon where Chris meets the final five guys in the town square. He stresses the importance of this leg of the journey because, if they move on, they'll be taking Ali to their hometown. There will be four dates this week and no roses handed out during any of them. The stakes are high. Let's see what happens!
"Come Be the King of My Castle" Roberto gets dibs on the first date. It's time to step up his game. He takes Ali sightseeing around the city. They hear the music in the streets and have a spontaneous dance that would always stop traffic. The date ends at a castle where they picnic on the steps. Seems like a fairytale ending to us!
"Let's Find Our Future in the Past" Ty and Frank are the ones Ali picks for the two-on-one date. They fly by helicopter to a castle outside the city. At the dinner table, Ali tells them "I'm sorry. I'm in a weird place." And we don't think she's talking about Lisbon. Ali has questions for each but they're not for a group setting. Ty and Ali get some alone time and he reassures her that he is behind her. Frank uses his one-on-one time to build Ali's expectations for his hometown. This includes sharing the fact that he still lives with his folks. This new info doesn't seem to affect Ali's feelings for him.
"Once Upon a Time" Ali has a surprise for Kirk on their one-on-one date. They are taken by horse and carriage to a palace that overlooks the city. Kirk can see that Ali has a lot on her mind. He wants her to know that he thinks about her all the time and how important the hometown visit would be for him. They dine on the rooftop of the palace. Ali tells Kirk about her fears and the date ends with a private performance. We were hoping for some dancing to make a comparison with Roberto.
"Love Gets Better with Age" Chris and Ali head out of the city for their date via scooter. Too bad Chris has no experience driving one! Comparing their relationship to his driving, Ali thinks things are moving very slowly. She's ready to take things to the next level. Ali takes over driving duties with the hope of shifting their romance into the fast lane. The next stop is a winery and Chris has a surprise for Ali. He gives her a charming bracelet which she loves. Vroom, vroom, vroom!
The Rose Ceremony The evening starts out very ominous for the guys, as it is pouring rain outside. The four men who weather the storm in this 7th Rose Ceremony are:
Chris L.

Frank
Roberto
Kirk
Surprise, surprise. Ty is sent packing. He tells us, "I really thought I was the perfect guy for her." We did, too. But Ali apparently thought Ty was just too traditional for her. We wish you the best, Ty. You've been hearing all the stories, now get the full scoop from those involved. Vienna and Jake sit down with Chris Harrison to add some closure to their relationship. Watch the full episode to see their compelling interview.