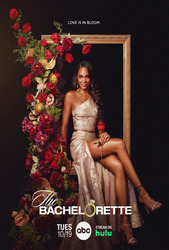 TV Info
---
Episode Premiere
June 21, 2010

Distributor
ABC

Genre
Reality, Romance

Show Period
2003 - now

Production Company
Next Entertainment, Telepictures Productions


Synopsis
---
The nine remaining men compete for this week's one-on-one date. They must write a love poem to melt Ali's heart while in Iceland. We're just wondering what the heck rhymes with Reykjavik?!
The bachelors hit the town in search of some Icelandic love phrases. Some locales greet our guys with a rather chilly reception, but others warm up. Each bachelor reads his poem in front of Ali and the others. Chris N. mentions eggs and ham in his poem, but he's no Dr. Seuss. He could have used a few pointers from Kirk, who tosses in Icelandic phrases that may have even been used in the proper context! Now we thought Frank's poem was truly great, but it's Kirk who wins the date.
Kirk and Ali kick off their date off in a clothing shop and buy matching outfits to explore the city. Kirk opens up to Ali about the illness he suffered five years ago. She now understands why he's always so positive. This inspires Ali and Kirk receives a rose as they end their date with a meaningful kiss.
The group date invitation arrives for Chris L., Frank (the Tank), Chris N., Craig R., Roberto and Ty. That leaves Justin and Kasey for a two-on-one date. Kasey knows this is a do-or-die elimination date. Frank tries to build Kasey's confidence by saying it's his time to shine and send the wrestler home. Knowing that Kasey has new tattoo he's waiting to spring on Ali, Justin levels the playing field by ditching his cast.
Ali and the group date guys ride horses to a secluded area with a mysterious hole in the ground. It's an entrance to a cave which they explore. Chris L. and Ty make the most of their time with Ali while Frank feels a little left out. The date ends at a hot spring. Ali immediately strips and hops in, leaving all the guys to rush in after her. But the only one who emerges from the warm water with a frosty rose is Ty.
The two-on-one date feels like that heavyweight boxing match we've all been waiting for. And this isn't even the rose ceremony! Justin steps up his game. Is Kasey is up for the challenge? After viewing the volcano from a distance, they land atop it for a closer view. They then head into the ice caves for some one-on-one time.
Justin is confident and says all the right things. Kasey reveals the tattoo he got in New York and the meaning behind it. Unfortunately, Ali has to send someone home. Justin gets a rose and flies away with Ali while Kasey is left standing alone on a glacier. Now that's cold!
Craig R. didn't get much alone time with Ali but made the most of it when he revealed his drawn on tattoo with Ali's name. Ali's alone time with Chris N. is actually detrimental to his rose consideration. When asked what his guilty pleasure, Chris N. says, "I love Mexican food." Guess burritos and chimichangas aren't all that interesting to our girl.
The final 4 roses go to:
Frank

Chris L.

Roberto
Craig R.
Chris N. is the last bachelor sent home from Iceland. Rattled by the decision, Chris tells us, "I think I had a lot of qualities to bring to her and she did miss out on a lot of things about me." Hey, at least he got a limo ride home rather than being left on a glacier!