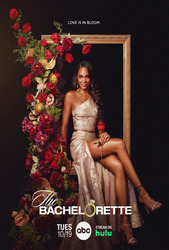 TV Info
---
Episode Premiere
June 07, 2010

Distributor
ABC

Genre
Reality, Romance

Show Period
2003 - now

Production Company
Next Entertainment, Telepictures Productions


Synopsis
---
Ali and Roberto share their first kiss while balanced 20 stories about the city on a tightrope! We're not surprised when he gets a rose at the end of the night.
On the group date, Ali and the guys film a music video for the Barenaked Ladies and Jonathan is so nervous about kissing Ali that he's shaking! The other men tease him and he starts to cry, so Ali pulls him in for a "really good, passionate kiss."
Kirk gets a scene with her in bed and they keep kissing even after someone yells "Cut!" Later that night, Kirk tells Ali about losing his mother and earns himself a rose. Their kiss in the hot tub is interrupted by a jealous Frank, who jumps in, followed by everyone but Justin, who can't get his cast wet.
The next day, Justin decides to make the two-hour walk up to Ali's house on his crutches! Ali is shocked that he walked the whole way just to see her. He spends hours there, telling her about his estranged father, but it's supposed to be Hunter's day with Ali. Poor Hunter: When he arrives, the romance just isn't there and Ali sends him home.
Back at the mansion, Justin tells the guys he'd give up his wrestling career for Ali, but they're not buying it.
At the cocktail party, Justin confides to Ali that someone else "called him out" for being there for the wrong reasons. He swears he's there "100 percent" for her. Ali decides that just because everyone else hates him, that doesn't mean he's not right for her.
Steve, who didn't get a date this week, sets up his own "date" during the party with some champagne, but blows the moment when he can't open the bottle!
The men compare notes about their mistrust of Justin -- who's standing right behind them! Ty accuses him of being one way with with Ali and another with the guys, which Justin hotly denies.
Roberto and Ali snuggle and then he shares his doubts about Justin. She relates that Justin came up to the house alone and is stunned that he didn't tell the other guys. The men are furious when they learn about Justin's stunt, but he still gets a rose. "Thank you for showing me that you would do anything for this," Ali whispers to him.
The other roses to go:

Chris L.

Jesse
Chris N.

Ty
Kasey
Craig
Frank
Jonathan
Which means that John C., and Steve are going home. Steve is shocked to be "left in the dust" and John C. is "pissed" that he's leaving and says, "I think she made a mistake" in keeping Justin instead of him.