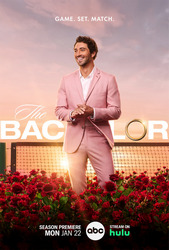 TV Info
---
Episode Premiere
March 02, 2009

Distributor
ABC

Genre
Reality, Romance

Show Period
2002 - now

Production Company
Next Entertainment, Warner Horizon Television


Synopsis
---
Jason happily reunites with his son, Ty, who's arrived in Zealand to meet Melissa and Molly.
Melissa's the only one who's even seen Ty so far, but she hasn't officially met him. Melissa comes running to greet Jason, throwing herself into his arms. Jason asks if she wants to play golf with him and Ty and she says, "Are you kidding? I'm up for anything." They discuss what a "big day" it is to meet Ty and Jason encourages Melissa to be herself.
Melissa gives Ty a high-five after he gets a ball in the hole, and asks him to help her sink her own golf ball. Jason had expected that Melissa would be great with Ty, but he's amazed at how quickly they hit it off.
Jason steps away, promising a surprise for both of them, and Melissa and Ty spend their time alone racing each other around the green. Jason returns with a baby lamb and invites Ty to pet the animal, whom he names "Sheep." Melissa has been trying to imagine a future with Jason, and after meeting Ty, she says, "Honestly, the future is now!"
It's time for her to meet the rest of Jason's family, his mother and father, both brothers, and his and sister-in-law. He's sure that his family is going to be very "protective" of him, after seeing him go through a divorce and then the breakup with DeAnna.
Melissa admits she's not an avid golfer and that Ty is better than she is. Jason's father asks what it was like to meet Ty and Melissa says she was nervous and even scared about whether Ty would like her. She relates that Ty "warmed right up to her," and that "it went better than any best-case scenario."
Jason's mother asks how she feels about moving to Seattle and Melissa says she believes, "It's not where you are, it's who you're with," and that being with Jason and Ty would make Seattle home for her.
Over a meal, the sister-in-law asks Melissa, "Are you in love with Jason?" and Melissa says she already told Jason that she is. Jason relates that he was disappointed not to meet her parents, which is also a concern of the rest of his family. Melissa tells them that her father considers a meeting with a possible son-in-law to be "private" and "sacred," but admits that she also wishes her parents could have met Jason.
Jason's mother still has a lot of concerns, so, privately, she asks Melissa what her family is like. Melissa says they're "close-knit" and that their unwillingness to participate in something so important to her is atypical of them.
Jason tells the rest of his family that meeting or not meeting Melissa's family could "make a huge difference," but that he has no other doubts about Melissa.
Melissa assures Jason's brothers that she's not scared to move to Seattle or to become a stepmother. They warn her that without Jason meeting her father beforehand, "There's the potential that he's not going to propose."
Jason's father thinks Melissa is "incredible," but doesn't envy being in Jason's position. His mother is convinced that Melissa really loves Jason. Melissa hates to leave and is happy that the day has gone so well. Jason kisses her goodbye, saying, "I want to see you soon." Jason is convinced he's falling for Melissa, but he still has to introduce Molly to his family.
Molly and Jason head to the beach and she worries that Ty might hate her. Jason knows she hasn't been around children much, but is sure that she'll do great. Jason introduces Molly to Ty, but he's busy playing with seashells and ignores her at first. They play Frisbee, but Ty refuses to throw to Molly. She's "freaking out" but Ty just takes a little while to warm up to her. Next, they fly kites on the beach. Ty presents her with a pretty seashell and Molly feels that the three of them are "like a little family."
Jason brings Molly to meet the rest of his family. She hugs his mother and his brothers hello, but she's nervous. She raves about Ty, and how Jason lights up when he talks about his son. Molly says her family supports whatever she does, even becoming a stepmother, and that they all really liked Jason. She also admits that she's told Jason she's in love with him.
She sits down with his brothers, who promise to do "due diligence" to make sure that Jason doesn't get hurt again. Molly assures them she loves Jason and asks them to trust her. They want to know if she's really ready to become a stepmother and she promises that her "wild party days" are behind her. She says now she's "looking for something deeper."
Jason tells his father that he and Melissa are more similar, but that he "can't get enough" of Molly. His mother quizzes him about Melissa while Jason's sister-in-law tells him there's "absolutely no doubt" that Molly loves him. They advise him that "deep down," he knows who he should be with, although they also speculate that perhaps neither one of them is right this time either.
His mother counsels him that he should pick someone who's more family-oriented, and points out that Molly seems very focused on her career. She advises him to "trust his gut."
Molly says that the day "went exactly the way I hoped it would go and Jason agrees that the meeting went "awesome." She tells him she loves him and they kiss.
After having both women meet his family, Jason is still undecided.
As she faces her final date with Jason, the fact that her parents didn't meet Jason is weighing on Melissa's mind, so she gives her mother a call. She starts to cry as she tells her mother that she's told Jason she loves him. She admits that in the past she "settled" and that with Jason, she feels he's "shown me what I do deserve." She asks whether her mother will talk to Jason on the phone and emphasizes what a "big part of my life" this is. Her mother agrees, which makes Melissa much more confident going into the final date.
She meets Jason at a marina, where they spend the day on a boat, and she says she's "the happiest she's ever been." He tells her that his family "completely adored you. You turned them into mush."
He goes to her hotel room for their last date and she can't wait to tell him that her mother has agreed to talk to him. Jason says he'd love to. "This was the last reservation I had about Melissa," he says in voiceover. "I'm completely falling in love with their daughter and I need to talk to them about it."
They lie on the couch and says it's a scary thing that in a few days, they'll either be together or broken up. "I really hope there's an 'I love you," coming from him soon," she says and that she's hoping for a proposal. Before he bids her a reluctant goodbye, he assures that he's "never felt this way before."
In voiceover, he says, "I could picture Melissa as my wife, without a doubt."
Molly also greets Jason at the marina, where it's raining and so windy their umbrellas turn inside out. Jason has sworn to make today all about Molly and to "push Melissa out of my mind." Molly has actually planned their final day together. She brings him back to he hotel, where they'll be getting a couples' massage. "Strip down, baby," she orders. In her bikini, she sits on his back and gives him a massage. "It doesn't get any more romantic than this," he says. She tells him to turn over and they kiss.
He showers and finds her in the kitchen, cooking their dinner. She tells him that she worried she might be going home at the last rose ceremony, which made her realize: "I've given you 99 percent of myself, and now I want to give you the other one percent."
They move to the couch, where they kiss. "I have a gift for you," she says and shows him a book she's written, "A Fairytale Love Story." Jason doesn't know what to say when he reads that it's dedicated to Jason Scott, "the love of my life." In the past, he doubted her ability to show her affection, but he can't believe she's made a scrapbook of airline tickets, notes from him and even the song lyrics she wrote for him. The last thing is a note that reads, "This is not the end. This is only the beginning."
"That is so sweet, what an amazing gift," he gushes and kisses her. "It feels so good to have Molly in love with me," he tells the camera. "I love you," she whispers and he says, "You know I'm falling for you."
Back at his hotel room, Jason calls Melissa's mother. He says he understands why they didn't want to do this on camera. The conversation goes "better than I expected," and helps relieve his remaining doubts about them.
Jason is facing the toughest decision of his life, when he gets a surprise visit from DeAnna. "What are you doing here?" he asks her and admits he's shocked to see her. "I came here because I lost out on a great man," she tells the camera. He confesses that when he heard about her breakup with Jesse, "I wanted to find out more."
"There's a lot of things I would have done differently," she confides to Jason, adding that she chose someone who was more "fun" and didn't hold out for what she'd originally been looking for.
She says it sounds "so familiar," when he relates that he's torn between the "safe" girl and one who's more of a "wild card." She admits she chose the "wild card." Jason is stunned when she tells him, "I steered away from what I wanted. If I would have chosen you, it would have worked. You had all of the things that I was looking for." She says she's here because he hasn't proposed yet and that she's looking for a second chance. Jason thanks her for the opportunity, but says he's fallen for the two women he's been seeing. She nods and advises him to "look further" and that he should pick someone who he can see being with years from now.
He says he plans to follow his heart and she replies, "I wouldn't say follow your heart. I would say lead it," because she followed her heart and it didn't work out. "Be smart tomorrow, be honest," she tells him before she leaves.
It's the day of the final rose ceremony and Jason contemplates his final choice. "I am absolutely in love with two women," he says in voiceover, saying he has "no idea" how to decide. He feels that Molly is "exciting" but that the attraction to Melissa has been there "since the beginning."
He spends the day playing with Ty, reminding himself that Ty is a big factor in his decision.
Molly and Melissa are both incredibly nervous going into the final ceremony. Molly says she's taking a "huge leap of faith" and Melissa is anxious to be "the last one standing."
Jason has one big decision to make before the rose ceremony: The ring! A jewelry rep brings over a selection and he chooses a one-of-a-kind diamond setting with several smaller diamonds.
He stares at the ring he's chosen. As we see Melissa and Molly get ready, Jason announces in voiceover that he's made his decision.
Jason gets ready with a heavy heart. He tells the camera, "This is supposed to be the best day of my life, so how could I feel so horrible right now?"
Both women depart for the spot where Jason is waiting to -- as Melissa puts it -- "take or break" their hearts.
"How do you say goodbye to someone who means the world to me?" he says in voiceover as the first limo arrives. Host Chris goes to open the door and we see that the woman stepping out is Molly. Chris leads her to where Jason is waiting.
In voiceover, Molly says it's been a "fairy tale" so far and can't wait to hear that Jason loves her as much as she loves him. He takes her hands and she speaks first, thanking him for the time they've had and that she "wouldn't take back a minute of it."
He tells her that she's "amazing in every way possible. Absolutely stunning and amazing. I don't know how I can ever let you go," he says emotionally. "But I have to," She looks down, stunned, and says, "Wow." He says, "I wish I had some good reasons, other than I'm in love with someone else. I'm so sorry," he says, fighting tears.
"I don't understand," she says sadly. "I think you've made a mistake, a big one," and shakes her head in disbelief. He holds her hand as he walks her back to the limo. "I just don't get it," she says, sobbing. "I truly, truly care about you. I think you're making a huge mistake and I think you're going to end up hurt again."
"All I can say is I think you're wrong," he says.
"I hope I am," she says, "because you deserve someone really great."
"Everything was real," he tells her, looking long and hard into her face before he puts her into the limo. "Always know that."
She gives him a sad smile from the limo, keeping her composure. He bows his head, breaking into tears as the limo drives away. He walks to the balcony, where he breaks down at having sent her away.
In the limo, Molly's eyes are wet as she says, "I'm just shocked." I thought I was going to pick up my life and move to Seattle and be a stepmom, but apparently Jason was not in love with me." She hoped he'd been "smarter" about making his choice, and that he's "going to learn the hard way," that he's made a mistake.
In voiceover, we hear Jason wonder the same thing: Did he make the right decision? He regrets hurting Molly but says he now has "no doubts" about Melissa.
Melissa arrives, all smiles as she walks towards Jason and the final rose. "I cannot wait to look into her eyes and tell her everything that I'm feeling," we hear him say in voiceover.
"I'm shaking," Melissa tells Chris as he brings her to Jason. In voiceover, she says she's never been happier but that if Jason doesn't pick her, she'll be "devastated."
Jason takes her hands and tells her, "I came into this looking for someone exactly like you. You make me happier than I've ever been in my entire life. I have something I've been wanting to tell you for a long time," he says. She jumps up and down for joy when he says the words, "I am completely in love with you." He gets down on one knee and and pops open the ring box. She can't contain her excitement and kneels down to kiss him. He puts the ring on her finger and then gets to his feet, spinning her around.
"You said you wanted to make me the happiest person in the world and you did," she says.
"There's one more thing," he says, and asks her to accept the final rose. "Absolutely," she says with a big smile.
"I am the happiest I've been in my entire life," she says in voiceover and we hear Jason say that all the ups and downs before now have been worth it.
He keeps spinning her as he tells her, "I love you, I love you, I love you, with all my heart."
Ty, who's dressed in a tux, joins them and they all three, in all their finery, jump into the pool.