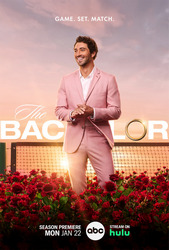 TV Info
---
Episode Premiere
February 16, 2009

Distributor
ABC

Genre
Reality, Romance

Show Period
2002 - now

Production Company
Next Entertainment, Warner Horizon Television


Synopsis
---
Jason takes Molly, Melissa and Jillian to New Zealand for three adventure-filled dates. First he meets Jillian, and takes her on a helicopter ride over some spectacular mountain scenery. Jason is happy to see her again and she says she feels like "the luckiest woman in the world" and that the two of them are really connecting. "I'm totally walking on clouds right now," she says.
They land on a ledge overlooking a lake where a picnic is laid out. She considers herself lucky to be falling in love in such a beautiful place. She asks him the first word he'd use to describe her, and he says, "Fun," followed by, "exciting, gorgeous, adventurous." He wants to know how she'd describe him and she says she's never been so attracted to someone before, that he's someone she can have a conversation with, who is fun and who "gets" her. She says, more than anything, she's looking for someone who'll be her best friend, because that's what makes love last. Jason, in voiceover, agrees that Jill is "someone I could be friends with forever." He adds that he used to think marrying your best friend was a good idea, "but honestly now, I want more than that." He hopes to find out if there's more with Jillian.
That night, they have a romantic dinner at a winery. He tells her she looks fantastic and she is happy to be with someone, "I didn't even think existed." He asks how she feels about him and she said she feels butterflies around him. "I'm crazy about you," she tells him, "And I never in my entire life have felt like someone was made for me the way you are." He kisses her and in voiceover says, "That's exactly what I wanted to happen."
He's surprised when she's the first one to ask about spending the night together. At the Fantasy Suite, they change into bathing suits and hit the hot tub, where she tells him she's falling in love and they kiss. He's finally feeling the passionate spark with her. "It was steamy in there, because of us!" he says in voiceover.
He spends the next day with Molly. She's so excited to see him that even the rain is romantic. She feels that their relationship, up until then, has been kind of "silly" and hopes to show him another side of herself. His surprise for her: They're going to go bungee jumping off a bridge. Molly is visibly scared, but once they jump, she shouts, "Let's do it again!" She calls it "the biggest adrenaline rush" and "the most incredible experience ever," and compares it to falling in love.
Over lunch, she has a list of "quirky" questions for him and wants him to answer honestly. First question, if he could eat only one food for the rest of his life: "Hamburger," he answers before she even finishes the question. She leaves one last question, "the most important one," for that evening. He says he always has fun with her, but knows they have to get serious tonight if he's going to know if she's the one for him.
She's nervous that evening, saying she has a hard time talking about her feelings and she knows that's what he's expecting. He observes that her parents weren't particularly demonstrative, and how they sat apart on the couch. He tells her he's more affectionate than that. She confesses that she's had a wall up and hasn't shown her vulnerable side, but that just because she's not showing it, doesn't mean she's not feeling it. "Aren't you afraid that you pick someone and then down the road, you go, 'Oh my God,' I did pick the wrong one," she asks him.
"I can't make any promises,' he replies, "but I don't ever want to hurt you."
She tells him "I really think I'm falling in love with you," and he says, "Wow," and kisses her.
"Everything changed," he says later. "I could see it in her eyes."
She gives him her twentieth question in writing, "Since you asked me to spend the night with you, will you spend the night with me?" She's proud of herself for taking the initiative. 'If I weren't serious, I would just let things play out, but instead, I took control," she says in voiceover.
They toast to their evening together and then make out on the bed. '"It's true caring," he says of the way she looks at him and touches him. They don bathing suits and share a romantic bubble bath surrounded by candles and rose petals.
The next day he meets Melissa, who throws herself into his arms. She's worried that his not having met her parents will weigh against her. They set sail on a boat that once belonged to Winston Churchill, and she confesses that she was "panicking" during the last rose ceremony, where he called her name last. She tells him she's looking at the situation realistically, since she knows she stands the risk of getting hurt. "Is it worth it?" he asks and she answers, "Absolutely!"
Privately, she says she's always been the "dumpee" in every relationship she's ever had, but that when she sees him, she doesn't worry about protecting herself.
In voiceover, he admits that he was very disappointed not to meet her parents, and hopes to talk about it with her.
Their next activity is hitting a series of hot pools. "It was the most romantic date we've ever had," she says. "He makes me feel loved and cared about and like I'm the only person here."
She tells him that her favorite date was the one where he came to her home town. She admits she hasn't talked to her parents since. "I am close to my parents," she says, and is near tears as she wonders why they didn't want to be part of something so important to her. She says her parents are "laid-back" and that if he makes her happy, they'll be sure to like him.
In voiceover, he says that her parents have "nothing" to do with falling in love with Melissa, although he also says, "I can fall in love without meeting her parents. But it can only go so far."
He takes her to downtown Queenstown, where he takes her into a private room at a restaurant. She's anxious to convince him how close she is to her family, so she tells him that she talks to her brother every day and that she sees her parents about twice a week. He offers her the invitation to the Fantasy Suite, where she summons up her courage to tell him she loves him. "You're amazing," he says and kisses her. He asks if she's scared and she said, "It was hard to say because I haven't said to anyone in a long time."
The next day is the rose ceremony, where Jason must send one woman home. To help his decision, each woman has prepared a personal video. "I am crazy about you, and I can only imagine how wonderful our lives together would be," says Jillian, who promises, "big families, big hearts, lots of laughs, and plenty of home-cooked meals."
In her video, Molly thanks him for an "incredible, incredible" date and that he made it easy for her to open up. "I'm ready to take that next step," she says, "and be a part of your life and be a part of Ty's life." She says she's not just "falling" for him, but now, "I am positive I'm madly in love with you."
Melissa thanks Jason for some of the "greatest moments of my life" and for being so easy to be around, to talk to, and to fall in love with. She admits it was scary to tell him she love him. "I miss you and I love you," she says.
In voiceover, Jason says, "I'm not here to find a fling. I'm looking for someone to spend the rest of my life with," and that he doesn't know how he's going to say goodbye to any of them.
Jason's voice cracks as he tells the three Bachelorettes, "You three are the most amazing women I've ever met and I'm falling for all three of you for different reasons. But somebody has to go home today. I have to do the most selfish thing that I've ever done, and that's break one of your hearts tonight. And that really hurts me."
He gives the first rose to Melissa and the second one to Molly. Jillian fights back tears as Jason asks if he can walk her out.
He tells her to "never doubt" that he has strong feelings for her, but that their lives are more different than he realized. "I'd like to be able to keep up with you," he says, "and you deserve someone who can." She doesn't think their lives are that different, and that most of her adventures were as a single person, while she was waiting for the right person to come along. "Now, I met you, so I really truly think that if I've done what I was supposed to be, which was be myself, that you would see that."
He brings up her remark that she wanted to marry her best friend and says, "I kind of feel like that's the path that we were on."
"I feel like I have totally fallen in love with you, which I have never been able to do in my entire life," she confesses, adding that she had an "amazing" dream about herself and Jason and Ty. "It was the best dream I ever had in my life. It was so warm and so happy. I've never felt these feelings. I have completely fallen in love with you. I'm not looking for what I did right or what I did wrong. I'm looking for someone who loves me for me."
"You deserve that more than anybody," Jason says and gives her a hug. He takes her hand and walks her to the limo. and she gives him a tearful hug goodbye.
In the limo, she says she had a jaded attitude towards love and that she was sure she'd never find what she was looking for, but that she did find it in Jason. "I've never ever had that connection with someone where you look them in the eye and you feel like you're the only one in the room, and I felt that with him. I don't think there's anything those girls have that I don't have. I wore my heart on my sleeve and this is not the way I wanted it to end. This decision he made today broke my heart."
Back at the house, Jason takes a moment before going back to Molly and Melissa. He sheds a few tears and reflects on how tough it was sending Jillian home. "I just wasn't in love with her," he says. "At the end of the day, there are two women that I'm falling for and I cannot wait to introduce Ty to these two fantastic girls."
He joins Molly and Melissa, "You are the two people I definitely want here. One of you, I'm definitely going to spend the rest of my life with. I cannot wait to introduce you to Ty and to my family." He toasts to another week in New Zealand, and then to meeting his family.