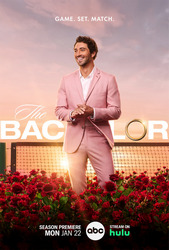 TV Info
---
Episode Premiere
February 09, 2009

Distributor
ABC

Genre
Reality, Romance

Show Period
2002 - now

Production Company
Next Entertainment, Warner Horizon Television


Cast and Crew
---
Main Cast
Chris Harrison
Chris Soules
Synopsis
---
As Jason leaves Seattle for his hometown visits, he still has a lot of questions about his four finalists.
He's worried that Jillian is too strong, and too afraid to open up to him. He recalls that Molly gave him butterflies from the first moment, but he's not sure that he can get "deep enough" with her. Naomi, he finds "gorgeous, amazing and fun," but he's afraid to be the one to "clip her wings." Melissa he finds almost too good too be true, and he's still waiting to discover what her faults, if any, might be.
His first visit is with Jillian in Kelowna, British Columbia, where she takes him to a local winery and they enjoy some red wine in front of a roaring fireplace. She confides why she's had to be so strong: When she was young, her mother was diagnosed with depression and has even tried to kill herself. She starts to cry and Jason hugs her. "I just wanted you to know when you meet them how incredible they are, and how lucky I am to have them," she says and he kisses her. He admits he's had some depression in his family too. "All I've ever wanted is for my mom to be better," she says and when he asks what she wants now, she quickly answers, "You!"
When they arrive at her parents, her father wraps a Canadian flag around Jason. Her mother proposes a toast to Jillian and reads a poem she wrote herself. Then she asks to speak to Jason alone. She wants to know how he deals with conflict and he tells her he tends to be a listener, not a fighter. He's impressed that she knows he has a BA in Psychology, which she says will come in handy in their family. He asks her for advice on how to make a marriage last as long as hers has.
Afterwards, her mother tells Jillian that she likes Jason's depth and character. Jillian's grandma arrives and proclaims him a "gorgeous guy." Jillian bids goodbye to Jason and he says the other three women now have a very a high standard to meet.
His next visit is with Molly in Grand Rapids, Michigan. They meet on a golf course and he spins her around in a hug. Jason is nervous because he knows how much her family's approval means to her. They didn't like the only other boyfriend she brought home, and she's sworn to never again date a guy that her parents don't absolutely love. They play a golf game, which he wins and then it's off to see her family. She says she's "excited" and "proud" to be bringing him home.
Her mother has an unusual surprise for Jason: She pulls out silly hats for everyone to wear and Jason ends up with an Indian headdress. Molly is embarrassed, but Jason considers it good fun and her mother decides Jason is "perfect" for them.
Next, her mother wants Jason to draw his favorite thing about Molly's face. He recalls how she looks during rose ceremonies, where she always manages to keep smiling, so he draws her surrounded by hearts and a rose, and with a huge smile.
Her father makes Molly promise that if she doesn't win Jason in the end, not to cry when she takes her farewell limo ride.
Now that her family approves of Jason, Molly says she can finally let herself fall for him wholeheartedly. Jason hates saying goodbye to her, but he has two more hometowns to visit.
Next up is Lake Elisnore, California, to visit Naomi's family. He greets Naomi with a kiss and she tells him she's ready to get married. She says her family is very "interesting" and "as crazy as it gets." She's afraid that her mother, Joanne, will have something unusual up her sleeve that might "freak Jason out." Sure enough, Joanne busts out with hula hoops for everyone, including Jason.
But things get even stranger when her mother describes how a dove flew into her car's windshield and she felt she had to take it home and give it a proper burial. It's been in a bag in the refrigerator waiting for Jason's visit. She asks Jason if he'll deliver the eulogy for the bird, which she's named Rosie and he does. Naomi promises Jason she had no idea what her mother had in store.
Her father, Hector, finds Jason a '"very likable young man." Hector tells Jason how much religion has meant to him, and wants to know what his own beliefs are. Joanne steals Jason, saying she wants to do something "unique." When Jason says they've already done that, she dismisses the dove funeral as "nothing." Jason looks uncomfortable when she tells him she thinks he's a "truth seeker" and one who wants to help right the wrongs of the world. She talks about her beliefs in reincarnation and he gamely says, "Anything is possible."
Hector likes Jason but is concerned he's not as devout as Naomi, but says that that doesn't matter to her: "When two hearts are the same, then you can do magic, I think." She talks about how much she and Jason have in common, like charity work, and insists she's ready to get married and to have the kind of family she never had. Her father promises to support whatever decision she makes. After Hector's concerns, Naomi regrets not having talked more about religion with Jason.
Jason says goodbye and Naomi is "100 percent" sure that she's falling in love with him. They kiss on the doorstep before he leaves. She tells her family that the next time they see her, she could be engaged. "I'm not just the type to hand out my heart on a silver platter, but it's not something you can control."
Melissa throws herself into Jason's arm when he arrives in Dallas. Jason is touched when she gives him something she made for Ty: A box to keep his tooth-fairy money in.
She has something unpleasant to tell him however: he'll be meeting her friends, not her family, who have decided against appearing on camera. Her dad said he wouldn't be able to be himself and that meeting her potential husband is a moment he wants to "cherish." Her brother, who lives an hour and a half away, will also not be there.
Jason is disappointed, since meeting her family is a big part of making his decision. Instead, they visit Melissa's friend, Stephanie, and her husband, and another married couple. Jason can't believe she hasn't brought more guys home to meet her loved ones. The general consensus is that her past boyfriends weren't worth bringing home.
Melissa tells her friends that Jason makes her feel "worthy" and "beautiful." She gets very emotional talking about Jason; he's the first guy she's discussed with her friends.
Jason is surprised to hear that Melissa's exes were the type who didn't spend much time with her. Jason finds her "unbelievable," and her male friends are excited for her to finally be with someone who truly appreciates her. Jason quizzes her friends about her family, and one confesses she's only met them once and that Melissa doesn't talk about them much.
Melissa worries that her family's absence might be a "dealbreaker." After they leave her friends' house, she and Jason go to a hotel suite and relax with some wine. He asks why her friends have never met her family and she says that they're just "very private people," and that she's learned not to take it personally. She assures him she's "opposite" from her parents, but that, like her mother, she's "nurturing," and that she's adventurous like her father. They kiss and in voiceover, she says, "I think I'm 110 percent in love with Jason right now."
Jason returns to Seattle for the rose ceremony, where he must say goodbye to one of the four women. He talks about the visits with Chris: He loved Jillian's family, but isn't sure his connection to her is strong enough; he's not sure whether Molly, whom he adores, is ready to settle down; and he admits that Naomi's family took him completely by surprise, and that he was disappointed not to meet Melissa's family.
The four women gather for the rose ceremony. Jason arrives and thanks them for one of the best weeks of his life. He says his decision tonight is "ridiculously hard."
He gives roses to:
Molly
Jillian
Melissa
Melissa breaths a sigh of relief while Naomi looks surprised but still manages to smile. Naomi hugs the other women goodbye and then Jason walks her out. He holds her hand as they sit on a bench and Jason tells her, "It's not that i don't think you're incredible, because you know I do." He assures her her family wasn't an issue either. "I just think, in my heart, that we're in different places. You're going to conquer the world and I just don't think that was the right fit for me in my life right now." She says she is ready to settle down, but that, mostly, she was hoping he felt more strongly for her than he did for the other women. She tells him, "I wish nothing but the best for you. I'll miss you, good luck."
As she's driven away, Naomi says she would have moved to Seattle in a "heartbeat." She's glad she put herself out there, but is sad to be going home. "I never want to have my heart broken again," she says, adding that she doesn't even want to have a love life right now.
Inside, Jason announces he's excited to take Jillian, Melissa and Molly to "the most beautiful place in the whole world, New Zealand. Here's to all of us," he says happily as he toasts them.