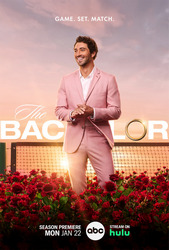 TV Info
---
Episode Premiere
February 02, 2009

Distributor
ABC

Genre
Reality, Romance

Show Period
2002 - now

Production Company
Next Entertainment, Warner Horizon Television


Synopsis
---
Jason heads to his hometown of Seattle with the five remaining Bachelorettes. He'll have one group date and two one-on-one dates, but there won't be a rose on any of them.
Jason eagerly greets Ty after a week apart. "Not being around Ty is like not having part of my heart," he says. He needs to see who among the five women are right not just for him, but for his son as well.
The women arrive at their luxury hotel, where they all greet him enthusiastically. Melissa is ecstatic to be getting the first date of the week with Jason. "Let's hit the town in style," reads the note. Naomi is upset because she's the only one of the group who hasn't yet had a one-on-one date and was expecting to finally get one.
Melissa preps for the big night, and Ty helps get his dad ready. But when it's time for Jason to leave, Ty doesn't want his father to go. Jason has a big date planned -- dinner at the Space Needle and a helicopter ride to a beautiful waterfall -- but he pulls the plug. Instead, he calls Melissa and asks if she wants to come over and spend a casual night with him and Ty instead of having an elaborate night on the town. She tells him that's absoutely okay.
The rest of the women are jealous when they realize that Melissa will likely be the first to meet Ty.
Melissa arrives at Jason's and finds a note that says he's putting Ty to bed. She cleans up the toys and leftover pizza while Jason reads Ty a bedtime story. She decided not to change so she could get there sooner, but she brought her "stretchy pants" and a T-shirt to change into.
Jason tells her he's not ready for her to meet Ty yet, but he lets her peek in as Ty sleeps. "I feel very privileged," she says of getting to see his son.
Melissa tells Jason what to expect if he comes to visit her in Dallas and they kiss by the fireside. He asks if she had a good night, and she says, it was "fantastic" and that she's happy with how things turned out. "I'm so in love with Jason now," she says later. "I really, really want to bring him home!"
The date card for the group date arrives, and it's for Stephanie, Jillian and Molly. Naomi is relieved to finally be getting a solo date with Jason.
Jason takes the three women on a boat tour, where he shows them the house that was used in "Sleepless in Seattle." Molly is very excited to think that Seattle might be her new home town.
Jason asks Stephanie to join him in the pilothouse, where she is thrilled to be given control of the wheel. He asks how she's doing, being apart from her daughter, Sophia, for so long. She thanks him for the day with Sophia and Jason says that's one of his favorite memories so far. Later, she says, "I could see us being a family together."
Molly and Jillian discuss how things have changed now that there are only five of them left, and how they've all developed feelings for him.
Next, Jason and Molly, Jillian and Stephanie go to a local radio show. Jason is led into the interview room and the women go into a soundproof room where they can't hear what he's saying, but they try very hard to read his lips. Back at the hotel, Naomi and Melissa listen to the interview.
Jason says the most "fun" date has been the one with Stephanie and Sophia, and that he considers Molly the best kisser. Molly doesn't know what he's saying about her, only that he said her name.
The DJs suggest a contest to see if a blindfolded Jason can recognize the women just by their kiss. Jillian "sticks her tongue down his throat," while Stephanie aims for "tenderness," and Molly grabs his face, which she says she always does. Jason correctly identifies all the women.
The women are asked what they find sexiest about Jason. Stephanie and Jillian say it's his eyes, while Molly says she's attracted to his smile. The next question: What are the women like when the lights go out? Molly reveals she loves lingerie, Jillian says, "I like to have fun," and Stephanie says she's all about making the man happy, including "kissing every square inch of him."
After dessert, Jason takes Jillian aside to ask her what's going on. He's sensed that she's not as comfortable since they arrived in Seattle. She admits that she didn't expect to fall for him, and that she's not sure where she stands with the other women, all of whom she admires. He also wants to know if she's holding out for "24/7 passion," and she admits that her expectations might be too high. He asks what a hometown visit with her would be like, and they kiss.
Naomi's happy that she's the last women Jason is going to see before the rose ceremony. Her date card says, "Don't look down, you might fall .... in love."
Stephanie asks Jason how he knows who kissed him, and he says it was "obvious: Different lips, different styles, different people." He takes Molly aside and she says after a three-year relationship that her family didn't like, she'll never again date anyone that her family doesn't approve of, since they means so much to her.
He tells her he hopes to meet her family. "It feels great to be kissing Jason in Seattle," Molly says after her time with him, " and I'm going to be doing it the rest of my life!"
Jason takes Naomi to see Seattle by sea plane, and then to a sporting goods store where they climb an enormous rock wall. Naomi is thrilled and considers it "everything I'd want in a date and so much more." They kiss and Naomi tells him she loves Seattle so far. She asks him what he's looking for in a wife, and he answers that he needs someone who can fit into his life as it is now, with Ty. She's happy that she's "off to a really good start" with Jason.
Jason and Naomi have chocolate fondue by the fireplace and he quizzes her over her family's relationship. She reveals that her mother got married young and fell out of love with her father. Jason is worried that she's too much like her mother and that the idea of choosing someone who might leave scares him, but he's reassured at how much she opens up to him.
Naomi tells Jason, "This is the best date I ever had in my entire life." Later, she says "I feel like I'm right where I belong."
Meanwhile, the other four women talk about their insecurities. Molly worries she's too young, Stephanie thinks she might be "too settled" for Jason. JIllian admits her expectations might be too high. They wonder what would doom Naomi's chances, and they agree that if there's no romantic connection on their date, she could be the one going home next.
Jason has some lingering questions about the depth of Jillian's feelings for him, so he takes her out for a private chat over a cup of coffee. Jason reveals he has strong feelings developing for her and that he needs to know that she looks on this as more than just an adventure. She admits that she's put a lot of her energy into being there for the other girls, and he advises her to put herself first. They kiss, but she's not sure if she's put his mind at ease.
Jason only has one woman to send home, instead of the usual two at this stage, but he's having a tough time deciding. He tells Host Chris, "I can actually see a future with each of them." He admits he thought it would get easier to choose, but he's finding that's not the case. "They're all incredible," he tells Chris.
"This week has been unreal," Jason tells the women when he arrives for the rose ceremony. "I do have somebody I still want to talk to tonight," he says, and, to the surprise of all the women, asks to talk to Naomi.
"Do you really think you're ready for the life that I have?" he asks her, and she replies, "I'm absolutely ready to have a family. I'm over the single lifestyle," and tells him how much she loved their date. "You know when something's perfect, and that's how I feel with you," she answers, and he gives her a hug.
Jason brings Naomi back to the group and apologizes for the unusual move. Jason gives roses to:
Jillian
Melissa
Molly
Just one rose remains; Jason gives the final rose to Naomi.
Stephanie is downcast not to hear her name and Molly holds her hand for support. "I want to say this in front of everybody," Jason tells Stephanie, his voice breaking, "You are the most amazing person I've ever met. And I think we are all better people because of meeting you. You're a beautiful person, outside and in. I'm so lucky to have met you," The other women wipe away tears as he talks.
"You're an incredible man, I wish you the best," she says. Naomi is the first to hug her goodbye. "One of you girls make this man really happy," Stephanie says, before Jason walks her out.
"I meant every word of that," he tells Stephanie and says he wishes he'd felt that spark with her. She admits that she had suspected as much. She wishes him every happiness and he escorts her to the limo.
Inside the limousine, she says, "If it is meant to be, it will be. At this time, it just didn't happen," and that she still hopes to find someone, but that she looks forward to seeing her husband again in heaven.
Jason toasts Naomi, Molly, Jillian and Melissa, saying he can't wait to visit their hometowns.