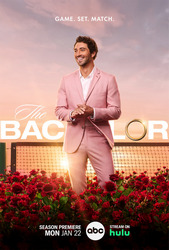 TV Info
---
Episode Premiere
January 12, 2009

Distributor
ABC

Genre
Reality, Romance

Show Period
2002 - now

Production Company
Next Entertainment, Warner Horizon Television


Cast and Crew
---
Main Cast
Ben Higgins
Chris Harrison
Chris Soules as Himself - The Bachelor
Synopsis
---
Jason sends Ty back to Seattle for a few weeks while he gets to know the Bachelorettes better. Meanwhile, the 15 Bachelorettes move into the mansion, checking out the pool and the balconies. Host Chris announces the game plan for the week: There will be group dates and one-on-one dates, and a rose will be up for grabs on each. Any woman going on the one-on-one date will need to have her bags packed, in case she doesn't receive a rose, as she will be leaving immediately. He announces a new twist: "Not all of you will be going on a date with Jason every week."
The Bachelorettes are lounging by the pool and Jason drops in unannounced because he wants to see them "just be themselves." Kari says it's a "shock," since none of the women were expecting him and some don't even have makeup on. But Shannon is thrilled when he says he knows that one of them will be his wife. "I'm so ready for it," she says to the camera.
Jason takes Megan aside to see how she's doing after being "voted off" by the other women. He assures her that she would have gotten a rose anyway. She is very relieved to hear him say, "I want you here."
When he rejoins them by the pool, the women practically swoon when he takes his shirt off. "I think all of us just stopped and stared at him with our jaws dropped," says Kari.
After playing chicken with her in the pool, Jason jokes with Jillian, of the "hog dog toppings" theory, and decides she's "the life of the party," while on her end she feels "instant chemistry."
Shannon pulls Jason out of a game of water volleyball to put suntan lotion on his shoulders. She loves how "rock solid" he is and calls rubbing down his bare chest and shoulders, "a gift." She tells him she's really ready to get married and have children, as all her friends are married and three are pregnant right now. She tells him, "I was meant to be here, I know that." Jason thinks she's "amazing" and loves hearing how much she wants to be there.
A single rose, with a letter, arrives for Jason while he's chatting with Nikki, who received the First Impression Rose. The note reads, "Please give this rose to the woman with whom you want to share a romantic evening tonight."
Alone with Jason, she confides that she's anxious about the competition and isn't sure she wants to stay. She asks how he felt when he was in her shoes and he says his attitude was to just have as much fun as possible. He reassures her that he wants her there and that she "really impressed him," the first night. Their chat is interrupted when the women start shouting for Jason to join them.
Naomi tells him that she was impressed by his charity work and relates how she worked with orphans in Southeast Asia. Meanwhile, Shannon frets downstairs -- and throws an ice cubes over the balcony at Naomi. The other girls rat out her out, saying, "It was Sha-nay-nay!"
Nikki encourages Stephanie to grab a drink and go talk to Jason, so she mixes up some margaritas and interrupts his chat with Natalie. Since he's still deep in conversation with Natalie about her niece and nephew, Stephanie tells him to come find her when he's done and beats a retreat. Stephanie feels "like an idiot" for her drink gambit.
Jason grabs the rose and gives it to Jillian and tells her that she has to get ready immediately.
Raquel follows Natalie upstairs and hears her crying. She tells her not to left it affect her, but Natalie is still upset. Lauren, however, is relieved it's not her as she'd have had no time to get ready and do her hair.
Jason takes Jillian to the Walt Disney Concert Hall. They get to the top where champagne, candles and chocolate-dipped strawberries are laid out. She tells him she knew he'd be nice, but not that he'd be "this cool." He admits that people tend to dismiss him as "just" a nice guy at times. They go inside, where Robin Thicke puts on a private show for the two of them. Jillian grabs him and starts to dance. He finds her "fun, exciting, easy to talk to" and thinks "there's a little bit of romance there," and he kisses her on the dance floor.
Back at the mansion, the women are debating whether Jillian and Jason have kissed already when a date box arrives for Melissa. "Let's take our relationship to new heights," reads the note. She is so excited to have a one-on-date, she says she's not going to get any sleep.
The next day, Jillian raves about the date and admits that there was a kiss, which makes Melissa nervous that she's got to top their date. She's just gotten out of a long-term relationship and reveals it's her first date in three years. She and Jason hit the beach. He finds her very attractive, but isn't sure if she's ready to settle down. He feeds her her very first oyster, but the sauce is so hot it makes her cry. She tells him she was a Dallas Cowboys cheerleader, but that she really wants to teach first grade.
The next date box has arrived and everyone is nervous to see if they get a date this week. The invitation is for Natalie, Erica, Nikki, Naomi, Lauren, Kari, Sharon and Molly. "Let's put the glam into Hollywood glamour," reads the note. Megan is "bummed" about not landing a date invitation.
Back on the beach, Melissa is thrilled when the Goodyear Blimp flies by with a message that reads, "Hi, Melissa." When she asks whether she'll get a rose, the readout says, "Too early to tell," and she says, "That hurts a little bit!" But "signs point to a yes," for a kiss, which Jason gives her. Melissa says the kiss gave her butterflies. The next message: "Want to go for a ride," which Melissa happily agrees to. They fly over Los Angeles at sunset. Jason tells her he had a wonderful time and gives her the rose, and they kiss. Jason later says, "It's been a long time since I had a passionate kiss like that," he smiles. She calls it "the most extravagant, best first date ever!"
Jason takes eight women on a date to a store and tells them each to pick out an outfit and then, once they're outfitted, takes them to a small hotel that overlooks Hollywood. Erica says they all know that Jason fulfills the "checklist" they want in a guy, but wants to know what he's looking for. He says he's looking for someone who's gotten the "crazy" out of her system and is ready to settle down. After the sun sets, the women change into their bikinis and hit the pool.
Jason stages a "talent show" and Molly, Sharon and Kari put together a synchronized swimming routine. Molly asks Jason if she an show him her "secret talent," which, turns out to be kissing. Natalie points out that they're kissing and Nikki chews her out for breaking their pact not to discuss "intimate, private moments." Nikki believes she is "a little bit more mature," than Natalie and thinks her rival is all wrong for both Jason and Ty.
In her alone time with Jason, Nikki tells him she can't get involved with the other girls or it will turn into a cat fight. She says that many of the girls aren't ready to be moms, even if they say they are. Jason says he'd love to know who's "not ready," and that he knows that Nikki is.
Naomi gets Jason alone, planning on giving him a kiss that's "10 times better" than the one he had with Molly, and she succeeds in getting a longer kiss. But it's Molly who wins the rose. Naomi thinks that she knew what she was getting into with the show, but admits that seeing Molly get the rose instead of her was "emotional."
Raquel is upset that she hasn't had a date with Jason, so she sneaks into Jason's car when he prepares to leave. When he finds her there, she asks, "Did you have enough of me already?" She tells him she wants to stay and he hugs her and thanks her for the talk. She believes he is "the one" for her.
Jason arrives at the cocktail party and tells the women they look gorgeous. He thanks them for a great week and he promises to spend time with the women who didn't get to go on dates. Jason assures Erica that she's "noticed." Lauren confesses that she's not feeling comfortable, and wishes Jason would do more initiating and he tells her he's doing the best he can, but that they do have a connection. He worries that she needs more reassurance than he can give her, under the circumstances.
Shannon has a question for Jason, "Do you remember my name?" His answer: "Come on!" Since she claims to know everything about him, he puts her to the test by asking if she knows when Ty's birthday is. She rattles off several family facts, then tells him she can't concentrate because he's "so cute."
Jason privately admits that Shannon's obsession with him is "flattering," but also "weird" and "uncomfortable."
Megan has bonded with Stephanie over both being moms, and wants to know Stephanie's story. Stephanie tells them how her husband died when her daughter was only 10 weeks old. The other women wipe away tears as she tells how she learned that her husband was dead.
In her alone time with Jason, Stephanie tells him that it's her daughter, Sophia's birthday tomorrow. She's nervous but confident that if it's meant to be, she'll get a rose.
Lisa is tearful when she tells him his grandmother is terminally ill and that she's decided to leave. Jason announces her decision to the group and the women hug her goodbye. Privately, Shannon and Lauren both admit they're not sorry to see Lisa go.
With Lisa's departure, Jason only has to send two women home.
Megan knows he's already kissed four of the women, and is worried that she might get sent home before Jason gets to know him. She tells him what she was like before she was a mother, and that she used to be "go-go-go." Molly, who already has a rose, steals him away. Megan tells the other women, who agree that it's not fair of Molly. Erica agrees, saying that she wouldn't do what Molly had done. But then Megan overhears Erica telling Molly that "you do what you have to do," and that she supports what she did. Megan confronts her and Erica denies that she's reversed her opinion. She brings the issue to the group and is offended at being called "a bad person for comforting Molly." "You seem really worked up," Megan says and Erica replies, "You seem like you really enjoy it, which is sad," and walks off.
Nikki again tells Jason that she feels that many of the women there aren't ready to be a stepmother and that he should take the time to figure out who really "ache for you."
In the kitchen, away from Megan, Erica tells Stephanie and other women that they should have all listened to their instincts the first night. "That girl is no good," she says privately, and publicly tells Megan, "I'm really disappointed in you," and admits that she's still shocked about the incident. Erica tells Megan it's no mistake that she was the one who was voted off. "You were second, sweetheart," Megan reminds her, and Erica says, "Because I'm a threat, not for bad karma." Megan calls Erica out for being "two-faced" and a "diva" for continuing the drama.
"Claws are definitely starting to come out," Melissa notes, while Natalie feels there's a "very weird vibe," due to the increased tension.
Host Chris announces it's time for the rose ceremony. Jason is having a tougher time than he expected, saying he thought he'd fall for one girl right away, but instead he's falling for several of the women.
Jason gives roses to:
Megan
Nikki
Lauren
Naomi
Stephanie
Kari
Natalie
Shannon
Erica
The only two left without roses are Sharon and Raquel. Sharon gives him a quick hug goodbye. "I got cut short," she says, near tears when she says, "He doesn't see himself marrying me. So, yeah, I'm disappointed." Raquel wonders if she was too aggressive with Jason and was sure they had a connection.