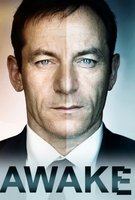 TV Info
---
Episode Premiere
March 08, 2012

Distributor
NBC

Genre
Drama

Show Period
2012 - 2012

Production Company
20th Century Fox Television


Cast and Crew
---
Director
Jeffrey Reiner
Screenwriter
Kyle Killen
Main Cast
Additional Cast
Synopsis
---
Britten's getting ready for work when Rex comes downstairs with a pile of laundry, which he claims smells weird. It's not the same as when his mom did the laundry. The next day, Britten takes care to watch Hannah doing laundry - she adds fabric softener, which explains the scent Rex is used to. Dr. Evans is excited by this story. This kind of access to the subconscious has been highly prized throughout history, said to be responsible for all kinds of scientific and philosophic breakthroughs. Britten jokes that for him, it just means he works twice as many homicides. That night, Bird and Britten check out the corpse of celebrated fertility doctor Bernard Mackenzie at the morgue. Even though the autopsy report came back clean, County Coroner Banks did another workup to discover that diabetic Mackenzie's insulin was laced with untraceable potassium chloride, which could give an Olympian a heart attack. Mackenzie's death is now officially a murder.
That night Britten makes dinner out of cereal and soda, having lost track of the groceries. Rex remarks that they don't have to force themselves to eat together every night - even though he used to do it with his mother. Hannah used to cook actual food... The next morning, Hannah's surprised when Rex's friend Cole's father drops off a box of mail that Rex must have had delivered to their house before his death. Britten is curious and wants to open it, but Hannah can't see the point. She wants to leave it alone; her stomach isn't as strong as Britten's, and she can't figure out why it's so easy for him. Later, Britten tells Lee that perhaps Hannah deals by pretending Rex never exited. When Lee points out that Britten's perspective (the dream where Rex is alive) prevents him from fully understanding Hannah, Britten counters that it make him enable him to better help her.
Later at work, Britten and Vega are walking through the squad room when Britten stops cold, spying the name Bernard Mackenzie on a white board. All Vega knows is that it's a cold case. Mackenzie is a dead homeless guy - no clues, nobody cares. Despite Vega's protests, Britten orders Vega to retrieve the file, remembering Evans advice to explore the connections between his worlds - the conscious and the subconscious. Lee, of course, points out that this sort of thing is a problem, not a tool. Regardless, once Britten starts using Hannah's fabric softener, Rex thinks his laundry smells like home again.
Hannah stops by to visit Cole with Rex's box of mail. It turns out she did open it after all, and she wants to know about a strange mechanical part she found. By way of explanation, Cole takes Hannah to a storage unit to reveal an old Triumph motorcycle, which he and Rex were restoring in their spare time, regardless of the fact that both sets of parents forbade it. Remember all those times Rex said he was going to the beach? Hannah can't help but be impressed; she advises Cole to finish the restoration. Rex would have wanted him to. Meanwhile, Britten drives a reluctant Vega to Mackenzie's crappy neighborhood. Despite Mackenzie's hefty rap sheet, Britten wants to re-canvas for clues. When Vega asks why Mackenzie, Britten replies that he doesn't have to tell him why. If Vega wants to work Britten instead of the case, Vega can catch a cab back to the office.
It's nighttime before Britten and Vega get a hit, which involves a possibly crazy homeless man. He claims to have seen Mackenzie get shot by a "mean little guy," right by where "they" keep the antennas. Vega writes him off, but Britten's still willing to believe this man did witness Mackenzie's murder. The next day, Britten's surprised to find that the prime suspect in Dr. Mackenzie's murder, his former partner Dr. Taylor, is enormously tall. Taylor allows that he may have threatened to kill Mackenzie in front of his wife, but he wasn't serious; and in the altercation they had two days ago, Mackenzie accosted him. If the cops are looking for someone with motive to kill, why not look into all the threats from religious groups they'd been getting? It turns out that Mackenzie had been turning away patients who really needed their help in order to maintain perfect stats to attract a wealthier class of clients. All this while screwing Taylor out of his half of the practice. On the night in question, Taylor was home by himself watching the game.
Britten is just asking how tall Taylor is, raising Bird's eyebrow, when Taylor's lawyer enters, advising him to stop talking. He wants the detectives to release Taylor right now, but Bird's not having it. Just when it seems like the interrogation is over, Britten asks Taylor what game he was watching. The lights were tripped in the Mackenzie's office around 9:00 p.m., so does Taylor remember anything specific that happened in the game? Taylor remembers something a commentator said, which Bird and Britten later confirm, watching a tape of the game. Bird has to admit Britten was right - but he saw it all over his face when Taylor walked in the room - Britten never believed Taylor murdered Mackenzie. And what does Taylor's height have to do with it? Britten advises they pull the office computers and look into the death threats Taylor told them about.
It turns out that threatening emails were an everyday thing for Dr. Mackenzie, but he didn't know his computer system had been hacked. Within hours of Mackenzie's murder, about 20 of his patient files disappeared. IP Tech Nat has tracked the hacker to a former patient, paralegal Laura Harvison, whose file is missing. While Nat tries to recover backup copies of the files, he advises Britten and Bird to look at Sam Harvison, Laura's 17-year-old son. Sam begs the cops not to tell his mom, claiming that while looking for his own file, he started screwing things up that he couldn't fix. He explains that his father donated sperm before starting cancer treatments, then died a few months after Sam was born. Hacking his file seemed like the easiest way to get to know his father. Sam says he was at the movies on the night in question, then digs in the garbage for his ticket, which Britten asks to keep. Again, Britten stuns Bird by asking Sam's height - which is 5' 5", making him a little guy.
On the way out, Bird confronts Britten on the issue of height. Luckily, Britten has a somewhat plausible explanation regarding a small window in the doctor's office with a broken alarm contact. A little guy could fit through it. Bird doesn't understand why Britten wouldn't focus on the more likely scenario of a suspect capable of walking through the front door. Why would he go after Sam, when the kid seems to have an anti-motive? Flustered, Britten maintains it's all just a theory. That night Britten cooks an actual dinner, but Rex has plans to go to the beach with Cole. Of course, the guys aren't going to the beach - they're off to the storage unit to work on the motorcycle, which they plan to take on a three-day trip to the Coachella Music Festival.
It turns out Cole isn't convinced that the trip to Coachella is the best idea. How are they going to explain it to their parents? Sensing Rex has some other reason for this trip, Cole puts it all together when Rex's girlfriend Emma stops by the storage unit. She wouldn't happen to be going to Coachella? She would. The next morning, Hannah tells Britten that she went through Rex's mail, and it was thrilling in a way. Even though they said no to the motorcycle, Rex figured out how to do it anyway, just like his dad would have done. Something about seeing the motorcycle gave her the feeling that Rex was weirdly alive. And for once she wasn't standing there sobbing; she felt proud. Hannah has volunteered to take Cole to pick up the last of the parts and invites Britten to check out the Triumph.
Back at work, Vega wants to take a fresh case, but Britten insists they already have a case, even if Vega thinks they're merely looking at pictures of random short people. Vega's stunned when a uniformed officer brings in the homeless guy they questioned earlier. Furious, Vega insists dropping Mackenzie's case, but Britten has no intention of budging. He reminds Vega that he was promoted to detective because the higher-ups wanted someone who would have no problem spying on his partner. Hearing the argument escalate, Captain Harper orders Britten into her office to remind him of the circumstances of his return to work. If he doesn't like Vega or his therapist, he can still either retire or take a desk job, which would allow him to spend more time with Rex. But right now, he's got to put the Mackenzie case aside. Can Britten do this? Yes, he can. On the way out, she asks why he's looking at pictures of short guys, and of course, Britten has to explain that his "witness" saw a little guy kill Mackenzie.
Britten asks coroner Evans to check over Dr. Mackenzie's files for anything unusual, since they look like Greek to a layman. Evans is amazed to discover that the markers on multiple genetic panels are all the same. Mackenzie was using his own sperm to father many of the children that were the result of his IVF treatments. There must be a lot of kids out there who don't really know who their father is... It's not long before Sam is sitting with Bird and Britten in the interrogation room. They've learned that Sam bought potassium chloride from a Canadian company a month ago. The techs have just started searching his computer, and it's not looking good, since they've already found searches for induced heart attacks and insulin.
Sam breaks down, asking whether the cops have to tell people what Mackenzie did. While working on a project for school, Sam discovered that his blood type was incompatible with both his parents. Instead of upsetting his mother, he opted to hack into Mackenzie's computer system. That's when he discovered 15 records that indicated the exact same genetic markers as his - with the clear implication that there must be hundreds more. The last three doctors who did something similar to Mackenzie were basically given a slap on the wrist and let go, so Sam didn't go to police. Can they imagine what it's like - to find out one day you're the child of a monster? Sam chose to eliminate the problem and protect the people who wouldn't want to know. Even Mackenzie's family will memorialize him as a nice doctor who died of a heart attack. Promising to do whatever Bird and Britten want, Sam begs them to keep the story under wraps, so Mackenzie's other victims won't go through what he did.
Dr. Lee asks Britten how he could let a dream direct his investigation. Britten insists he was just looking for something they might be missing, hoping for clues. Lee warns him not to rely on his dreams, while Evans think it's a complicated process in which Britten is accessing his subconscious. Somehow, in the case of the doctor, there's success, since Britten got his man. But Britten can't rest, knowing he still hasn't solved the murder of homeless Mackenzie. Later that day, Britten softens, asking Vega if he wants to lead the interrogation of a witness in their new case. He's not sure it's the right thing, but if Vega can come at the guy as strong as he came after Britten, he might scare something out of them. When the guys leave their desks, Harper checks Britten's computer - clearly, he's still looking at little guys for the Mackenzie murder.
Evans wonders if Britten satisfied his subconscious by solving Dr. Mackenzie's case, which released him from the obligation to solve homeless Mackenzie's murder. Perhaps instead, Britten chose to focus on the story of Rex's motorcycle - and in the process, he found a way to focus on what's most important: his son. The next time Rex says he's going to the beach, Britten offers a stunning piece of advice: wear a helmet. Caught red-handed, Rex asks his dad if he wants to see the Triumph. In Britten's other world, Cole drives the Triumph up to the house to show Hannah and Britten, offering to let Hannah go for a ride.
Captain Harper sits on a park bench eating an orange when a man we've never seen before takes a seat beside her. Even though she's monitoring Britten, the man reports that no one finds this reassuring. Harper doesn't care; she has it under control. They should have listened to her instead of taking out his whole family. The guy claims they were protecting Harper as much as anyone, even if she doesn't want that kind of protection. All they want is to get past this. Harper insists if they do anything other than let her handle Britten, things will get much worse before they get better. Then Harper asks an odd question: the guy they used for the accident - was he short? It turns out... he was. She assures her contact that no, Britten doesn't remember anything about the accident.