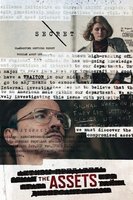 TV Info
---
Episode Premiere
January 09, 2014

Distributor
ABC

Genre
Drama

Show Period
2014 - 2014

Production Company
Lincoln Square Productions


Cast and Crew
---
Director
Jeff T. Thomas
Screenwriter
Drew Chapman
Main Cast
Paul Rhys
Jodie Whittaker
Harriet Walter
Stuart Milligan
Julian Ovenden
Christina Cole
Ralph Brown
Synopsis
---
The CIA scores a major break when Vitaly Yurchenko, a high-ranking KGB officer, defects to the United States. Aldrich Ames is assigned to be the initial debriefing agent. He meets with his contact at the Soviet Embassy. He fears the defecting colonel will expose him as a spy. Ames carries a cyanide pill with him just in case the worst occurs. It doesn't. Ames is not recognized by Yurchenko, who declares that there is, indeed, a mole inside the CIA. This has Aldrich Ames extremely on edge.
Sandy knows that all of their assets are now in danger of being killed. She personally frets over the safety of a beloved and esteemed asset, General Dmitri Polyakov, known by the code name Top Hat. She convinces her superiors to get this guy better spy gear. Polyakov is given a new powerful camera which he uses to help validate Sandy's faith in him. Her boss calls the asset their jewel in the crown.
Aldrich Ames is ordered to learn the name of the alleged mole inside the CIA. Yurchenko whispers to Ames that he thinks it's him, but his declaration is quickly dismissed as one of many rants. He only knows the traitor's code name: Mr. Robert. He is a man with problems when it comes to money, relationships and drinking. In exchange for information, Yurchenko wants to visit someone in Montreal. As for Ames, he's making plans to leave the country as well until Yurchenko reveals that the mole is actually ex-CIA.
Once Ames realizes that he's not going to be ratted out, he removes the cyanide pill he had placed in his mouth just before the interrogation. The CIA is now focusing on an ex-agent known as Edward Lee Howard. The guy was fired two years ago. As for Polyakov, his son lets him know that there is talk of traitors. He warns him to be careful. As short time later, Polyakov receives a phone call. We don't yet know who is on the other end of the line.