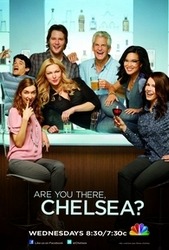 TV Info
---
Episode Premiere
January 18, 2012

Distributor
NBC

Genre
Comedy

Show Period
2012 - 2012

Production Company
Borderline Amazing Productions, Warner Bros. TV


Cast and Crew
---
Director
Gail Mancuso
Screenwriter
Robin Schiff, Brian Gallivan
Main Cast
Additional Cast
Synopsis
---
Sloane finally gets some alone time from the baby when she and Chelsea have a night out at the movies. When the teenage boy working the concession stand makes an awkward pass at Chelsea, Sloane comments that it isn't fair that boys are all over her. Sloane's husband's in Afghanistan; he's only in town once a year, and Sloane's feeling a bit neglected.
Later at the bar, Chelsea comes across none other than Sloane's high school sweetheart, Matt Gun. Chelsea always had a crush on Matt when she was a little girl, but now she's all grown up and ready to impress. To Chelsea's delight, Matt asks her out on a date.
When Sloane visits Chelsea at her apartment, Chelsea shares the news that she ran into Matt Gun and then drops the bomb that Matt asked her out. Sloane is visibly offended and tells Chelsea that she's not allowed to date her sister's ex. Chelsea doesn't get what the big deal is, but she begrudgingly agrees to not go out with Matt.
Rick's high school girlfriend Nicky comes to the bar to visit Rick. Rick is excited about the idea of his ex coming by, hoping they might be able to reignite the fire and start something up again. Nicky is rude, prissy and extremely superficial, and she manages to offend everyone she talks to at the bar, especially Chelsea. Rick's crushed when he learns that Nicky's engaged to a plastic surgeon... looks like his chances are shot.
When Chelsea's dad Melvin stops by, Chelsea explains her Matt Gun dilemma. Melvin offers up some not-so-fatherly advice, suggesting that Chelsea just lie. What Sloane doesn't know won't hurt her! Chelsea considers this option and decides to just go for it; why not just see how the first date goes?
Clearly the date went better than expected; Chelsea and Matt end up in bed together. Chelsea makes a snide remark about sex with Sloane and is shocked to find that Matt is unable to tell her that she's better than her sister. Chelsea's shocked, refusing to believe that her conservative sister has moves in the bedroom.
After having a change of heart, Sloane stops by the apartment to apologize to Chelsea. Chelsea isn't there, and Dee Dee, unable to lie, can't contain Chelsea's secret. Dee Dee confesses to Sloane that Chelsea had sex with Matt Gun and that he said that sex with Sloane was better. Sloane's anger turns to ecstasy at this news, and she decides to leverage it to her advantage.
Nikki comes back to the bar and surprises everyone by asking for a job. Her fiance's really just a broke resident right now, and she needs some extra cash. Rick gives in and agrees to hire Nikki, to Chelsea and Olivia's horror.
Later, Sloane smugly shows up at the bar ready to stir up trouble with Chelsea. She tells Chelsea that she's changed her mind, and Chelsea now has her permission to date Matt. She also offers up a bit of advice and tells Chelsea that Matt likes baby talk in the bedroom. Later, when Chelsea follows Sloane's advice, Matt's shocked and disgusted.
Chelsea realizes what Sloane was up to and goes over to her place to confront her. The fact that Sloane was better in bed is still killing Chelsea, and she asks Sloane what her secret really was. Sloane tells Chelsea that they were in love, which is why the sex was great. Sloane worries about Chelsea and tells her that she hopes she's open to falling in love in spite of her crazy antics.