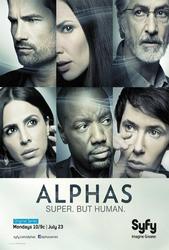 TV Info
---
Episode Premiere
October 22, 2012

Distributor
Syfy

Genre
Drama, Sci-Fi

Show Period
2011 - 2012

Production Company
BermanBraun, Universal Cable Productions


Cast and Crew
---
Director
Matt Hastings
Screenwriter
Bruce Miller
Main Cast
David Strathairn as Dr. Lee Rosen
Malik Yoba
Warren Christie
Laura Mennell
Ryan Cartwright
Azita Ghanizada
Additional Cast
Synopsis
---
INCIDENT REPORT: Power Grid Attack
LOCATION: Manhattan (Grand Central Station)
DETAILS: Wounded but determined, Dr. Rosen struggles across town, urged on by hallucinations of his dead daughter Dani. In order to stop the bleeding, Dr. Rosen visits an Alpha who can help and then forces himself to keep moving. All he has to go on is the clue he got from Mitchell: That Parish wants to watch the explosions with a "God's eye view."
With time running out, Dr. Rosen visits Gary at the hospital where he is taking care of his mother. Gary finds out that Parish was responsible for construction of the Empire State Building and Dr. Rosen thinks this must be the God's eye view Parish mentioned. He jumps on a train and plans to transfer at Grand Central Station.
Back at the office, tensions are high. Bill is concerned about Dr. Rosen but he won't allow that concern to override his main priority: Stopping Parish's imminent attack. Meanwhile, Kat is still livid that the Alpha team put her in harms way-a fact that makes it hard to focus on the matters at hand.
Deep underground, a few electrical works accidentally trigger an explosion. The workers die instantly but a homeless man finds that the explosion has turned his voice into a weapon. Rachel uses her senses and discovers that the "surge protectors" the government just installed all over the country are actually miniature photic stimulators. After consulting with Skylar, Agent Cley and Bill agree to do the only thing they can: Shut down the power to the national grid. Unfortunately, that solution won't work in NYC. Skylar will have to build a work-around.
At the hospital, Gary's mom wakes up from her coma long enough to tell Gary to help Dr. Rosen. Gary tracks Dr. Rosen to Grand Central Station where Dr. Rosen has realized that the ceiling of Grand Central Station is the "God's eye view" that Parish meant, not the Empire State Building.
At Alpha Headquarters, Skylar's new device does indeed kill the power in New York City but Grand Central Station has a separate generator to keep the trains running-Gary and Dr. Rosen are right in the belly of the beast! Worried, the rest of the team rushes to Grand Central to help. Parish, however, has anticipated this and set a trap for them. Bill and Kat take the Red Flag terrorists down while Rachel and Skylar attack the generator. Elsewhere, Dr. Rosen confronts Stanton Parish but refuses to kill him. Cameron, however, has no such compunction: He shoots Parish, killing him-at least for the moment.
Skylar hits a snag with the generator. She's able to shut down power to the rest of New York but she can't cut the power to Grand Central. In the following explosion, everyone falls to the ground, Alphas and humans alike, except for Gary who was somehow unaffected. Is the whole team dead, or will they awake with even stronger Alpha powers?