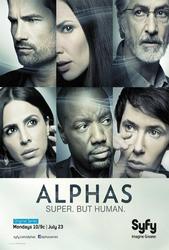 TV Info
---
Episode Premiere
October 08, 2012

Distributor
Syfy

Genre
Drama, Sci-Fi

Show Period
2011 - 2012

Production Company
BermanBraun, Universal Cable Productions


Cast and Crew
---
Director
Allan Kroeker
Screenwriter
Terri Hughes Burton, Ron Milbauer
Main Cast
David Strathairn as Dr. Lee Rosen
Malik Yoba
Warren Christie
Laura Mennell
Ryan Cartwright
Azita Ghanizada
Synopsis
---
INCIDENT REPORT: Upstate Farmhouse Raid
LOCATION: Rhinebeck, NY (Walker County)
DETAILS: Agent Cley has pulled out all the stops to track down Stanton Parish and hold him accountable for the bombing that took Dani's life. UnderCley's orders, the Alpha Team headquarters is flooded with agents and analysts whose only mission is to track down and bring in as many bad seed Alphas as possible and interrogate them about Parish's whereabouts.
Dr. Rosen doesn't agree with the methodology but when Agent Cley presents him with a list of addresses associated with Parish, one address jumps out at him. Moving on a hunch and still distrustful of Agent Cley's team, Dr. Rosen secretly tasks Cameron with the mission of investigating the address. Dr. Rosen also sends the freshly Quantico-trained Kat with Cameron as backup.At the remote farmhouse, they find a very big guard but not much else. Carefully, they break in and find Mitchell, a seemingly dull man who loves to eat and watch cartoons. Cameron and Kat take Mitchell back with them but are soon stopped by Mitchell's Caretaker who can mend any injury as long as he has enough calcium.
As Cameron and Kat try to avoid the caretaker, they learn that Mitchell's Alpha power is his ability to store memories and regenerate them, even if they were not originally his own memories. Later, the Caretaker gets the drop on Cameron and it's up to the newbie Kat to save the day. Thanks to some quick thinking, Kat realizes that the Caretaker is massively heavy and uses that fact to drown him. In the process, she saves Cameron but feels guilty about causing someone's death.
Back at Alpha Headquarters, Dr. Rosen experiences first-hand the magic of Mitchell's ability. Through Mitchell, Dr. Rosen leans more about Stanton Parish than he ever knew before. Likewise, both Kat and Cameron use Mitchell's power to search their own mental memory banks for important moments and people.
Despite all of this, Dr. Rosen still imprisons Mitchell with the rest of the bad Alphas at Binghamton and even burns down the place that Stanton Parish calls home. He and Cameron both hope that these extreme actions will bring Parish to their door.
Meanwhile, Bill tries to teach Gary how to be empathetic when Gary's mother suffers a series of strokes that may leave her crippled (or worse), and Rachel discovers that she has found a "zen place" with her powers because of her intimacy with John. Nina, however, stirs up quite a bit of trouble when Senator Burton shows up unexpectedly and asks Nina about being pushed. Eventually, Senator Burton realizes it was Nina who pushed her and Dr. Rosen is forced to threaten the Senator to keep her in line.