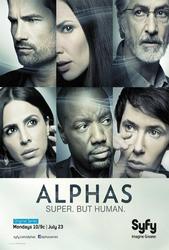 TV Info
---
Episode Premiere
October 01, 2012

Distributor
Syfy

Genre
Drama, Sci-Fi

Show Period
2011 - 2012

Production Company
BermanBraun, Universal Cable Productions


Cast and Crew
---
Director
J. Miller Tobin
Screenwriter
Eric Tuchman
Main Cast
David Strathairn as Dr. Lee Rosen
Malik Yoba
Warren Christie
Laura Mennell
Ryan Cartwright
Azita Ghanizada
Synopsis
---
The whole team is depressed after Dani's untimely demise at the hands of Stanton Parish, but no one feels worse than Dr. Rosen and Cameron, who both blame themselves for her death.
Despite Dani's death being fresh in his mind, Dr. Rosen is forced to undergo a lengthy debrief with Agent Cley to determine the true nature of Dani's relationship with Parish and, more important, how functional Dr. Rosen will be in leading the Alpha Team.
Distraught, Dr. Rosen pulls back from his responsibilities and gives Agent Cley carte blanche to take over the team. When Cley comes to the team's headquarters to confiscate all of their files, he does not get a warm reception. Cameron decides to confront Dr. Rosen at Dani's apartment where Dr. Rosen is taking a depressing inventory of her art and her life. The two of them argue but ultimately bond over their shared goal to exact revenge on Stanton Parish.
As if the day wasn't stressful enough, a woman shows up at the office unexpectedly with a newborn baby and hands him to Gary. The woman says that the baby is an Alpha and deserves to be there with Dr. Rosen. Despite his disdain for human contact, Gary quickly takes to caring for the baby and even becomes protective of him.
Later, when the baby's parents show up to claim him, Gary refuses to relinquish the baby. Likewise, Bill and Nina interview the couple and, after some time, decide that the two of them are the baby's legitimate parents. When they try to convince Gary, however, he holds his ground by explaining that he can't find any records for the parents.
Sure enough, when Bill tries to call the police, the "parents" attack and try to reclaim the baby that they say was created in a laboratory. Since they are Alphas too, the parents prove to be quite a physical challenge. After exerting quite a bit of effort, Bill and Nina finally overpower the intruders before the couple can get away with the baby.
After his talk with Cameron, Dr. Rosen decides to return to the office and, after conducting some experiments, he determines that the baby does have an Alpha ability: The power to heighten anyone's protective reflex through physical touch. After mulling it over, Bill and his wife decide to adopt the baby, at least for the time being.
Meanwhile, Rachel and John finally decide to make love, with mixed results. Rachel's senses, as usual, overpower her and she feels the need to disengage. Likewise, John's negative past experiences impact him as well. Thankfully, the two of them decide not to give up and they do better the next time around, even though her father catches them in the act.