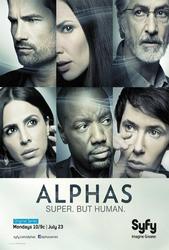 TV Info
---
Episode Premiere
September 24, 2012

Distributor
Syfy

Genre
Drama, Sci-Fi

Show Period
2011 - 2012

Production Company
BermanBraun, Universal Cable Productions


Cast and Crew
---
Director
Matt Hastings
Screenwriter
Robert Hewitt Wolfe
Main Cast
David Strathairn as Dr. Lee Rosen
Malik Yoba
Warren Christie
Laura Mennell
Ryan Cartwright
Azita Ghanizada
Synopsis
---
Incident report: Double Agent Rescue Op
Location: Stanton Parish's Compound- Upstate, NY
After Dr. Rosen reveals that Dani has agreed to go undercover and spy on Stanton Parish, tempers flare around the office. Of course, no one is more upset than Cameron, who feels like Dr. Rosen has thrown his own daughter to the wolves. Despite Dr. Rosen's explanation, Cameron storms off and completely break off communication with the team.
When an alpha-powered robbery is reported at a storage facility for DARPA (Defense Advanced Research Projects Agency), the Alpha Team swings into action. Bill and Nina are first on the scene and they get quite a shock when they see Cameron helping with the robbery! Bill tackles him but, somehow, Cameron gets away.
Cameron, it seems has taken up with Stanton Parish and, thanks to him, Stanton Parish is now in possession of a large number of electric grenades that are capable of both destroying power sources and killing people. While the Alpha Team tries to figure out what Cameron's motives are, Cameron tries to prove his commitment to Red Flag by meeting with Agnes, a beautiful woman whose touch can painfully reveal the secrets of anyone's mind.
Once Cameron gets past Agnes, he is granted a meeting with Stanton Parish, who tells Cameron that he may not trust Dani as much as he used to. Worried for Dani's safety, Cameron decides to follow Agnes-a good thing since Stanton has asked Agnes to rip Dani's mind open too.
Cameron rushes in to save Dani before Agnes can discover that she's working for Dr. Rosen, but Dani refuses to leave without trying to stop Stanton Parish. He plans to detonate the rest of the electric grenades in the middle of New York City-an act that would kill millions of people.
When Bill realizes that Nina "pushed" him to let Cameron escape during the robbery he's furious until Dr. Rosen intercedes. Turns out that Dr. Rosen and Nina secretly sent Cameron in undercover but Nina manipulated his mind so that he would be able to resist Agnes' power.
With everyone now on the same page, the team chases the truck containing Stanton Parish's bomb and when they can't diffuse it, Dani stands inside the truck, counting on Stanton's affection for her to prevent him from seeing his act of terrorism through. Unfortunately, Dani has underestimated Stanton's conviction-he detonates the bomb with Dani standing right next to it.
While Gary is able to reroute power so that the bomb does not kill anyone in the city, Dani isn't so lucky. The explosion wounds her badly and she dies in her father's arms.