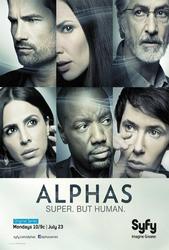 TV Info
---
Episode Premiere
September 17, 2012

Distributor
Syfy

Genre
Drama, Sci-Fi

Show Period
2011 - 2012

Production Company
BermanBraun, Universal Cable Productions


Cast and Crew
---
Director
Nick Copus
Screenwriter
Nina Fiore, John Herrera
Main Cast
David Strathairn as Dr. Lee Rosen
Malik Yoba
Warren Christie
Laura Mennell
Ryan Cartwright
Azita Ghanizada
Synopsis
---
When a spate of YouTube videos showing teens jumping off buildings and walking away unscathed becomes popular, Bill and the team decide to investigate. They get quite a shock when Gary discovers an old picture of Kat hanging out with some of the people shown in the videos. After a bit of debate, it's decided that Kat will go undercover to learn what she can.
What Kat learns is that the crazy stunts are made possible by a new drug called "Jump" that temporarily makes someone invulnerable. She also discovers that her ex-boyfriend Dylan is one of the ringleaders. As she settles into her undercover life, she falls for Dylan all over again and when Bill decides to arrest him, Kat rebels. After warning Dylan, Kat gets the shock of her life when she discovers that Dylan is actually manufacturing the drugs from the blood of an alpha that he's using the same way he once used Kat. Kat tries to save her but Dylan gets the drop on her and Kat has to take the "Jump" drug once more in order to stop him. For good.
When Cameron's son Tyler comes to visit him, Cameron makes the bold step of introducing Tyler to Dani. Cameron soon becomes suspicious that his son might have an alpha ability like his own and tries to test him for it, which makes Tyler feel inadequate. After things go sour between the two of them, Dani helps mend the fence by using her alpha ability to show each of them what the other was feeling.
Dr. Rosen has been letting Bill run the show because he's distraught by the possibility that his daughter Dani could be Stanton Parish's mole. He asks for Gary's help to find out the truth. Sadly, Gary finds evidence proving the connection between Stanton Parish and Dani. When Dr. Rosen finally confront Dani, he offers her a choice that's just as upsetting for him as it is for her: Go to jail at Binghamton or become a double agent and feed information about Stanton Parish's actions back to Dr. Rosen, Agent Cley and the rest of the Alpha Team.
Meanwhile, despite John's easygoing comfort with the idea of meeting her parents, Rachel decides to cancel a meet and greet dinner when she suddenly doubts her ability to maintain an ongoing relationship.