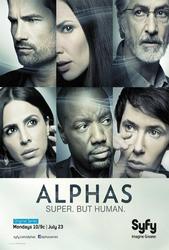 TV Info
---
Episode Premiere
September 10, 2012

Distributor
Syfy

Genre
Drama, Sci-Fi

Show Period
2011 - 2012

Production Company
BermanBraun, Universal Cable Productions


Cast and Crew
---
Director
Mairzee Almas
Screenwriter
Kira Snyder
Main Cast
David Strathairn as Dr. Lee Rosen
Malik Yoba
Warren Christie
Laura Mennell
Ryan Cartwright
Azita Ghanizada
Synopsis
---
Incident report: Mind Meld in Suburbia
Location: J. Fort High School, Upper East Side, NY
Nina has been getting headaches during the process of pushing Senator Charlotte Burton to have all of Stanton Parish's photic stimulators recalled. In the process, it looks like Nina's power is affecting Senator Burton adversely. Across town, the previously comatose Jason Miller shows up at the high school dance and, after being picked on, uses his increased alpha ability to turn his crush (and the rest of the students in his high school) into his personal zombies. Jason has somehow created a "hive" mind and wrapped his parents and classmates into it to do his bidding.
Dr. Rosen tries to bring Jason in for testing but Jason refuses. Just when Dr. Rosen is about to be shot by one of Jason's minions, Stanton Parish steps in to save Dr. Rosen's life. Parish suggests that he and Dr. Rosen should work together to save Jason but, when Dr. Rosen refuses, Parish threatens Dr. Rosen's daughter Dani-a hollow threat since Parish has been using Dani to spy on Dr. Rosen, Cameron and the rest of the Alpha team. When Parish and Dr. Rosen finally pool their knowledge, Dr. Rosen realizes that Jason's classmates and parents will soon die because of the mental strain of Jason's mind meld.
Back at Alpha Headquarters, Nina confides in Rachel about Senator Burton and they discuss giving the Senator's doctor access to Nina's medical file. When they call to talk to Dr. Rosen about it, Rachel is able to detect that the person on Dr. Rosen's phone is not Dr. Rosen-it's an imposter. She alerts the team and, soon, they are able to get the real Dr. Rosen on the phone.
Reunited, the team finds Jason quickly and tries to bring him in but he panics and, in response, his drones swarm the alpha team. Once they get Jason back to Alpha Headquarters, Parish preps Nina to push Jason but, later, when Parish tries to leave, Dr. Rosen imprisons him and Parish promptly commits suicide. When the guards come to check on Parish, he comes back to life and kills them before freeing Jason and taking over his neural hive. In order to break Parish's link to Jason's hive, Dr. Rosen has to join it. In the process, he sees into Parish's thoughts and discovers that his daughter Dani is the mole that he and Bill have been looking for.
Meanwhile, Kat lobbies to become a probationary agent, Bill keeps showing up with injuries from fight club, Rachel is beaming about her new relationship with John and Nina decides to turn over her medical file to help Senator Burton get well.