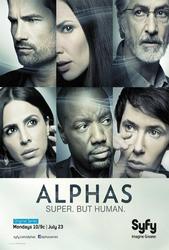 TV Info
---
Episode Premiere
August 20, 2012

Distributor
Syfy

Genre
Drama, Sci-Fi

Show Period
2011 - 2012

Production Company
BermanBraun, Universal Cable Productions


Cast and Crew
---
Director
Leslie Libman
Screenwriter
Terri Hughes Burton, Ron Milbauer
Main Cast
David Strathairn as Dr. Lee Rosen
Malik Yoba
Warren Christie
Laura Mennell
Ryan Cartwright
Azita Ghanizada
Additional Cast
Erin Way
Liane Balaban
Lauren Holly as Senator Charlotte Burton
Noah Reid
Synopsis
---
When Dr. Rosen, Bill, Cameron, Gary and Rachel investigate a violent relapse by an alpha powered-teen at the local hospital, they get more than they bargained for. One by one, each of them is affected by strange hallucinations.
Adam, the teen they originally came to help, drowns himself in a sink, Rachel dives into a pool to save an imaginary Nina, Bill does battle with a stronger version of himself and Cameron tries to slice his own chest open. Only Gary and Dr. Rosen are relatively unscathed. The two of them quickly deduce that there must be another alpha in the hospital who is causing the mental disturbances. Gary is affected too, but in a much more benign way. He is suddenly able to see Anna, who was previously killed by Agent Cley's tactical team.
Since Gary has missed Anna a great deal, he is reluctant to let Dr. Rosen help the alpha in question: A comatose young man by the name of Jason Miller. Ultimately, it falls to Anna's doppelganger to convince Gary to let Dr. Rosen help. With the aide of the hospital staff, Dr. Rosen revives Jason and, almost immediately, the rest of the Alpha Team is freed from danger. It seems Jason's dormant alpha ability was asserting itself in a desperate attempt to save his life.
Having lost Anna for the second time, Gary channels his frustration by using his alpha ability to launch @Anna_Lives, a Twitter account in Anna's honor. His first tweet announces that the "revolution" is coming, but does he mean a revolution for his Alpha teammates, or for the reemergence of Red Flag?
Despite Nina's recent exploration of the darker side of her powers, Dr. Rosen entrusts her with a new mission: "Pushing" a New York senator into telling Nina about Stanton Parish's sizable political donations. Before Nina tackles the senator, however, Nina tries "pushing" Kat by using sensory cues, which yields mixed results.
Later, Nina finds out that the senator's memory has been wiped clean, presumably by Stanton Parish. Nina also finds out that Stanton Parish did ask something specific of the senator: Trial tests of Photic Stimulators on comatose patients at 2,700 different hospitals. The question is, what do the Photic Stimulators do, and how does it benefit Stanton Parish?
Meanwhile, Cameron is getting resistance from his ex about seeing his son, Bill's addiction to the fight club is starting to show, and Rachel makes an effort to accept Nina's overtures toward rekindling their friendship.