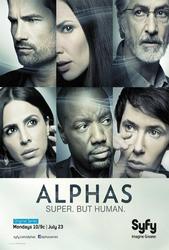 TV Info
---
Episode Premiere
July 30, 2012

Distributor
Syfy

Genre
Drama, Sci-Fi

Show Period
2011 - 2012

Production Company
BermanBraun, Universal Cable Productions


Cast and Crew
---
Director
Michael Nankin
Screenwriter
Michael Karnow
Main Cast
David Strathairn as Dr. Lee Rosen
Malik Yoba
Warren Christie
Laura Mennell
Ryan Cartwright
Azita Ghanizada
Synopsis
---
INTERPERSONAL STATUS ASSESSMENT: Alpha Team
LOCATION: DoD Alpha Team headquarters, Queens
HIGHLIGHTS: The reassembled Alpha Team is feeling cramped and uneasy about the slew of analysts and tactical operatives who now inhabit their space-especially Gary. Likewise, Agent Cley isn't happy about turning the reigns of power over to Dr. Rosen.
Cameron has secretly been dating Dani, Dr. Rosen's daughter, which becomes a problem for most of the team, especially Nina, who quits after she finds out. Stanton Parish wants Dani to leave Cameron and she tries to break it off but she can't-her feelings are too strong.
Dr. Rosen and Bill struggle for power and status within the team but ultimately start working side by side.
INCIDENT REPORT: Alpha-Powered Abduction
LOCATION: R Restaurant, Manhattan
DETAILS: Eli, a very young and very fast Alpha, snatches Dr. Westman right out of his dinner seat in one of the fastest kidnappings of all time. Since no one even saw the kidnapper, including the doctor's wife who was sitting next to him, Team Alpha is called in to investigate.
Gary is able to find a rapid blur darting into and out of the restaurant where the doctor was kidnapped and Rachel, using her sense of smell, is able to pick up the trail. She follows the stench right to Dr. Westman's dead body. Bill uses a fingerprint found at the scene to identify Eli as the culprit-a name Dr. Rosen recognizes as one of the escapees from building 7 of Binghamton Prison. Eli is capable of moving at upwards of 45 miles per hour and even though he is only 21-years-old, his hyper-speed is rapidly aging his body.
Soon, Gary catches sight of the blur across town and the team rushes to save Eli's next victim. They arrive just in the nick of time to rescue Dr. Casey and Bill almost catches Eli but can't quite keep up. Dr. Casey confesses that he worked with the now deceased Dr. Westman at the Yankee Medical Group-a secret clinic in Stanford, Connecticut where they used brainwave therapy to experiment on Eli under the guise of "research on pediatric hyperactivity." It seems that Eli is tracking down all the doctors who ever tried to "help" him.
Eventually, they let the doctor go but only to use him as bait for Eli. The team stakes out the roof across from Dr. Casey's apartment but, while they are there, Eli shows up at Alpha headquarters begging Dr. Rosen to help slow his body down. Naturally, Dr. Rosen agrees and he begins to help the paranoid and distrustful Eli retrace his medical history. In the process, Dr. Rosen realizes that Stanton Parish was intimately involved with the sinister work of the Yankee Medical Group.
Just when it seems like they could be making some progress with Eli's condition through Dani, Eli is abruptly shot and killed, forcing the Alpha Team to suspect that Cley's tactical team has a different agenda. Angry at losing his only solid connection to Stanton Parish, Dr. Rosen and Bill requisition their own separate floor for the Alpha Team.