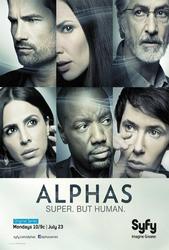 TV Info
---
Episode Premiere
July 23, 2012

Distributor
Syfy

Genre
Drama, Sci-Fi

Show Period
2011 - 2012

Production Company
BermanBraun, Universal Cable Productions


Cast and Crew
---
Director
Matt Hastings
Screenwriter
Robert Hewitt Wolfe
Main Cast
David Strathairn as Dr. Lee Rosen
Malik Yoba
Warren Christie
Laura Mennell
Ryan Cartwright
Azita Ghanizada
Synopsis
---
INTERPERSONAL STATUS ASSESSMENT: Alpha Team
LOCATION: DoD Alpha Team headquarters, Queens
HIGHLIGHTS: It's been eight months since Dr. Rosen exposed the world of Alphas to the general public and, to thank him, the government locked him away. Dr. Rosen bides his time by waiting for two things: visits with his daughter and an "incident" that will force the powers-that-be to call on him for help.
Without Dr. Rosen to guide the Alpha Team, Bill and Cameron have been reassigned to report to Agent Clay and assist in the aggressive apprehension of dangerous Alphas. Likewise, Gary has been reassigned to the NSA. During a robbery at the local supermarket, Harken and Hicks are able to capture a female Alpha who can tap into any electrical system.
Rachel used to use her hypersensitive five senses to help the Alpha Team accomplish its goals but, without that job to focus her, her powers are running rampant, overloading her system and forcing her to hide away at her parent's home. She keeps the world at bay by using huge, noise-canceling headphones and staying in bed.
Nina has gone back to her old ways of manipulating everyone around her to get what she wants by using her undeniable power of suggestion. Without Dr. Rosen around to act as her moral compass, she slips further and further into bad behavior.
INCIDENT REPORT: Building 7 Prison Break
LOCATION: Binghamton Prison
DETAILS: When Bill and Cameron suddenly realize that Gary is being held in Binghamton Prison, they rush to get him released. As they attempt to get the necessary governmental clearances, the Alpha that Bill and Cameron captured earlier in the day is being processed elsewhere in Binghamton.
As soon as she can, she uses her Alpha ability to jack into the power system and release all the prisoners, including her beau, Cornell Scipio. Instantly, there is a violent prison riot and Scipio takes charge, throwing Bill and Gary into a prison cell as hostages. Scipio's one demand? Dr. Rosen. Once Agent Clay springs Dr. Rosen from the psychiatric ward where he is being held, Rosen works quickly to reunite the rest of the team in case he can't save Bill and Gary on his own.
At Binghamton, things go from bad to worse when Scipio sets Dr. Rosen on fire. Cameron rushes in to help right before Rachel realizes that the fire is imaginary—the whole negotiation is an electronic projection intended to distract the Alpha Team from Scipio's true goal: Escape from Binghamton. The team scrambles and, with one carefully placed shot, Cameron is able to stop the escapees from kidnapping Bill and Gary, but he is not able to stop Scipio from escaping.
Reunited at Alpha Headquarters, Dr. Rosen finally gets through to the catatonic Gary and, despite a few lingering tensions, the gang is officially back together. Likewise, across town, Stanton Parish has assembled his own posse, including the darkly charismatic Scipio, as well as Dani, Dr. Rosen's own daughter.The Alpha War, it seems, is just beginning.