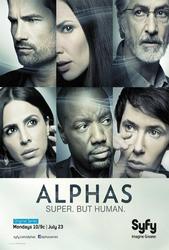 TV Info
---
Episode Premiere
September 19, 2011

Distributor
Syfy

Genre
Drama, Sci-Fi

Show Period
2011 - 2012

Production Company
BermanBraun, Universal Cable Productions


Cast and Crew
---
Director
J. Miller Tobin
Screenwriter
Marc Bernardin
Main Cast
David Strathairn as Dr. Lee Rosen
Malik Yoba
Warren Christie
Laura Mennell
Ryan Cartwright
Azita Ghanizada
Synopsis
---
On a dock in the middle of nowhere, an old man waits for a friend. Unfortunately, it's a Red Flag assassin who shows up instead.
One by one, the Alpha Team is taken down with tranquilizer darts and relocated to Binghamton, the facility for the "bad" Alphas they usually send away. When a shaky Dr. Rosen demands to know what's going on, he is granted an audience with Nathan Clay, who makes the wild claim that someone on Rosen's team is a Red Flag mole.
Clay talks to each of the team members, trying to ferret out the mole but it doesn't work-even though he's also using Eric Latreaux, an Alpha-powered, human lie detector. Out of options, Clay throws the lot of them into a cafeteria, so the team can find the mole amongst themselves.
Clay's plan backfires, however, when the team uses a combination of their powers and some very real pain on the part of Dr. Rosen to escape. Unwilling to kill the whole team, Clay must let them go and wait for round two. When the team regroups in an abandoned warehouse, tempers flare as they all accuse each other of being the mole. Suspicion comes to rest most heavily on Hicks once Gary tells Dr. Rosen about the many cash deposits Hicks has been making. With Clay and the rest of the DoD closing in fast, a fight erupts between Hick and Bill and Dr. Rosen gets punched in the face.
As Clay and his troops swoop in, Rachel gets a good look at Rosen's spilled blood and realizes that he is not Dr. Rosen at all-looks like they've found their mole. The faux Dr. Rosen escapes back to the office with Gary, the only Alpha who can erase the incriminating files from the server.
Meanwhile, across town, the real Dr. Rosen wakes up and manages to get the drop on the Red Flag assassin who was about to put him down. Dr. Rosen goes straight to the office where he encounters his doppelganger and must convince a confused Gary who the real Dr. Rosen is. When Clay and the rest of the team show up, the chameleon Alpha morphs into Gary and tries to slip past them but Rachel sees through the ruse.
The tragedy has been averted, but Clay and the real Dr. Rosen are testy with each other over how the situation was handled. There is good news, though. Clay is going to let Eric freelance for the Alpha team-a welcome addition, especially for Rachel, who thinks he's cute. In reference to the mysterious cash deposits, Hicks finally admits to selling his baseball "fame" for his son's college fund. Things are almost back to normal when Bill suddenly collapses in a heap-has his heart finally had too much?