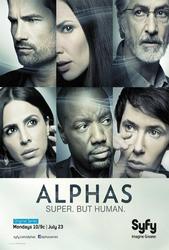 TV Info
---
Episode Premiere
August 08, 2011

Distributor
Syfy

Genre
Drama, Sci-Fi

Show Period
2011 - 2012

Production Company
BermanBraun, Universal Cable Productions


Cast and Crew
---
Director
Jeffrey Hunt
Screenwriter
Jordan Rosenberg
Main Cast
David Strathairn as Dr. Lee Rosen
Malik Yoba
Warren Christie
Laura Mennell
Ryan Cartwright
Azita Ghanizada
Synopsis
---
In Fenton, PA, two teens start to get frisky on the Fenton Panthers football field when Mr. Howard, their high school guidance counselor, melts away painfully right before their eyes.
At Alpha headquarters, Dr. Rosen presents the team with a new tool- official badges. Although Bill prefers to use his own FBI badge, the rest of the team is exacted that this will help them cut through red tape at investigation sites. The badges come just in the nick of time, since Agent Sullivan wants the team to see what's going on in Fenton.
Dr. Rosen and Rachel arrive first and discover that the high school guidance counselor is only one of three bizarre deaths in the area. Rachel can literally smell the fear in the air. Rosen and Rachel soon find out about a fourth death in town-a tragic car crash that killed a young man named Chris Elkhart. To exhume the body for a proper autopsy, Rosen must ask for permission from Chris' mother. As Ms. Elkhart explains that Chris had been under enormous stress as a result of trying out for the football team, Rachel seems to bond with her instantly-perhaps a bit too much.
When the local sheriff dies of internal decay, just like Mr. Howard, Rosen knows it's time to call in the rest of the team. When they arrive, Dr. Rosen shares what he knows and Bill immediately notices that the "passionate" local coach is connected to all of the victims so the team heads to the high school to investigate further.
At the school, all signs point toward David Burton, a troubled football player whom few people seem to like, but when they catch him, he starts deteriorating too and it looks like he's about to become another victim. Luckily, the Alphas are able to get him to the hospital where, with a little help from the CDC, they are able to determine that all the victims are suffering from extreme addiction and withdrawal.
Once Hicks and Bill determine that Chris Elkhart's death was suicide, rather than a tragic accident, the pieces start to fall into place. Chris' mother is the Alpha they've been looking for. When her son killed himself because the kids at school were bullying him, Ms. Elkhart started punishing the people involved by using her power. Her next victim? Rachel.
Ms. Elkhart uses her power to addict Rachel and then leaves her to die, hoping to slow down the Alpha Team just long enough to kill one final person, The Panthers coach, whom Ms. Elkhart holds most responsible for her son's death.
After the team saves Rachel-just barely-they capture Ms. Elkhart at the coach's house and get her sent off to Binghamton. Meanwhile, Rachel is inspired to reach out to her own mom to mend fences and get the kind of motherly attention that felt so good coming from Ms. Elkhart.