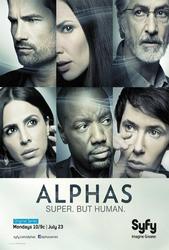 TV Info
---
Episode Premiere
August 01, 2011

Distributor
Syfy

Genre
Drama, Sci-Fi

Show Period
2011 - 2012

Production Company
BermanBraun, Universal Cable Productions


Cast and Crew
---
Director
Karen Gaviola
Screenwriter
Zak Penn
Main Cast
David Strathairn as Dr. Lee Rosen
Malik Yoba
Warren Christie
Laura Mennell
Ryan Cartwright
Azita Ghanizada
Synopsis
---
Gary starts his day as usual, by brushing his teeth vigorously and waiting for his mother to bring him a glass of water at exactly the right temperature. His day takes a sudden turn, however, when he picks up a odd audio signal he recognizes from the team's previous encounter with the Alpha known only as The Ghost.
After tracing the strange signal to the home of Kosar, the man from Red Flag who previously tried to kill Dr. Rosen, the whole Alpha Team surrounds the house and prepares to put Kosar down for good. Unfortunately, Kosar and his roommate Purlec are Alphas too and they are able to use their powers to escape. Only one person is left behind in the house: A low-functioning autistic woman named Anna. Grim with determination, Dr. Rosen leaves Nina and Gary to deal with Anna while he and the rest of the team head off in search of Kosar.
Gary soon learns that Anna isn't low functioning at all. Not only does she understand all the languages in the world, she's also invented her own language and Gary can "hear" her by looking at the electromagnetic waves of the sounds she creates. In Anna, Dr. Rosen sees the opportunity to crack Red Flag's code and track down Kosar.
Back at the office, Bill analyzes Gary and Anna's translations and realizes Kosar plans to blow up a fuel truck. Bill, Hicks and Agent Sullivan chase the truck down but discover that Anna has led them on a wild goose chase. In a bit of a role reversal, Hicks tries to get Dr. Rosen to slow down and stop letting the case be so personal, but Dr. Rosen is intent on stopping Kosar.
Bill and Hicks try to catch Kosar again and this time they are able to catch him and his partner Purlec, but not before Kosar blows up a wing of a pharmaceutical company. It turns out that Red Flag targeted the company because of their plans to manufacture drugs designed to prevent Alphas from being born.
When Dr. Rosen finally finds out that Anna, not Kosar, is the head of Red Flag, he's flabbergasted. As if that wasn't enough, Dr. Rosen also learns that he has grossly underestimated the size and strength of Red Flag. The supporters of Red Flag massively outnumber his small Alpha Team. Plus, as Gary bluntly reminds him, Dr. Rosen himself is not an Alpha, so Rosen must question his place in this war.
Gary, meanwhile, has become much more independent-the lasting affect of the time he spent with Anna, a friendly enemy who he may keep in touch with.