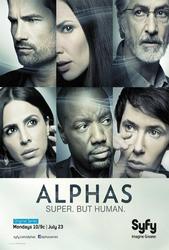 TV Info
---
Episode Premiere
July 11, 2011

Distributor
Syfy

Genre
Drama, Sci-Fi

Show Period
2011 - 2012

Production Company
BermanBraun, Universal Cable Productions


Cast and Crew
---
Director
Jack Bender
Screenwriter
Zak Penn, Michael Karnow
Main Cast
David Strathairn as Dr. Lee Rosen
Malik Yoba
Warren Christie
Laura Mennell
Ryan Cartwright
Azita Ghanizada
Synopsis
---
It's just another day at the job for Cameron Hicks, an employee at a local grocery store, when he gets a strange phone call that only consists of a series of beeps and a location. Switched "on" somehow, Hicks keeps hearing people tell him that it's time to kill. Confused, the reluctant Hicks makes his way to the location on the top of a roof and finds a sniper rifle waiting for him. He assembles the rifle with speed and accuracy-clearly, he's done this before-and pulls the trigger.
Across town, psychologist Dr. Lee Rosen is enjoying a day in his pool, when he is interrupted by Don Wilson, his Department of Defense case worker who shows up with a crime scene file and a directive: He wants Dr. Rosen's group to handle an assignment for him.
One by one, we meet the team. There's Nina Theroux, a beautiful woman who has mastered the power of suggestion; Bill Harken, an FBI agent who can activate his fight or flight response at will; Rachel Pirzad, a 24-year-old woman who can increase any of her senses (at the expense of the others); and Gary Bell, a high-functioning autistic man who can actually see electromagnetic waves around him.
Dr. Rosen assembles the team for their briefing and explains that a prisoner at the NYPD was shot in the head while Wilson was interrogating him but no gun was seen and the room had no door or windows. The Alphas are quickly able to deduce that that the shooter, Hicks, fired his bullet through an air vent on the side of the NYPD building. An incredible shot. The kind of shot only another Alpha could make. The team believes that Red Flag, an extremist group of Alphas might be responsible.
Using their powers, the enigmatic crew is able to trace Hicks and put him at the top of their list of suspects. They arrive at the grocery store just in time to find the recently fired Hicks walking out and heading home, which is a bit of a problem because Rachel is still in his apartment, using her senses to look for clues.
When Hicks finds Rachel in his apartment, Bill bursts in to save her, but Hicks is well trained and Bill's adrenaline spike can't keep up. Hicks gets away, with the rest of the team in hot pursuit. Finally, Nina is able to influence Hicks to fall asleep and they take him back to headquarters to perform an MRI on him. And what they find is starling-someone else is controlling Hicks' actions. The question is: Who?
Wilson thinks that this might be the work of the mysterious "ghost killer," (a man who brainwashes people into doing his dirty work and then has them kill themselves to avoid discovery), but he has no idea how to find him. Dr. Rosen decides it's best to ask Hicks what he remembers. Turns out that Hicks has no memory of killing anyone. His mental state has been influenced, much like the mental pushes of Nina.
Their best chance of finding the Ghost is to use Hicks as bait. Sure enough, Hicks soon gets a call that "activates" him but this time the team is ready. Gary locks on and tracks the signal back to the Ghost at the Thompson Hotel.Once Nina induces the concierge, Bill powers up to catch the Ghost but somehow the Ghost saw them coming and "influences" the bellhop to stab Gary. With Gary wounded and the Ghost on the loose, the team needs help and Hicks jumps in. Yet little do they know the Ghost has switched uniforms with the bellhop and, even worse, the Ghost has been hunting Dr. Rosen and Wilson all along!
Later on the Ghost is able to influence Bill to kill Dr. Rosen but Nina overpowers Bill with a well-timed kiss. Meanwhile, Ghost captures Rachel but Hicks, who is beginning to believe in his powers, pulls off an incredible ricocheting shot to kill him. After that, it only makes sense that Hicks become the newest member of the Alpha Team.