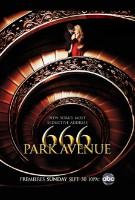 TV Info
---
Episode Premiere
November 04, 2012

Distributor
ABC

Genre
Drama, Horror, Sci-Fi

Show Period
2012 - 2013

Production Company
Alloy Entertainment, Warner Bros. Television


Cast and Crew
---
Director
Allison Liddi Brown
Screenwriter
Chris Hollier
Main Cast
Additional Cast
Enrique Murciano
Tessa Thompson
Peter Friedman
Misha Kuznetsov
Synopsis
---
Charlie is the clever thief who gassed Olivia, broke into Gavin's penthouse and stole the mysterious red box in "A Crowd of Demons." He did all this for a million dollar payday. His mystery employer offers to triple the payoff on one condition. Charlie is not to open the box. The phrase "curiosity kills" seems fitting here as the mastermind behind the robbery shows up at Charlie's place to find his hired hand gasping for life. It is obvious Charlie did not follow instructions. The mystery man then gives the order to torch Charlie's hideout before exiting with the securely latched red box.
Dr. Scott Evans makes a house call to check on Olivia. Gavin asks for the results of the blood test before his wife sees them to confirm she was drugged. The good doc agrees to play ball after Gavin offers him a $50,000 loan which will help with a secret gambling addiction. Gavin later tasks Tony with tracking down the guy who tried to run down Olivia. Speaking of Olivia, she's approached by Victor Shaw. He's the man who hired Charlie to steal the box. Shaw assures Olivia that he's preparing to destroy her husband. He also suggests she get another blood test from someone who isn't in Gavin's pocket.
Gavin's lawyer, Sam Steinberg, gets a little uneasy when he sees that his boss has abducted the hired hand who tried to run down Olivia. He wants no part of the interrogation, so he races into the elevator. That was a mistake. The elevator shoots him up to the top floor where Sam is trapped in a maze of endless hallways. Gavin did this to him because he knew he was behind the theft. He eventually frees his lawyer from his hallway prison because he may need to use him later. He'll also be calling on Doc Scott, who gets a bloody $50,000 tattoo on his chest after blowing through the 50 grand.
Olivia identifies her hubby's prime robbery suspect as the same man who approached her: Victor Shaw. A meeting is set up. Gavin gift wraps what his blackmailer believes to be a big box of money as the two men chat over dinner. Shaw wants more than cash though. He wants the Drake. He threatens the release of a past obsessive lover of Olivia's who was imprisoned by Gavin, who then offers Shaw a chance to walk away from this fight. If he doesn't, then he'll end up like his once-loyal lawyer. Shaw opens Gavin's gift box. There's no money inside. Instead, there is only the dead head of Sam Steinberg.
Detectives Jarvis and Cooper question Jane about everything that went down on Halloween night. There are no signs of a murder or any of the foul play Jane claims she endured. Henry learns that the police believe that the love of his life may have mental issues. Detective Cooper, however, is willing to keep an open mind even after Jane tells him that the man who attacked her was the ghost of Peter Kramer.
Media consultant Laurel Harris continues to push Henry to aggressively pursue his political future. We also get the sense that she may be interested in pursuing her client in more than a professional manner. She's pushing him into feeling that his current girlfriend is never going to understand his drive to succeed. This idea is amplified when Jane lets Henry know that she needs to leave the Drake. In fact, she needs to leave New York. Jane wants Henry to come with her in a move back to Indiana. She's distressed once she realizes he doesn't believe her about the visions she's been having. Their conversation does not end well.
Detective Cooper does some research on the Drake. He finds Annie's newspaper article about Kandinsky. Speaking of the incarcerated killer, Gavin pays him a visit in prison. A short time later, Kandinsky is rushed to the hospital. Gavin instructs Doc Scott to help him escape. He later assures Olivia that he's making sure that Shaw will never open the red box, which seems to be making the sounds of a demonic heartbeat. In other news, Jane sees in a photo that Peter Kramer is part of the Order of the Dragon. She also realizes that his daughter, Jocelyn, was her grandmother.