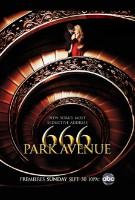 TV Info
---
Episode Premiere
October 14, 2012

Distributor
ABC

Genre
Drama, Horror, Sci-Fi

Show Period
2012 - 2013

Production Company
Alloy Entertainment, Warner Bros. Television


Cast and Crew
---
Director
Alex Zakrzewski
Screenwriter
Matt Miller
Main Cast
Additional Cast
Aubrey Dollar
Ursula Parker
Clark Johnson
Malachy Cleary
Synopsis
---
When we last left Jane, she was trapped in a room in the basement of the Drake. She's not alone. There's an a collection of old dolls scattered amongst the cobwebs. Whispers of "let us out can be heard and a little girl can be seen grabbing at Jane's leg. Henry opens the door, but doesn't find anyone else in the room. He and Jane head back upstairs. They don't notice the shadow darting across the room. We, however, see a frightened young girl clutching one of those tattered old dolls.
Jane wants to dig deeper into the mystery behind the room she found, not to mention everything else about the Drake. She asks her boss for the original building plans so she can find out why someone wanted to bury the history of the place. Gavin will give Jane what she wants as long as she does him the favor of keeping Olivia occupied. Today is a difficult day for the both of them as it's the 10th anniversary of the death of their daughter, Sasha.
Jane admits to Olivia that she's having visions. She somehow feels the dead won't stay dead. Not exactly the best thing to say to a woman mourning the death of her child. Olivia drives at a high rate of speed down the road where her daughter died in a car accident. Actually, it wasn't really accident. Olivia says Sasha crashed into a concrete wall on purpose. She wanted to die.
Gavin encourages Henry to pursue his desire to be Chief of Staff for Bill Edwards, a city councilman who is gearing up for a run to be mayor. The guy just happens to be dining across the way from the two of them. Gavin encourages Henry to schmooze the guy. What he says works. Henry ends up with a tentative job offer by the end of the meal. He sets up a celebratory night out with Brian, who got completely flustered earlier when Alexis walked in on his morning lovemaking session with Louise.
Henry can see how such a beautiful woman could make a guy edgy after he catches sight of Alexis undressing while in Brian's pad. Back in his place, Jane hears a soft bell ringing through a vent. It's coming from the basement. She investigates only to find blood pouring down the mysterious door. The little girl with the doll tells Jane that it's bad in there. Gavin enters the basement area. The little girl is suddenly gone and there's not a drop of blood on the door.
Annie Morgan is a passionate, motivated journalist who has been saddled with writing obituaries for the local paper. Gavin encourages her to tap into her creativity. So Annie makes up a story about a recently-deceased man falsely dubbing him to be a covert CIA operative who once tracked a vicious KGB enforcer named Kandinsky. She's shocked to learn that her article has struck a nerve with the public. Her subject is now believed to be an American hero. Gavin assures Annie that it wouldn't be right to take that away from him... or her.
Annie is suddenly a star at the paper. She revises her own mother's obituary to make her out to have been a top-selling children's author. She's also asked to do a follow-up piece on the elusive KGB operative Kandinsky. She concocts a chilling story about this fictional fellow. She tells of the murder kit he used in his torture sessions. A scary man who looks exactly like the person Annie described is suddenly at her front door. He breaks in, ties her up and prepares to inflict some of the same torture Annie just wrote about.
Jane, Henry, Louise and Brian head out to a dance club where they exchange stories about possible lease exits and the idea of a haunted Drake. The awkward conversation ends abruptly when Alexis happens to pop by the club. How random is that, right? Louise is thrilled. Brian... not so much. He kisses Louise passionately as if to make a point to Alexis before dragging his wife out of the club.
Gavin meets with Bill Edwards in his penthouse. The guy wants compensation for hiring his boy. Gavin explains that Henry is the compensation. He also wants the councilman to help him get a nearly-condemned property. Edwards doesn't want to play ball, so Gavin pushes him down an empty elevator shaft. The leader of the Drake then lets Henry know that perhaps a job with the councilman isn't the best career move. Gavin encourages him to shoot for loftier goals. Henry is tempted by the allure of this new notion.
Olivia burns the suicide note her daughter left for her 10 years ago. We can't make out all of its contents, but we do see the words "he's evil" in the center of the letter. In other news, the little girl with the doll appears to Jane in the hall outside her apartment. She says, "Don't let him out." We have no idea what this means. Later, Jane heads down to the basement after hearing a bell ring once again. It's coming from the handle of a dirty old locked suitcase which she drags up to her apartment. Jane will deal with the thing in the morning. She goes back to bed completely unaware that a hand is pushing out from inside the suitcase.