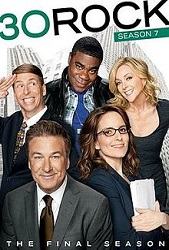 TV Info
---
Episode Premiere
May 03, 2012

Distributor
NBC

Genre
Comedy

Show Period
2006 - 2013

Production Company
Broadway Video, Little Stranger, NBC Universal


Cast and Crew
---
Director
Ken Whittingham
Screenwriter
Luke Del Tredici, Tracey Wigfield
Main Cast
Synopsis
---
Tracy's wife, Angie, is the star of her own reality series, Queen of Jordan. Angie's excited to be meeting with Jack who's going to begin cross-promoting her new clothing line for plus-size women and huskier gays. Now that's she's a fashion designer, Angie is the world's first octuple threat: reality star, actress, singer-songreader, perfumist, IBS survivor, bestselling author of a book she didn't write and catchphrase coiner. But Jack has to cut it short with Angie. He's just learned that his wife Avery is headed home from her kidnapping ordeal.
Followed by reality show cameras, Angie bursts into the studio and asks Liz where Jack is. Liz tries to explain Jack's trying to sort out the resolution to his wife's kidnapping, but Angie doesn't care. She explains that what's really happening is her fashion show tonight and Tracy's plan for a big surprise for the end. Angie tosses her drink in Liz's face before storming off.
Jack's mother-in-law, Diana, enters Jack's office to discuss the details of Avery's release. Again, cameras are everywhere. Diana mentions she doesn't think she and Jack should tell Avery about "us." Jack spits out his drink and points to all the cameras around them. Diana remembers this is all being filmed and says, "Oh [bleep]."
Liz volunteers to take care of Angie's toddler daughter, Virginia, but the child's nothing but cool toward Liz. Later, Angie's friend D-Fwan tells Liz that Virginia doesn't want to see her anymore. Liz explains she's just anxious to have a child of her own and really wants Virginia to like her. When Liz pokes her head through the door, Virginia throws a toy at her. The latest reality feud is on!
Jack's attempts to cover-up Diana's slip about their almost affair by saying she really said not to tell Avery about "Gus." Jack explains that Gus is Avery's former Harvard professor/boyfriend and Jack doesn't want to tell Avery he's doing business with him. To sell the ruse, Jack hires a homeless person wearing a foil hat to portray Gus; it's a tough sell. Meanwhile, Diana claims for the cameras that she said the word "rus," as in Russian, because they're opening a secret Russian restaurant. Jack and Diana eventually find a way to meld their stories; however, it requires them to open their restaurant tonight with Gus as the head chef.
Angie believes Tracy's planning a huge finale for tonight's fashion show to generate media buzz for her clothing line. But in reality, Tracy had been planning on skipping the entire thing to play video games instead. Angie warns him he better come up with something or else. She's still incensed over the news that Jack's new Russian restaurant is opening on the same night as her show, so she'll simply move her runway show right into the restaurant.
Liz's faux feud with Virginia is causing Liz to question whether she'll be any good at raising her own kids. Tracy notices Liz's concern and asks if he can help. Liz rants that there's nothing real about reality TV. To prove it, she knocks over a chair, yanks off her lapel mic, flips off the camera and storms out of the room.
It's opening night. Liz arrives to find that she and little Virginia are wearing the exact same dress. Hoping to stoke the feud - and maximize her on camera time - Jenna springs to Virginia's defense. Liz tells Jenna she's already a star and doesn't need to do this show. Jenna agrees. She demands that the camera people blur her face and disguise her voice before she leaves the scene.
Jack and Diana congratulate each other on the big night. Then, they stare into each other's eyes and uncontrollably kiss each other. Whoops! The cameras catch it all. Liz stands up to deflate the situation and announces Jack kisses everyone. To demonstrate, Liz and Jack force an awkward smooch. As a result, Jack turns around to see a line of other people who'd like a kiss from him, starting with D'Fawn.
Virginia's nanny approaches Liz and tells her Virginia witnessed what she did for Jack - and that she now wants to be best friends with Liz. Liz is relieved and gladly accepts. Even better, Liz is now invited on a "girls' getaway" with the Queen of Jordan cast in Somalia.
Angie is furious that people paid more attention to the restaurant, baby feud and other story lines than her own fashion show. And she's even more upset that her own husband didn't bother to show up. She barges into his dressing room. Tracy plays it perfectly for the cameras. Realizing the publicity potential, Angie starts to throw things around the room. Tracy joins her in the destructive process, claiming they're going to have a long, contentious divorce which will probably last all of next season. They've never been more in love.