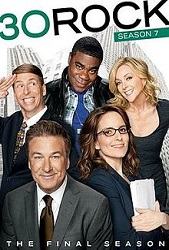 TV Info
---
Episode Premiere
April 19, 2012

Distributor
NBC

Genre
Comedy

Show Period
2006 - 2013

Production Company
Broadway Video, Little Stranger, NBC Universal


Cast and Crew
---
Director
John Riggi
Screenwriter
Robert Carlock, Vali Chandrasekaran
Main Cast
Additional Cast
Synopsis
---
While Liz and her boyfriend Criss are working on her apartment, Criss finds a box filled with Liz's abandoned adoption plans. Criss asks what made Liz change her mind. Liz recalls for Criss a moment when she watched a single mom struggling to manage her life with both an infant and a career. Liz decided it couldn't really be done. She assures Criss that she's happier now, with a boyfriend, a career and her neighbor's "Allure" magazine that keeps being wrongly delivered to her.
Jack is ecstatic his KouchTown couches are nearly ready to ship. Liz agrees the prototype in Jack's office is amazing. She's stopped by the boss' office to give Jack a Princess Leia baby outfit for his daughter Libby; she found it while trying to clear out space in her apartment for Criss. Jack, in turn, offers Liz a date with an investment banker he knows. Liz is appalled. "I have a boyfriend!"
Jenna finally arrives at the TGS stage; she's acting erratically. She explains to Liz that she's working on her own celebrity breakdown. It's part of a plan to get Paul to come back to her; public meltdowns are the new sex tapes, she tells Liz, before pulling the fire alarm. Later, Tracy, no stranger to going postal in public, tells Jenna to start slow. Don't start killing people in the first act!
The chief engineer for KouchTown reveals the finished product to Jack; the couches are completely deformed with awkward angles and uneven legs. Jack is confused. The couch coming off the production line looks nothing like the prototype. The chief admits they didn't make the prototype - they bought it at a furniture store. The chief defends his factory's product by saying Jack wanted nothing but American engineers working on the sofa. The engineer explains that all Americans know how to make are roller coasters and "Survivor" challenges.
Liz receives a presumptuous email from the guy Jack wants her to meet. She shares the text with Criss who likes the ending signature, "Sent from one of my four iPads." Liz is about to reply no when Criss tells her she should go. He explains that by going, Liz will be able to tell Jack how wrong he was, and Criss can get what every 39-year-old is looking for from his girlfriend's boss: acceptance. Liz makes the date.
Jenna is being interviewed by Matt Lauer on The Today Show about whether she is on the verge of a breakdown. They show a highlight reel of Jenna stealing a mic at a spelling bee, falling down drunk outside a club with no underwear on, security camera footage of her shoplifting followed by a bleary-eyed mug shot taken by the police. Matt says people want to know if she's okay. Jenna coyly deflects the question, preferring to talk only about her upcoming project. But then she kicks into breakdown mode, jumping up and crashing through The Today Show window.
We see a hard-hitting "image" ad for KouchTown couches underscoring American ingenuity and can-do spirit; it's delivered by a gruff Stacy Keach. Back in his office, Jack is working hard to create a demand for his bad couches. Trapped in the couch in Jack's office, Liz confirms that they're incredibly uncomfortable. Jack explains that they put those sitting in them in what Israeli military interrogators call a "stress position." Liz tells Jack she's arranged to meet his friend Kevin. Pleased, Jack notes that Liz has even dressed to impress. "You look like a substitute teacher who has just gotten her one year AA chip," he tells her.
Liz meets the self-important Kevin who's too involved in his own cell phone conversations to even talk to Liz. Whom Liz does find to visit with is Kevin's precocious 12-year-old daughter, Cat. Liz and the child hit it off; Cat reminds Liz of a younger version of herself right down to the wit, the glasses and a shared love of "To Kill a Mockingbird." Criss crashes the party to make sure Liz isn't having too much fun on her fake date. Liz is flattered to have someone willing to fight for her.
Jenna's in the hospital being treated for exhaustion. Friends and former lovers stop by to offer support, including David Blaine, Frank, Jenna's old gym teacher - yet still no Paul. Jenna complains to Tracy all of this was for him, and it's all been for naught. But out of the blue Paul turns around - he's been in Jenna's room all along, disguised as a nurse! He explains to Jenna that he just needed to make sure he was the one Jenna really wanted. They begin to make out.
ack tries to interest furniture retailers in his uncomfortable couches by demonstrating the discomfort. The pain is so great Jack can't help but disclose hidden truths about himself such as a love of scented candles and how his natural hair color is bright red. The retailers walk out in disgust as Jack realizes the only buyer who has too much money and loves to waste it is the U.S. government.
Back at the KouchTown factory, Liz approaches Jack, who asks, "Cat's a great kid, isn't she?" Liz realizes that this date had nothing to do with Kevin and asks why he set her up on a "play date." Jack hoped spending time with Cat would encourage Liz to not give up on her Princess Lea baby clothes yet. Liz contends how some childless women are perfectly happy. Jack observes that Americans suck and declares that what this country needs are people who are a lot more... Lemon. Liz recognizes the compliment and is excited when Criss echoes it's not too late to think about having a child.
The sofas are shipped across the world as C.I.A. interrogation devices. In a Saudi Arabia safe house, we watch a North Korean detainee already buckling under the strain of the couch, claiming he knows how to get Avery Jessup back.