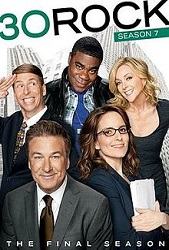 TV Info
---
Episode Premiere
March 22, 2012

Distributor
NBC

Genre
Comedy

Show Period
2006 - 2013

Production Company
Broadway Video, Little Stranger, NBC Universal


Cast and Crew
---
Director
Claire Cowperthwaite
Screenwriter
Tina Fey
Main Cast
Additional Cast
Synopsis
---
The new movie poster for Avery's kidnapping film, "Kidnapped by Danger," has arrived. If Liz writes the script perfectly, gay men will dress up like Avery for Halloween for 20 years to come, according to Jack.
Jenna is upset. She fears her deeply emotional and serious song for the biopic being parodied by Weird Al Yankovic. She and Tracy hit upon the idea of writing a song so inane that it can't possibly be parodied. They jump to the task, but can't seem to find a subject Weird Al can't mock. Suddenly, the light dawns - they'll write about pizza. Pizza is already weird and can't be parodied.
Kenneth has quit his new position in the standards department, so he can save Tracy from himself. He looks to return to TGS; but the budget is tight, so Liz can't immediately find a position for him. Trying to remain positive, Kenneth begs successfully for a janitorial job. Keeping a smile on his face, Kenneth vigorously plunges the toilet. He's back at NBC.
The first cast read for "Kidnapped by Danger" is not what Jack expected. Liz's script is revealing some unpleasant truths about Jack and Avery's love story, right down to his escapades with other women. Jack orders Liz back to his office.
Jack accuses Liz of making a mockery of him. Liz defends herself, saying she's only done was she was asked: tell the whole story. As the tensions rise, Diana Jessup, Avery's mother, unexpectedly arrives; she is here to make sure the Jessup name isn't spoiled by the movie. Liz senses the ongoing sexual tension between Jack and his mother-in-law. She forms a brilliant plan: she will resurrect her old identity as "the blocker" to defuse any fireworks that might be building between Jack and Diana.
Liz gets right to work, rattling off STD statistics. Disgusted, Jack and Diana turn away, but not before Lance Drake Mandrell, the actor who will portray Jack, arrives. An avowed method actor, Lance is strikingly similar to Jack in his mannerisms; Diana takes notice, as does Liz. An idea hits Liz: matchmaking the fake Jake with Diana might just prevent a real liaison from taking place between mother and son-in-law.
"Hello, I'm Jack Donaghy," Lance says to himself, practicing in front of his dressing room mirror. An intrigued Diana invites herself in and asks Lance his opinion of Obama. Diana practically orgasms at the sound of a Jack-like voice, speaking the opinions she wants to hear. A triumphant Liz peers through the cracked door.As Liz works on the script, Lance arrives on set in character, but Jack won't be upstaged. He corrects Lance's use of Reagan's first name. As Diana arrives and says, "Hello Jack," both Lance and Jack turn in response. Jack's secretly crushed to learn that Lance and Diana are going on a date to Planet Hollywood. Jack returns to Liz to further question the tell-all nature of her script. "Your life is far from perfect," she tells Jack. But it's not what Jack wants to hear; he fires Liz from the project. "I'll write it myself," he angrily declares.
On his janitorial rounds, Kenneth discovers yesterday's sandwich, a stark reminder of his fall from power. Barely able to contain his emotions, Kenneth tells himself he's fine.
The moment of truth arrives: Jenna performs the new, parody-proof song on Late Night with Jimmy Fallon. Her song is a litany of foods that give her gas. The audience reaction is decidedly cool. To make matters worse, Jenna and Tracy soon discover there's just no out-weirding Weird Al. The musical maestro has taken Jenna's new scatological song and turned into a patriotic, heart-wrenching ballad. Resigned, Jenna finally accepts Weird Al's work as an honor.
Jack's script is atrocious. Lamenting in his office, he is surprised to see a smiling Kenneth in a janitor's uniform. He asks the former page how he can be so damned positive right after such a precipitous fall from power. Kenneth admits, "I lie to myself every morning when I wake up. I don't know how much longer I can do it." Clearly, Kenneth is losing his grip.
But the show must go on. The movie filming wraps up with a dramatic final scene: Jack is stopped in his tracks by a freezing ray weapon, unable to save Avery before she is hauled away. It's a dramatic ending to a dramatic story. As the shoot wraps, Lance thanks Jack for the opportunity to meet Diana. Lucky for him, Lance tells Jack, Diana likes to "boink" all the time. Jack watches as Lance and Diana leave, arm in arm.