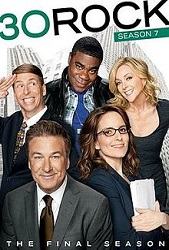 TV Info
---
Episode Premiere
March 15, 2012

Distributor
NBC

Genre
Comedy

Show Period
2006 - 2013

Production Company
Broadway Video, Little Stranger, NBC Universal


Cast and Crew
---
Director
John Riggi
Screenwriter
Colleen McGuinness
Main Cast
Additional Cast
Synopsis
---
For the past two St. Patrick's Days, Tracy and Jenna have botched the live broadcasts. This year, warns Jack, everything will be completely scripted for them and under no circumstances are they to deviate from the teleprompter. With Kenneth out of the picture, Tracy and Jenna are in Hazel's less-than-capable hands.
Liz confesses to Jack that she hates the Irish holiday, vowing to be fully clothed in orange to rebel against the stereotypical green. To avoid Hurricane Shamrock, Liz and Criss will spend the day indoors laughing at movie excerpts. Jack is appalled by her attitude. Speaking in Celtic, Jack mysteriously utters, "I think you need to learn a St. Patrick's Day lesson." Liz believes he's placed a curse on her, demanding he take it back.
The next day, Criss and Liz wait for the Chinese takeout to arrive. Hearing a knock, Liz answers the door only to find her old boyfriend Dennis holding an ice pack to his freshly-cut forehead. Dennis drapes himself over Liz's couch, attempting to convince Criss he can do better than Liz. Liz desperately tries calling an ambulance to take Dennis far, far away. Unfortunately, St. Patrick's Day injuries completely fill up the hospital's line.
Before their live taping, Jenna and Tracy are announced on air as "hosts Jenna Maroney and Tracy Jordan." Jenna and Tracy are in shock that Jenna's name is announced first: clearly, this must mean Jenna is now the bigger star. Pete, hearing the commotion, realizes what has happened and turns the blame on Hazel. He scolds the new page: Tracy and Jenna are never to watch NBC television in order to keep up their various delusions of grandeur.
To equalize the playing field, Hazel switches the teleprompter names to numbers 1 and 2. Each believing they are number one, Tracy and Jenna read the teleprompter in unison. Pete is furious with Hazel's meddling. Kenneth watches the live fiasco from home and, in a moment of self-restraint, convinces himself he's moved on from their problems.
Frank strolls into Jack's office, surprised Jack is there. Jack is working, despite the holiday. The writers are stuck inside all day, as they all have punchable faces. Instead of celebrating, Frank, Sue, Lutz and Toofer engage in a strategic board game called "Colonizers of Malaar." The game's object is to build the strongest kingdom, a goal Jack can relate to. Theorizing ways Frank can "become king," Jack realizes the game is an allegory for his professional life. Back with the writers, Frank steeply drives up the price of land, but Jack understands the macroeconomics of the decision: only Sue will benefit from the monopoly. Jack joins the game, daring to overthrow Sue's kingship. Quickly, Jack traps himself into a desert wasteland, realizing too late that the game fluctuates based on sheer luck.
Seeking solitude from "Colonizers" at a Catholic church, Jack is approached by a lighthearted priest. Jack twists the priest's St. Patrick jokes, believing the saint's crappy lot in life is a mirror image of his life as a self-made man. Returning to 30 Rock and the writers' game, Jack spends his last gold coin on a Fire Spell, effectively burning his whole desert to create much-needed glass. Frank, Sue, Lutz and Toofer shower gold coins on him as Jack basks in his new position as king of Malaar.
Liz pulls Criss aside, explaining Dennis's ulterior motives: he will drive a wedge between them so he and Liz can get back together. Criss refuses to kick Dennis out, despite Liz's pleas. Liz calls to demand Jack remove the curse that brought Dennis into her home. Frustrated with Jack, Liz places a "German curse" on him and decides to deal with things herself. Criss rushes back into the room to inform her of Dennis's brilliant plan to sell dog-less hot dog buns to drunken parade goers. Liz thinks Dennis' plan is transparent: he will describe his "new girlfriend" to get himself alone with Liz. Liz's prediction comes true, but instead of becoming annoyed, she uses a reverse tactic, declaring that she's always loved Dennis. Shocked, Criss thought Liz was literally incapable of saying the words - he's given her multiple opportunities to say "I love you." The wedge is driven between them! Criss leaves in his hot dog truck.
With Criss gone, Dennis confesses to Liz he doesn't have a girlfriend: he has a wife. Before Liz can react, a very drunk, very red-haired woman knocks loudly. Megan, Dennis's wife, has arrived. As Dennis stumbles out the door, he likens Liz to the Irish. Liz is the most emotional one at "the party," and she's stubborn, emotionally repressed and holds grudges. "Happy St. Patrick's Day, dummy" are Dennis' parting words.
As Criss pours mustard on empty hot dog buns, Liz arrives in the only green thing she owns: huge, green Hulk gloves. It's not that Liz doesn't have feelings, but she is afraid to express them only to be crushed. Frustrated with herself, Liz finally tells Criss, "I love you." Liz and Criss high-five, which develops into a kiss, big green Hulk gloves and all.
In a momentary slip, Hazel informs both Tracy and Jenna the first car is here. The two race to the car, only to discover the number "2" hanging in its window. An emotional Tracy is scared he isn't the biggest star anymore, while Jenna is terrified to lose her new celebrity position. They decide to read "Host #2" together! Friends once again, they walk away. The car's sign is removed to reveal Kenneth in the driver's seat. Passionately, Kenneth reminds Hazel, "I will always be here, for them and you!" Before he can finish his thought, a police car forces Kenneth away from the curb.