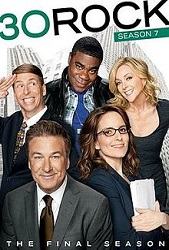 TV Info
---
Episode Premiere
March 08, 2012

Distributor
NBC

Genre
Comedy

Show Period
2006 - 2013

Production Company
Broadway Video, Little Stranger, NBC Universal


Cast and Crew
---
Director
Beth McCarthy-Miller
Screenwriter
Vali Chandrasekaran
Main Cast
Additional Cast
Synopsis
---
Hank Hooper arrives at 30 Rock for the "America's Kidz Got Singing" finale. Unfortunately, he's brought along his teenage granddaughter, Jack's nemesis Kaylie. Jenna is pulling out all the stops for the show, planning on rubbing Vick's VapoRub under her eyes to produce tears. Meanwhile, Tracy is on an all-day fast for his colonoscopy the next day. Fasting might clear his mind, advises Liz.
Everything does not go as planned in the finale, as the underage contestants appear drunk on stage. Hank gives Jack his "angriest hug" because he now must deal with the FCC - the Federal Clown Commission. Under the "Patriot's Act," where a white male can detain anyone, Jack restrains young contestants Brock and Ava. Jack interrogates Brock, threatening him with a Little League team placement without any of his friends. Brock blames the idea on Ava, but Ava confesses it was Kaylie who gave them the alcohol. "It's Jack versus Kaylie, round two," says Jack.
"Were you ever a difficult teenager?" Jack asks Liz. No, she was the head of the PTA, Liz replies. Jack is confused about Kaylie, whether she is vicious or vulnerable. Should he help or destroy her? "Teenage girls are vicious and vulnerable," says Liz. Jack leaves her office, still confused.
Jack tricks Kaylie into letting him inside her apartment. He knows she sabotaged the AKGS finale, but Kaylie claims she did it so she wouldn't be sent off to school in the middle of nowhere. She goes on to ramble off a very long, very confusing account of why she's in trouble with her school - the end result is she needs someone to go to a parent-teacher conference with her. Jack feels bad for her predicament and agrees to pose as her father.
During the conference, Jack realizes Kaylie's story has changed. He drops the nice guy facade and empties her backpack on the principal's desk. A jar of VapoRub rolls out, revealing the source of her tears. Satisfied, the principal expels Kaylie.
Since she didn't get the chance to fake cry, Jenna decides motherhood is the best way to "humanize a monster." Recalling that she was an egg donor years ago, Jenna calls the donation center to see if any "little Jennas" want to meet her. It turns out that Jenna has six biological children, all clearly shallow and blonde like their mother. She arranges to include them in the show that night. Judy, the only non-blonde and non-size zero of Jenna's daughters, is required to put on a wig and smile, despite her protests that she wanted coffee with Jenna, not fame. When Judy arrives on set in the mandatory blonde wig, the set unfortunately doesn't have enough chairs. Jenna tells Judy she won't be joining them on stage.
Excited, Jenna informs her children (minus outcast Judy) that Bravo wants to do a TV series about them. However, her children have different TV plans; they want a series all about them, where Jenna only occasionally shows up. Hurt and angry, Jenna leaves her dressing room, but not before she reaches for her absent gun.
Kenneth's received a promotion in the standards department: he is the new assistant standards associate over TGS. Kenneth delivers Liz new restriction papers due to people's anger over the drunken children on AKGS. Even "fart" is unacceptable. Liz complains to Jack about the new rules, but he is preoccupied with figuring out how to bring Kaylie down. "She is just a teenage girl," says Liz, but Jack adamantly believes a nemesis can be "anyone or anything." He's going to get her expelled.
Liz stands up to Kenneth's new policies, implying Tracy might do something crazy and unpredictable on live television. The showdown begins! A food-deprived Tracy doesn't understand what Liz is asking him to do; he read his calendar wrong and the colonoscopy is tomorrow.
The women's bathroom is being cleaned, so Liz enters the men's room. In the stall next to her is a hysterical Kenneth, who, not realizing it's Liz next to him, confesses how stressed he is between filling his own wastebasket and Liz Lemon yelling at him. If he can't get Liz to respect him, he'll never be able to run a network! She advises him to smack Liz in the mouth.
Liz apologizes for hurting Kenneth's feelings and tells him they rewrote and cleaned up the show. A crying Jenna makes up with Judy, leaving one minute before the show's start to go to coffee with her. Jack realizes Kaylie has once again tricked him - she wanted to be expelled! Tracy, more alert now, understands Liz wants him to do his filthy comedy act. There's not enough time to stop him, so Kenneth bleeps out the words live. Gaylord Fletcher, the head of standards, decides to promote Kenneth based on his bleeping abilities alone.
At Jack's apartment, Kaylie walks in to gloat; expulsion means she can go to a new school in Manhattan, one that's closer to her boyfriend Henry. Not to be outdone, Jack tells her he's cancelling lacrosse in Central Park, where she plays.