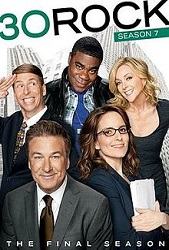 TV Info
---
Episode Premiere
February 23, 2012

Distributor
NBC

Genre
Comedy

Show Period
2006 - 2013

Production Company
Broadway Video, Little Stranger, NBC Universal


Cast and Crew
---
Director
Steve Buscemi
Screenwriter
Luke Del Tredici
Main Cast
Synopsis
---
Liz is stopped on the street by an old college drama club friend, Thad Warmald. Nerdy Thad ran the lighting board. An ecstatic Thad invites Liz to his Leap Day party later that afternoon. Liz explains she has to work. In the 30 Rock elevator, Liz shows Jenna the party invitation and Jenna flips out: Thad is a multi-billionaire. She insists that she and Liz go to the party.
Liz arrives at the TGS offices to find a full-fledged celebration going on. Kenneth is dressed in a garish costume throwing candy all around the staff; he sings about "Leap Day William." Confused, Liz listens as Kenneth explains the legend of Leap Day William: he's a magical figure who lives under the ocean and emerges every four years to help celebrate Leap Day. It's also a day when celebrants are supposed to do things they wouldn't normally do. Jenna tells Liz that because of the date, they simply must go to the billionaire's party.
Liz stops by Jack's office where he is quietly celebrating Leap Day. He invites Liz to enjoy some rhubarb (a traditional treat on Leap Day) and goes on to explain the holiday further. There's even a feel good movie, he tells Liz, called "Leap Day Williams." Liz leaves and Kenneth arrives; he's filling in as Jack's assistant for the week. Jack explains to Kenneth that he loves Leap Day because it's an extra day for doing business. This year, he's happy because KableTown's acquiring Xaro, a 3D Internet company.
Jenn and Liz arrive at Thad's rather low-key party. Jenna thrilled; she knows the Internet nerd is ripe for the picking. But it's Liz that Thad wants. Thad finds her alone in his gaming room and explains that he's been in love with her since their days in college. He wants to pay her 20 million dollars to take his virginity. Liz makes a hasty retreat.
Tracy's clearing his dressing room to make way for a giant aquarium. Under the couch, he and Kenneth discover a stack of discarded mail - including an envelope that contains a $50,000 gift card from Benihana! Tracy remembers that he shot a commercial for the restaurant chain and insisted on being paid in kind. Kenneth examines the gift card and discovers that it expires today. Tracy's thrilled: he and his entourage have just a few hours to eat $50,000 worth of Japanese food.
Tracy and his gang descend on Benihana. The chef informs him that they'll have a very difficult time spending $50,000 tonight. Nonetheless, Tracy's determined to give it a try. After gorging themselves they're still only $6,000 into the tab. The revelation that they may not make it shakes Tracy's faith in Leap Day. He heads outside for a walk as his stuffed staff watches the movie "Leap Day Williams" on the restaurant big screen.
Liz confides in Jenna about Thad's offer. Jenna tells Liz she's a good girl - and that she should be the one to take Thad's virginity, not Liz. Liz calls Criss to feel him out on what to do. Before Liz can really explain things, Criss tells her that it's Leap Day - and that nothing that happens today counts. Criss hangs up the phone. Jenna notices a determined look in Liz's eye. "Oh my. Looks like we've got a slut-off on our hands," Jenna announces.
Liz and Jenna sit on a couch at either side of Thad. Jenna puts her moves on, draping a leg over Thad's shoulder. But it's still Liz that the billionaire wants. And when Liz recreates a dance from "The Sound of Music," Thad melts - and dispatches Jenna for drinks. Jenna pulls Liz aside and urges her to get moving on deflowering Thad; supermodels and big-busted ballerinas will surely hear about the horny billionaire soon and swoop in for the kill, she tells Liz. Liz and Thad find some quiet time, but before they can get intimate, a cadre of hotties arrives. Liz's chances are shot.
As Tracy walks despondently down the sidewalk, an old-timer in a bright blue suit and straw boater befriends him. He tells Tracy to embrace the spirit of Leap Day William. The mystical old man tells Tracy to believe - and to remember his roots.
A despondent Jack lies face-down in his desk, exhausted and exasperated. His Leap Day is a disaster. As he sleeps feverishly, Kenneth appears in a dream of his past, like the ghosts of Dickens' "A Christmas Carol." Jack sees himself as a small boy on Leap Day, his mother telling him they won't be attending the parade. The boy begins to cry. Jack intuits that only money will fill the hole left by the lack of love. Suddenly young Jack's mother reappears, tossing cigarettes and candy and telling her son that they will in fact be going to the parade. Kenneth snaps his fingers and Jack is transported to a scene from today: Liddy's nanny is telling her that daddy won't be home until much later. Jack is aghast.
Finally, magical Kenneth shows Jack a scene from his future, when a grown Liddy has gone over to the dark side: she's building houses for Habitat for Humanity. Jack is shocked into consciousness. Like Ebenezer Scrooge, he's reborn. He sends Kenneth off with good wishes and heads home to comfort young Liddy.
Liz's authorized seduction of Thad is futile: Supermodel Karolina Kurkova has taken the billionaire's heart. Liz trades witticisms and then takes off. Later that night she confesses the whole incident to Criss; he's quite understanding.
Tracy walks on the sidewalk, pondering what the old man told him. He turns over his admonition to remember his roots and Tracy twists and turns the thought in a dozen ways, finally arriving at the perfect Leap Day miracle for how to spend the rest of the Benihana credit: feed the homeless!
The old-timer who had the kind words for Tracy has a few for us to: live every day like it's Leap Day.