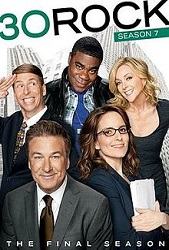 TV Info
---
Episode Premiere
February 09, 2012

Distributor
NBC

Genre
Comedy

Show Period
2006 - 2013

Production Company
Broadway Video, Little Stranger, NBC Universal


Cast and Crew
---
Director
Michael Engler
Screenwriter
Kay Cannon
Main Cast
Synopsis
---
Back at the studio, Jenna's motivational words to herself aren't working; her nervousness overwhelms her, and she barely croaks out her song for the rehearsal. Pete and Jenna visit Dr. Spaceman to find out what's wrong with her singing voice. Dr. Spaceman thinks she might be psychosomatic, doctor code for "your brain is broken." Pete diagnoses Jenna's vocal disability as the "yips," a problem Pete had as an archer that caused him to miss a shot he'd done plenty of times before. Now that Jenna is diagnosed, Pete and Jenna hope the problem will disappear - but the "yips" come back stronger.
As Liz races home to Criss, Jack calls her and confesses he wants to sleep with Diana. Liz adamantly tells Jack he shouldn't, repeating herself over and over. When she walks into her apartment, Criss has arranged a homemade meal on a table handcrafted with fallen branches and a Herman Cain poster. Liz is confused because she thought they broke up, but Criss assures her it was just a silly fight. They kiss and make up.
Tracy and Frank empower Lutz to try out his newly-acquired seduction skills. Unfortunately, the women at Weight Watchers don't appreciate his half-naked body; the girl coming out of the salon isn't upset about her haircut, and the swimsuit saleslady thought he was picking out a swimsuit for himself. Tracy and Jordan cringe at Lutz' bad luck. They take Lutz to their last resort: Ikea. A sad, lone female is spotted, and Lutz makes his move. To his surprise, it's Liz who turns around, startled to be hit on. Lutz suddenly realizes he's had no luck with women in the past because he prematurely sabotages himself. The light dawns for Liz to: she recognizes herself as a "female Lutz." She realizes that she must reclaim the one good relationship she's had. Tracy and Frank realize they have blown off their significant others to help Lutz. But instead of returning home, they go out for meatballs.
On the set of America's Kidz Got Singing, an anxious Jenna waits backstage for her live performance. A young boy with red roses approaches her and, discovering she is Jenna Maroney, tells Jenna the flowers are for her grave. It merely adds to Jenna's sense of dread; she tells Pete she's determined to bring him down with her when she inevitably fails. As he walks out of the studio, Pete suddenly realizes physical pain helps Jenna focus during intense pressure. Grabbing a bow and arrow off a nearby Cupid statue, Pete carefully squeezes off a shot that grazes Jenna's shoulder. Wounded but smiling, Jenna realizes she can sing again.
At his apartment, Jack watches Jenna's live performance. A tipsy Diana stumbles in with a repulsive man she met outside the liquor store. Jack begs her not to sleep with him, and they release tension the only way they can: by hitting golf balls as hard as possible. Liz is happy to finally have a good Valentine's Day, but the homemade table collapses on her legs before she can finish her sentence.