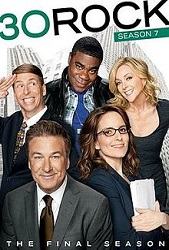 TV Info
---
Episode Premiere
February 09, 2012

Distributor
NBC

Genre
Comedy

Show Period
2006 - 2013

Production Company
Broadway Video, Little Stranger, NBC Universal


Cast and Crew
---
Director
Michael Engler
Screenwriter
Kay Cannon
Main Cast
Synopsis
---
Liz wakens to Criss singing an original Valentine's Day song, complete with an acoustic guitar. As we flash back to a series of disastrous Valentine's Days, Liz explains that she is zero for 40 on February 14ths. But today has hope. Criss shows her a funny YouTube video and promises to make her a home-cooked meal; perhaps it may be an "unterrible" Valentine's Day after all. The occasion calls for a real dinner table, which requires an Ikea trip for Criss and Liz.
As Kenneth introduces the new page Hazel to the TGS staff, Jenna interrupts to test an "unapproved Japanese medication" on her. From there, Jenna marches over to Liz and Pete, requesting Pete fill in as line producer on her special appearance on tonight's America's Kidz Got Singing. Pete's wife wanted to celebrate Valentine's Day with her tennis instructor, so Pete agrees to Jenna's request.
Back at TGS, Kenneth and Hazel find Tracy's new pet lizard, which falls from the ceiling onto Hazel's face to mate with her mouth. Valentine's fever is spreading. Lutz creepily hits on Bethany, bemoaning when she runs away. Frank and Tracy team up to help Lutz seduce sad women on Valentine's Day, advising him to visit strip clubs and hang out with women at Weight Watchers. To demonstrate the art of seducing women, Tracy spills cereal on Hazel, which only angers her further.
At the office, Jack complains to Liz about his lackluster sex life since Avery's kidnapping. He also announces that Avery's mother Diana is coming to visit. Diana arrives and tells Jack they have an 11 o'clock appointment at the U.N. to discuss Avery's kidnapping. Jack is disillusioned with the U.N. because his previous attempts on Avery's behalf were unsuccessful. At the U.N., Jack finds many irritating differences between Avery and Diana. He ignores Diana by reading "Kickenfun" soccer magazine.
Jack and Diana meet with the Transylvanian assistant attache Cjokula, but he is unhelpful, as Jack predicted. Diana slaps Cjokula hard in the face, warning him that it's only the beginning of her wrath. Surprised Diana is fighting, Jack backs her up and threatens to cancel "Friends" in Transylvania. A horrified Cjokula immediately agrees with Jack that the U.N. is useless. Leaving U.N. Headquarters, Jack and Diana feel a growing sexual tension. Diana embodies Avery's characteristics, and Jack reveals he is the strong man Diana never had. Both try to steer the topic away from sex. "Perhaps we just shouldn't talk at all," Jack says as they keep a careful distance walking down the street.
Criss doesn't like the Ikea table Liz picks out, saying it's an "uptight table" that symbolizes their relationship. They almost give into an Ikea fight, but another couple using furniture as metaphors snaps Criss and Liz to their senses. Finally, at Ikea's warehouse, they find the table is out of stock. Frustrated, Criss blames Liz for only choosing one table option. The conversation turns sour as their pent-up problems with each other's life choices surface. Liz is angry because Criss doesn't have a plan for his life, but Criss retorts her careful plans haven't worked. Angry and hurt, they break up.
Jack and Diana walk silently, avoiding conversations that will ultimately reinforce their attraction. An "Italian" restaurant owner attempts to persuade the good-looking couple to have their Valentine's Day dinner at his restaurant. Jack and Diana admit they find the other attractive, but realizing the growing danger, they part ways.
As Liz and Criss approach Ikea, she warns him of the effects Ikea can have on relationships; an elderly couple screaming at each other emphasizes her point. But Criss isn't worried. When they enter the dreaded building, an argument immediately breaks out over a hearth-themed salt-and-pepper shakers set.