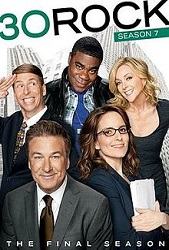 TV Info
---
Episode Premiere
January 26, 2012

Distributor
NBC

Genre
Comedy

Show Period
2006 - 2013

Production Company
Broadway Video, Little Stranger, NBC Universal


Cast and Crew
---
Director
Beth McCarthy-Miller
Screenwriter
Robert Carlock
Main Cast
Additional Cast
Synopsis
---
Jack watches MSNBC in his office, disgusted that the gay community hasn't accepted NBC's gestures of apology. But his disgust turns to horror as he watches an interview with "gay advocate" Devon Banks. His nemesis is back.
Liz breaks the news to Criss: he can't accept the $10,000 check from Jack. She explains the money is a ploy by her boss to control their relationship - and get inside Liz's head. Criss fires back, telling Liz it's her problem not his. The discussion turns heated and increasingly personal. Criss walks out; he'll spend the morning meditating in the park. "Good God, Lemon," Liz repeats to herself as she stares out the window.
Banks surprises Jack in his office. He's gotten ahold of a video of a nightclub routine of Tracy's that's filled with racist tirades. As Banks gloats, Jack watches the performance on a computer; it's cringe-worthy. He asks Devon what price he wants to withhold the footage. Banks tells Jack he needs him to use his influence to get his triplets into St. Matthews Preschool. It's among the most difficult institutions to crack in the world. Devon knows that the odds of gay parents having their children admitted are practically nil without entree from an insider like Jack.
Meanwhile, downstairs at TGS, Kelsey Grammer is taking care of some nasty business for Jenna and Kenneth in the supply closet. A drug-addled Pete has been stricken with toxic fumes from an earlier accident. Kelsey's been brought in to clean up the mess. They need to sneak Pete out of the closet and back into his office without the staff noticing. Kelsey hits on the perfect distraction: he'll perform a one-man show as Abraham Lincoln for the staff as Kenneth and Jenna wheel Pete out.
Outside 30 Rock, Tracy and Denise Richards are holding a press conference on behalf of their new advocacy organization, the National Association for Zero Intolerance, or NAZI. They're protesting for the rights of idiots everywhere. Tracy wants a meeting and apology from Liz Lemon. Liz tells him she's been trying to reach him all morning. She tells him that they'll meet later in the day, after Liz deals with Jack.
Criss pops in on Jack to return the investment check. Jack says that's not possible and goes on to inform Criss that he's officially disapproving of him. Criss says he doesn't care. Liz bursts in trying to extricate her boss from her personal affairs. But Jack explains that's not really how things work; it's time they break up. He tells Liz that it's her choice whether to stay with Criss, but that they both know what the right thing to do is. Liz must make a choice; she picks Criss and the two exit together.
Looking to suppress the damning video, Jack takes Banks to his men's club where he arranges a chance encounter with a friend who happens to be on the board of St. Matthews. Learning that Banks is looking to get his triplets into the school, Jack's friend casually mentions that he's also on the board of the Manhattan Hospital for Rich Whites and Assimilated Jews; they're having a problem getting a sizeable pledge that Don Guise promised the hospital before he died. Jack and Devon explain that they know the heir to Don's fortune and will take care of it. They visit Kathy and explain the situation. In return for the pledge, Kathy has a demand: NBC's new mascot will now be Angelica the unicorn.
Liz meets with Tracy, Denise and their idiot coalition in her office. Tracy's demands are simple: he wants a public apology that he's written for Liz; he also wants Liz to call his phone so he can hear the Chicken Dance ringtone. Denise wants her new music video to play on TGS.
Kelsey Grammer takes the studio stage as Lincoln to distract the entire staff so Jenna and Kenneth can spirit the semi-conscious Pete back to his office. Meanwhile, outside 30 Rock, Liz is forced to read Tracy's idiotic apology. She can't countenance the sentiment of Tracy's apology and she begins to rant. But her tirade against stupid people only emboldens the crowd. She spots Criss nearby, being extra cute. She realizes her inclination to break up with him would be a huge mistake. "I'm such an idiot," she tells herself aloud. The crowd goes wild.
During the intermission of Kelsey's one-man play, Jenna, Kenneth and Kelsey strategically place Pete in his office. They lay him on the floor, pull his pants down, place a plastic bag over his head, loosely wrap his neck with his belt and place a lingerie catalog in his hands. The setup is complete. Grammer returns to the stage.
Banks and Jack talk in the 30 Rock lobby. Devon smirks that getting his triplets into St. Matthews almost certainly means that Jack's Liddy won't get in. Her whole future is compromised. Jack replies that, unlike Banks and his privileged upbringing, he came from nothing to become incredibly successful. Besides, Liddy's already incredibly advanced for her age. She's begun weighing her top tier education options.
Jack spots Liz and Criss laughing and cooing on the street outside 30 Rock. Liz walks off and Jack approaches Criss with the good news that he's granting him his conditional approval - for three months. He tells Criss that he's realized that if he and Tracy can come from humble roots to be successful, it's possible that someday Criss may become a suitable sex partner for Liz.
Liz returns to her office where Kelsey pops in to say that something is wrong with Pete. Liz discovers him in the compromising position (from the start of last week's episode) and scolds Pete for wasting his time while she was putting out fires. Pete protests that Kelsey did this to him. Liz scoffs: how could Kelsey have done that while he was performing as Abraham Lincoln in the studio? In Jenna's dressing room, Kelsey, Kenneth and Jenna recount their caper. Jenna notices that her lighting is back to normal; Subhas explains that she simply forgot to turn on the switch. It's a cause for celebration.