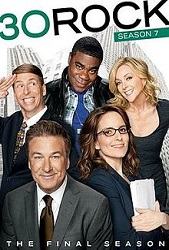 TV Info
---
Episode Premiere
January 19, 2012

Distributor
NBC

Genre
Comedy

Show Period
2006 - 2013

Production Company
Broadway Video, Little Stranger, NBC Universal


Cast and Crew
---
Director
Beth McCarthy-Miller
Screenwriter
Robert Carlock
Main Cast
Additional Cast
Synopsis
---
Kelsey Grammer bursts into Liz's office; there's something wrong with Pete! They rush outside to discover TGS's head writer lying in a stupor on the floor, his pants missing and plastic covering his head. Pete is startled too: he doesn't know how he got in this position.
Flash back to eight hours earlier. Liz gets ready for work as her boyfriend, Criss, watching TV, reminisces about the sounds of his old TiVo. He gestures to Liz to open the three-month anniversary present he's bought her. She's touched: it's Terry, a gender-neutral doll from her childhood. Liz gently chides Criss that instead of buying her gifts, he should be saving for his business. He asks her to go into work late so they can enjoy his homemade M&M-filled pancakes. Liz is only too happy to stick around. On the TV, a Today Show news report reveals that Tracy is under fire for making an anti-gay rant.
As she approaches 30 Rock, Liz passes a gauntlet of angry gay protestors. She hurries into the TGS office where an exasperated Pete tells her that TGS sponsors are dropping out of the show. Liz finds Tracy and asks him to tell her what he said. "Being gay is stupid," he says in a nightclub act. "If you want to see a penis just take off your pants," he riffs. Liz explains to Tracy that the gay community is extremely well organized and that he needs to apologize immediately. Tracy tells her he already has; unfortunately, Tracy thought he was calling GLADD but was in fact calling the help line for Glad trash bags. Tracy talks Liz into writing a new apology for him.
Jack waits for Liz in her office. He explains that since Avery's abduction, he's alone and proposes they become friends with benefits. Repulsed, Liz politely refuses. But it's a trap. Jack's only making the proposition to prove his theory that Liz has a secret boyfriend. She admits she has a lover, Criss; he's been living with her for a month. Jack is hurt that she's kept her new man a secret. He's also exceptionally disapproving of anyone who spells his name Criss. Jack probes for more information, but Liz does her best to keep quiet. She does divulge that he's an entrepreneur, working up funding for a new business: vendor carts selling organic hot dogs.
Jenna asks Kenneth to have a light bulb replaced in her dressing room. Kenneth happily calls maintenance, but discovers that the Subhas, the maintenance worker, won't do any work at TGS until Tracy apologizes publicly for his insensitive remarks. Jenna's outraged; her newfound fame as queen of mean on America's Kidz Got Singing requires that she look her best at all times. She steps into her dressing room to demonstrate how heinous the lighting really is. Kenneth wants to help out, but the supply closet with the new bulbs is locked. Jenna scoffs that a locked door will be no barrier. "I guess someone's never been locked in a dog crate and thrown overboard for displeasing the sheik," Jenna tells him.
Liz sits at the writer's table with her staff watching as a TV reporter reads the apology she's written on behalf of Tracy. Tracy barges in, outraged that Liz has publicly called him an idiot. He throws a flat screen TV to the ground and exclaims that he's so mad at Liz that he'll be mounting his own protest - on behalf of idiots everywhere. Tracy storms out, and Liz leaves too. A frustrated Pete tells the writers he's also checking out. He'll grab a couple of sleeping pills, a bottle of scotch and head for his secret napping place.
Jenna picks the lock to the supply closet and finds the box of her special pink fluorescent lights on a high shelf. Kenneth dutifully pulls it down only to find the bottom of the box is loose; the pricey bulbs crash to the floor, spilling mercury and other toxic vapors. Kenneth panics, but Jenna reassures him that they can clean up the dangerous mess before anyone is the wiser. As they leave to get some trash bags, a wobbly Pete sneaks in behind them; the supply closet is his secret napping spot.
Liz has returned home for a nooner with Criss, i.e. a pancake lunch. As her new boyfriend makes small talk about celebrities, Liz notices the voice of Jack in her head, questioning everything about Criss, from his manner of speech to the contents of his wallet. Liz is vexed that she can't get Jack out of her head - and perhaps even more vexed that what he's saying about Criss may just be valid.
Tracy takes his protest to the sidewalk in front of NBC. He's assembled a legion of fools; their celebrity spokesperson is actress Denise Richards. Tracy warns Liz that they'll be out in force until they get justice for idiots everywhere.
Liz confronts Jack in his office. She apologizes for hiding Criss, but she wants Jack's approval. Jack tells her he can't approve of someone he's never met. He goes on to ask about Tracy's protest out front. Liz explains it's no big deal - it's just an idiot coalition. Jack quickly points out that idiots are a huge part of TGS's audience makeup. You need idiots and you need to fix this, Jack tells Liz.
Jenna and Kenneth return to the supply closet to clean up the mess, only to find an unconscious Pete slumped in a chair. When they can't rouse him, panic sets in. Kenneth wants to call security for help, but Jenna refuses; it could ruin both of their careers, she explains to Kenneth. She calls Kelsey Grammer to come fix the problem.
Liz leaves Tracy a phone message seeking a chance to talk the problem out. Criss Skypes in for a video call and delivers some good news: an investor has given him $10,000 in seed money. He holds the check up to the web camera. Liz is horrified. The check is from Jack.