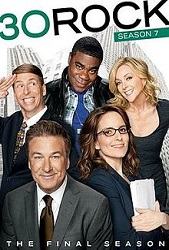 TV Info
---
Episode Premiere
January 12, 2012

Distributor
NBC

Genre
Comedy

Show Period
2006 - 2013

Production Company
Broadway Video, Little Stranger, NBC Universal


Cast and Crew
---
Director
John Riggi
Screenwriter
Tina Fey, Tracey Wigfield
Main Cast
Synopsis
---
An aspiring young singer gives his eight-year-old best to "The Star Spangled Banner." He performs as part of "America's Kidz Got Singing," a new hit NBC competition show. Celebrity judges include John McEnroe, D'Fwan and TGS's own Jenna Maroney. While the two male judges think the kid has real talent, Jenna unloads on the child, calling him a disgrace. Jenna has really stepped into her role as the show's "mean judge." Her brutal and unrelenting put-downs of contestants has the audience routinely booing her.
Liz Lemon heads to work. She's unusually upbeat, singing and dancing along the sidewalk as she runs into Jack. They stop a moment to watch a TV in a storefront window; it's a painful scene of Jenna skewering another youngster. But Liz is unfazed at the sight of her star being transformed into a hateful diva. Liz asks Jack about his holiday break; he tells her that he spent quality time with his baby, Liddy, and pined for his kidnapped wife, Avery (last seen in the company of Kim Jong Il). Jack then proceeds to tell Liz all about her own vacation, uncannily guessing the most minute details. He makes only one misfire: the sweater vests she received as gifts are actually dickies.
As the staff returns to the office, Kenneth walks around giving his co-workers warm hugs. Kenneth's pastor, Reverend Gary, has calculated that the world is ending the very next day; Kenneth is saying goodbye. Liz is touched - and gives him the day off. Pete is shocked at Liz's behavior, but she explains that it's all because she's a happy person now. Liz walks off in search of Jack. Tracy intercepts her and begins complaining about Jenna. Out of habit, Liz begins coddling him but stops herself and tells him she's no longer interested in propping him up. She continues on her rounds where she finds Jack. She confronts him about a gift subscription she's received to Desperationships.com, a dating site. Jack explains he just wants her to be happy.
Jack watches from the wings as Jenna tears another singer down, a young girl named Liddy. Jenna's tirade hits close to home for Jack; he watches in horror as Jenna delivers her new catchphrase over and over: "Go jump back up your mother!" Later he approaches Jenna in her dressing room, armed with a research report. Jack tells Jenna that audiences hate her; he wants her to tone the vitriol down. Jenna counters. "They love to hate me," she tells Jack.
Kenneth is spending what he thinks to be his last day on earth doing "dream chores" like cleaning the office - and making Liz laugh. Pete witnesses Kenneth goofing for Liz in her office and tells him he should be doing something more significant. Liz agrees. The world is a wonderful place, she tells him. He should be exploring it. Pete noticing Liz's new "niceness" and is suspicious. Where's the cynical boss he knows? Is she on drugs? In the dressing room area, Tracy pulls Jenna aside with similar concerns. He needs to know what's going on so he can get Liz focused back on his needs. Jenna suggests that he secretly follow Liz - even go through her trash.
On the next episode of "America's Kidz Got Singing," Jenna tries to be nice - but it's awkward at best. The three judges meet with Jack offstage and beg him not to mess with success. When the show returns to air, Jenna returns to her old form - ripping the contestants to shreds.