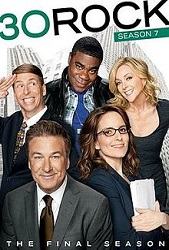 TV Info
---
Episode Premiere
March 24, 2011

Distributor
NBC

Genre
Comedy

Show Period
2006 - 2013

Production Company
Broadway Video, Little Stranger, NBC Universal


Cast and Crew
---
Director
Jeff Richmond
Screenwriter
Josh Siegal, Dylan Morgan
Main Cast
Additional Cast
Synopsis
---
Jack calls Liz up to his office to deliver some bad news: with Tracy still in Africa, TGS has to go on a forced hiatus. When Liz asks for Jack's help in getting TGS back on the air, he reveals that currently his efforts are focused on the success of his new gay TV network, TWINKS. Advertisers covet the gay demographic so TWINKS is sure to be huge.
Liz delivers her bad news to the crew one by one, only to discover that everyone but her has a Plan B. Frank calls his agent to book him standup gigs at colleges for black women; Pete goes back to substitute teaching, Jenna reveals her JennaBabies, small talking figurines that she sells on QVC; and Sue goes back to being a police psychic. Liz is nervous; it seems that she's the only one who doesn't have a backup career path. She calls her agent Simon (whose primary clients are dogs), but he proves to be no help whatsoever.
Jack meets the always-optimistic Cabletown CEO Hank Hooper for lunch to discuss the next move for their new network, TWINKS. Hank tells him that unless there's a gay Jack Donaghy somewhere, TWINKS is a lost cause; Jack made a mistake in purchasing a network that he doesn't understand. At this, Jack reveals that there is a gay Jack Donaghy, his archenemy, Devin Banks.
Jack helps out Liz with her Plan B by setting up an interview with Nick Lachey for The Sing-Off. In the waiting room for the meeting, Liz meets famous writer Aaron Sorkin, who's also vying for the gig. Apparently, even he has to take work where he can find it. Later, her agent Simon lets her know that Lachey passed. On top of it, Simon is dropping her as a client.
Meanwhile, Kenneth is on a tireless mission to save TGS. When Frank tells him that fan-based movements are the only ones that have success, Kenneth decides to send sugar cubes in envelopes to Hank Hooper to represent that the fans are still sweet on TGS.'" He fails to realize that the sugar cubes will get crushed and look like Anthrax. Moments after Pete tells Kenneth about his horrible mistake, Kenneth is tackled by the police, led by Sue the police psychic.
Jack shows up at Devin's house, and is startled to find Devin taking care of his three gaybies that he's raising with his husband. While at first humiliated, the power shifts when Devin notes how desperate Jack must be if he's coming all the way out to Brooklyn to offer him a job. Still a businessman at heart, Banks is unable to resist the offer.
Hank grows impatient when Banks is over an hour late to their first business meeting. Jack explains that Devin is already doing a power play; he knows they need him so he's abusing his position. But really, the power is in their hands; they'll use Banks for his ideas and then throw him to the curb when they're done with him. Devin finally shows up with one of his babies in tow. Banks knows that big-hearted Hank will be unable to resist a man with a baby. Jack is disgusted by the move but it's too late, Hank the family man is already hooked.
The next day, Banks returns to the office to find that Jack spent all night trying to plot his next move. Jack's efforts are useless; Banks has already been promoted to be the head of operations in Europe. But while bragging to Jack about his new position, Banks has an emotional breakdown; he can't leave, he loves his gaybies too much. Banks tells Jack that he wouldn't understand since he doesn't have a child, at which Jack reveals that he actually does. Banks is amazed that Jack is such a career man even though he has a baby at home. This strikes a chord with Jack, who doesn't realize how much he has been missing his family. He calls his car to go home and see Liddy.
Liz shows up at the office with a box Federici's Pizza in hand, only to discover the place completely abandoned. Kenneth is the only one left, but he reveals that even he applied for a transfer to news. When he sees the pizza box he comments that it's the same pizza he sees Tracy eating in "Africa" when they video chat. At this, Liz realizes that Tracy's Africa stint is all a lie; he must be hiding out somewhere in New York. There is hope for "TGS" after all!