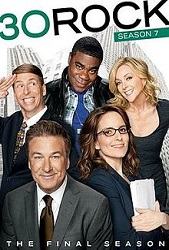 TV Info
---
Episode Premiere
February 17, 2011

Distributor
NBC

Genre
Comedy

Show Period
2006 - 2013

Production Company
Broadway Video, Little Stranger, NBC Universal


Cast and Crew
---
Director
John Riggi
Screenwriter
Vali Chandrasekaran
Main Cast
Synopsis
---
After her breakup with Carol, a discouraged Liz enters the TGS writers' room. She's wearing a fanny pack and has adopted a cat named Emily Dickinson; in other words, she's totally embraced spinsterhood. Concerned, Jack pulls Liz into his office but immediately starts talking about his own issues instead. Avery's out of town on business and he's alone with baby Liddy. On top of that, Jack has a meeting with KableTown to negotiate NBC's licensing fees. Before Liz can make sense of the meeting - after all, aren't KableTown and NBC now the same company? - Jack rushes out to pay Sherry, his demanding Trinidadian night nurse.
In the studio, Frank sees Pete surrounded by musical instruments. Apparently nobody told the musical guest that Tracy's in Africa, so the instruments got delivered anyway. Pete picks up a guitar and tells Frank that he used to be a member of '80s band Loverboy for three whole months. He eventually chose to pursue TV budgeting instead, but his rock star dreams have never totally faded. Frank tells Pete it's never too late to start a band, and suddenly they start jamming!
Jack objects when Sherry overcharges him. Inexplicably she charges the same rate for working full time or just nights. Jack tries to gently explain that Sherry's being unreasonable, but she stares at him indifferently, eating an orange. Jack folds and gives Sherry the money she's requested. He's clearly been out-negotiated. Jenna barges into Liz's office, determined to save her friend from a life of spinsterhood. Jenna invites Liz out, hoping her friend will "rebound sexually." Liz insists on staying in for the night to do work, but it's clear Jenna's not going to give up on her friend.
Pete and Frank record their single, "It's Never Too Late for Now," but the performance goes sour when they squabble over credit. Whose name should be listed first? Who's going to give the acceptance speech at the Grammys? In the editing room, Liz gets a call from an irritated Jack. He tells Liz that somehow his night nurse totally out-negotiated him. Liz correctly asserts that Sherry won because she has leverage; after all, baby Liddy loves her. Jack admits that Liz has a point.
Donna, the TGS editor, gets a bad case of food poisoning and rushes out of the office. She promises Liz she'll come in early the next morning. Jenna suddenly appears and tells Liz that she's got no excuse - she's got to come out. Liz reluctantly agrees. Jack confronts Sherry and says she has no leverage over him; after all, he's only known Liddy for a couple weeks and during that time, she had the nerve to throw up on him. Jack makes an ultimatum: either Sherry accepts a pay cut or she can work somewhere else. Suddenly Liddy starts crying and once again, Jack gives in. He says he'll pay for Sherry's whole family to go to college as long as she stays on board.
Jenna and Liz show up at a bar, but judging by Liz's constant complaining, she'd rather be anywhere else. When Liz gets carded, she realizes her license is missing. She's about to leave when a hot guy named Anders approaches and tells Liz he found her license. When he offers to buy Liz a drink, she gladly accepts. Frank plays Pete a mix of "It's Never Too Late for Now." Pete storms out, claiming his vocals are barely audible!Meanwhile, back at the bar, a fight breaks out, forcing Anders and Liz to leave - together. Anders invites Liz to his place but she confesses that she's overwhelmed; after all, she had just resigned herself to a life of being alone. Anders tells Liz it's never too late for now and goes in for a kiss!
Jack continues to negotiate with Sherry when suddenly he realizes that he's more similar to her than he realizes. He asserts that while she's caring for Liddy, he's also caring for a helpless, useless thing - it's called NBC. Inspired, Jack attends the KableTown meeting and imitates Sherry, sitting silently and eating an orange. In no time, KableTown execs give in and give Jack the licensing fee he's arguing for. Liz comes back to work still glowing from her one-night stand. She tells Jack that she's still marveling at how fated her meeting with Anders felt, but Jack urges her not to overthink it. But Liz, inspired by "Murder on the Orient Express," starts to think her pals at TGS set the whole thing up.
Liz gathers the TGS crew and masterfully explains how they secretly planned her wild night out. Donna's food poisoning, the missing wallet, the fight at the bar - all of these "coincidences" were the work of her colleagues. But who was Anders? Jack accidentally reveals that he's a Swiss prostitute recommended by Martha Stewart. Rather than being upset, Liz chooses to feel touched by her friends' concern. She no longer feels like a spinster and sets Emily Dickinson free. Unfortunately a hawk snatches her up immediately. Frank acknowledges that Pete wrote their single and the two have an amazing jam session.