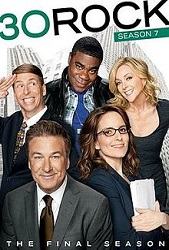 TV Info
---
Episode Premiere
January 27, 2011

Distributor
NBC

Genre
Comedy

Show Period
2006 - 2013

Production Company
Broadway Video, Little Stranger, NBC Universal


Synopsis
---
Liz is growing more and more frustrated with Tracy and his movie star diva antics. Meanwhile, the TGS staff are all extra alert over the possibility of being on Angie Jordan's show, "The Queen of Jordan." Jack reminds Liz that she shouldn't dog Angie's show because reality TV pays for the network's success.
Jack is trying to think of ways to impress the Kabletown people now that the merger has officially happened. He tells Liz of his plan to pre-record a disaster special featuring big stars, therefore NBC can be the first to air the special and make lots of money. He asks the writers to come up with as many disasters they can think of and start planning the benefit.
Liz notices that Tracy is on his best behavior when Angie's reality cameras are around. She takes advantage of this by asking favors of Tracy that she knows he'll have to oblige. But Tracy knows that if he sings to Liz, the reality show can't use the music because of licensing rights. So, he tells her he's not going to meet any of her demands.
Jack calls on his movie star friends to pre-tape his disaster special, starting with Robert De Niro. Jack watches as Robert recites lines having to do with every possible disaster that could happen in the world. After Robert's portion is filmed, Jenna performs a song for the wannabe benefit.
Jack gets a call that there was a natural disaster off the coast of Fiji and this will be perfect for his pre-taped disaster special. But he flips out when he finds out this particular disaster only affected the home of Mel Gibson. Jack immediately tries to do damage control before his pre-taped telethon airs, but it's too late.
Thanks to some clever editing, "Queen of Jordan" makes it look like Tracy and Liz are good friends. While watching separately, Liz and Tracy both realize how much they miss each other's friendship, and they make up.