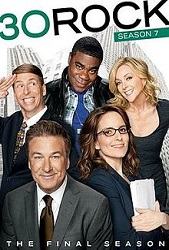 TV Info
---
Episode Premiere
September 23, 2010

Distributor
NBC

Genre
Comedy

Show Period
2006 - 2013

Production Company
Broadway Video, Little Stranger, NBC Universal


Cast and Crew
---
Director
Beth McCarthy Miller
Screenwriter
Tina Fey
Main Cast
Additional Cast
Synopsis
---
Jack calls Liz to ask about her summer. Before she can get a word in edgewise, he brags about all the island sex he's been having with Avery. Liz's sagging spirits are raised when her pilot boyfriend Carol calls to check in on her and tell her after a few airport stops, he'll be back in New York to see her.
It's time for cast and crew to go back to work on Season 5. Pete informs Jack and Liz that Jenna has new contract demands and one of them involves a producer's credit. Realizing he can use this to his advantage, Pete makes Jenna the bad guy, and charges her with firing staff to save money.
Carol drops by TGS to see Liz and brings her a present, a pair of earrings. He also asks Liz if it's okay if he crashes at her place, since his usual hotel is completely booked up. Liz finds out Jack booked all the hotel rooms himself so Liz would be forced to stay with Carol for the weekend, advancing their relationship.
Later that night, Liz and Carol watch The Barefoot Contessa, and Carol breaks down crying. He tells Liz he feels her pulling away and that all he wants to do is settle down with her and have "grown-up love." Liz has no idea how to emotionally react to Carol's admission and calls Jack for advice. Jack tells her to love Carol back.
Tracy keeps seeing Kenneth all over the studio, despite the fact Kenneth quit NBC last season. When Tracy sees Kenneth for real, working at the Late Show with David Letterman, he's convinced it's another hallucination. Kenneth tries his best to prove he's real and throws himself in front of traffic. Tracy finally believes Kenneth and tries to talk him into coming back to TGS, which Kenneth declines to do.
In the midst of Jenna cutting budget costs at TGS, she realizes that she's expendable. She tells Pete she's ready to quit, but Pete doesn't want to fire Jenna; having her around is making his job easier. Nevertheless, she insists it's the only way to save money for TGS.
Liz worries that her coldness might have scared Carol off for good, but he comes back and tells her they need to move forward in their relationship. Because Liz is running late for her show, they agree that they're in a relationship and will touch base in October, when he's back in town. Jack's happy that Liz is finally in an "adult-dude situation."